Rishi Sunak says there's no "simple solution" to illegal migration, after meeting President Macron.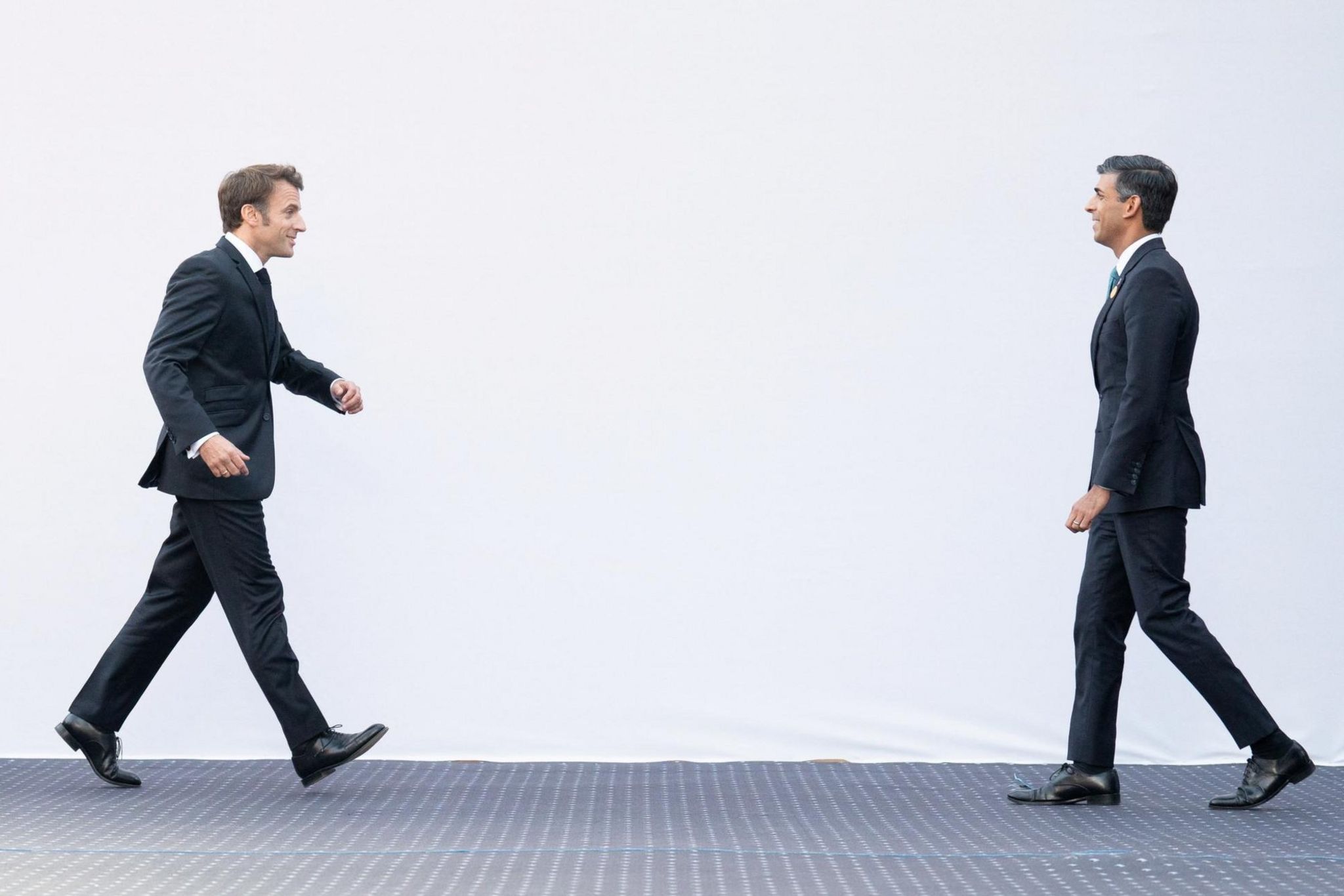 Talks on a deal with France over small boat Channel crossings are in the "final stages", No 10 has said.
The comment came as Rishi Sunak had his first meeting as prime minister with French President Emmanuel Macron.
Following the meeting, Mr Sunak said there was "not one simple solution" to tackling the number of people crossing the Channel in small boats.
But he said there was an opportunity to work closely with European countries on illegal migration.
More details would be set out in the coming weeks, he added.
The Elysee Palace said the two leaders agreed "to advance coordination to face the challenge of irregular migration".
The meeting with Mr Macron took place on the sidelines of the COP27 climate summit in Egypt.
Mr Sunak said he had also been talking to other European leaders, and was leaving with "renewed confidence and optimism that working together with our European partners, we can make a difference, grip this challenge of illegal immigration and stop people coming illegally".
However, he told broadcasters this was a "complex issue and it's not one simple solution that's going to solve it overnight".
Labour leader Sir Keir Starmer said the UK needed to work "upstream" with France to stop people-smuggling across the Channel.
So far this year, almost 40,000 people have crossed the Channel in small boats – the highest number since figures began to be collected in 2018.
A number of Conservative MPs raised concerns about the issue during an urgent question in the Commons.
Lee Anderson, who represents Ashfield in Nottinghamshire, said sourcing accommodation for "illegal immigrants" left a "bitter taste" when so many of his constituents could not get council housing.
Instead of blaming France and "lefty lawyers", he asked: "When are we going to go back and do the right thing and send them straight back the same day?"
Several other Tories also raised concerns about the suitability of hotels in their constituencies for accommodating migrants.
The government has blamed an increase in the number of crossings for overcrowding at an asylum processing centre in Manston, Kent.
At one point at the end of last month there were believed to be around 4,000 migrants at Manston – despite the centre being designed to accommodate only 1,600 people on a temporary basis.
On Monday, Home Office Minister Robert Jenrick said the numbers at Manston were now below 1,600 again.
Suella Braverman, who was reappointed home secretary by Prime Minister Rishi Sunak last month, has denied ignoring legal advice or blocking the use of hotels to ease the pressure at Manston.
Asked whether Ms Braverman had made the situation at Manston worse, Mr Sunak said she was making sure the numbers at the site were reduced "and we're making very good progress on that".
Earlier Grant Shapps said Manston was "tipping into becoming an unofficial detention centre" when he briefly served as home secretary last month.
He told BBC Breakfast he received "very clear advice" during his six days at the Home Office, after the resignation of Ms Braverman over data breaches in the final days of Liz Truss's premiership.
He said there were concerns people were "unintentionally being detained", which would not be legal.
Mr Shapps, who is now business secretary, said he was keen to ensure the government remained within the law and made changes to the operation of the site "to ensure that it wasn't a detention centre", while also moving people out.
He added: "Those are decisions that I very quickly made. Actually, the home secretary subsequently has continued to make the same changes to make sure that those numbers are brought down."


The big question Suella Braverman faces is whether she did enough to ensure the government was complying with the law at Manston.
Several people close to the process have said she did not take the action required to make sure people were moved on from the temporary facility quickly.
Ms Braverman has denied blocking the procurement of hotels. But Grant Shapps has just potentially opened a can of worms.
He says he got very clear advice about Manston, and that there were concerns about people being unintentionally kept for too long, thus acting outside the law.
Mr Shapps also talked about having to "rectify" the situation when he took over.
This raises more questions for the home secretary about whether she took all the action she needed to.