Two Met PCs shared grossly offensive messages on WhatsApp with Sarah Everard's killer Wayne Couzens.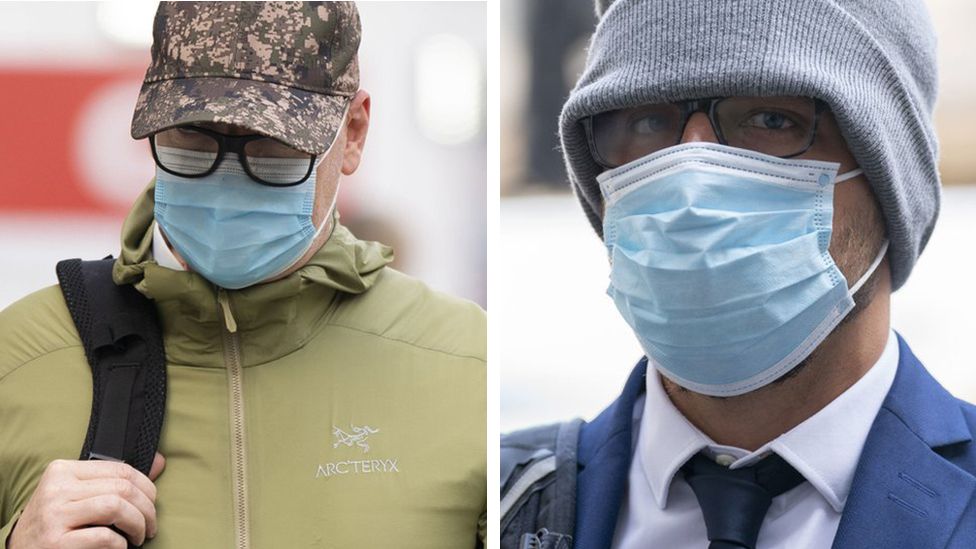 A serving Met police constable and an ex-officer have been jailed for sharing "grossly racist, sexist, and misogynistic" messages with Sarah Everard's killer.
Jonathon Cobban, 35, and Joel Borders, 45, shared WhatsApp messages about women and disabled people in a group with Wayne Couzens.
The pair were jailed for 12 weeks and bailed pending an appeal.
Couzens murdered Ms Everard while a serving Met officer.
Serving officer Cobban and ex-Pc Borders, who were members of a chat called "Bottle and Stoppers", were convicted on 21 September.
Westminster Magistrates' Court heard how they joked about raping a female colleague, talked about Tasering children and people with disabilities, and displayed racist views in the group in 2019.
District Judge Sarah Turnock said she could not think of "more grossly offensive messages". She bailed the pair ahead of an appeal against their convictions at the High Court.
Cdr Jon Savell, of the Met Police, said: "The behaviour of these officers is despicable. It is staggering that they regard this language as defensible.
"I am deeply sorry these officers have let down the public, and their Met colleagues.
"We are determined to rid this organisation of those who corrupt its integrity, and are increasing our efforts to do that more quickly. As a result, we may well see more cases emerging, as we leave no stone unturned in tackling offensive behaviour."

Related Internet Links
The BBC is not responsible for the content of external sites.