The energy giant reports $9.5bn in profits, its second highest quarterly earnings on record.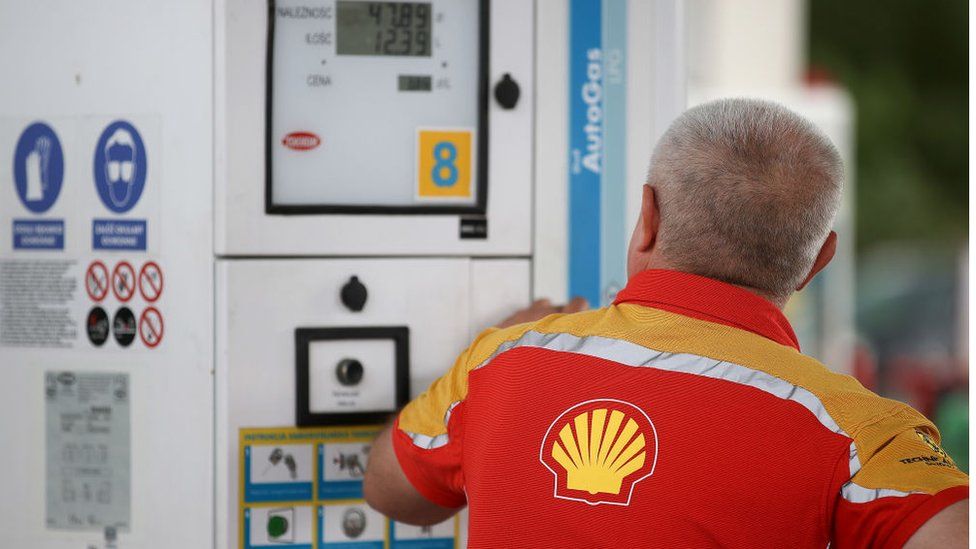 Shell has reported its second highest quarterly profit on record after more than doubling between July and September.
The energy giant said underlying profits reached $9.5bn (£8.2bn) in the third quarter, compared to $4.2bn during the same period last year.
The rise prompted calls for the tax on energy firms' profits to be raised to help people with bills.
Oil and gas prices have surged since Russia invaded Ukraine in February.
Major energy companies have reported huge profits as a result at a time when many governments are having to step in to support consumers with bills.
Between April and June, Shell's profit hit a record $11.5bn although growth has slowed since as oil prices fall back from recent highs.
But on Thursday, Ed Miliband, Labour's shadow climate change secretary said Shell's profits were "further proof" the UK needed a higher windfall tax to make sure energy companies "pay their fair share".
He added that the current levy was flawed and "would see billions of pounds of taxpayer money go back into the pockets of oil and gas giants through ludicrous tax breaks".
A windfall tax is a one-off levy that targets companies who benefit from something they were not responsible for, in this case a sharp rise in oil prices.
However, the government's tax only applies to profits made in the UK which, for most oil and gas companies, is a small part of their operations.
Oil and gas firms operating in the North Sea are taxed differently to other firms. They pay 30% corporation tax on their profits and a supplementary 10% rate on top of that. Other firms pay corporation tax at 19%, but this is set to rise to 25% in April 2023.
However, firms have been able to reduce the amount of tax they pay by factoring in losses or spending on things like decommissioning North Sea oil platforms. It means that in recent years, the likes of BP and Shell have paid almost no tax in the UK.
In 2021, Shell paid a negative amount of tax but BP paid $127.3m in taxes and fees in 2021 for its oil and gas production in the North Sea, according to a company report, after getting a net tax refund of $42.3m in 2020.
Asked if the government should raise the windfall tax on firms, former Chancellor Nadhim Zahawi told the BBC's Today programme that Shell and other energy giants pay "double the corporation tax" of other businesses as well as the windfall tax.
He added that the existing levy was introduced in a "very smart way" because it incentivised investment. "We need [energy firms] to invest in the North Sea assets to grow our production," he said.
When it was announced, the Energy Profits Levy was also accompanied by a measure that allows energy companies to apply for tax savings worth 91p of every £1 invested in fossil fuel extraction in the UK.
The move prompted Labour to accuse the government of handing money to oil companies that could have been used to support households.
Shell chief executive Ben van Beurden, who is stepping down at the end of 2022, said the company was delivering "robust results at a time of ongoing volatility in global energy markets".
He said the company was "working closely" with governments and customers to "address their short and long-term energy needs".
Mr van Beurden previously said taxes on firms within the oil and gas industry were "inevitable" to help the poorest people. He said energy markets could not behave in a way that "damage a significant part of society".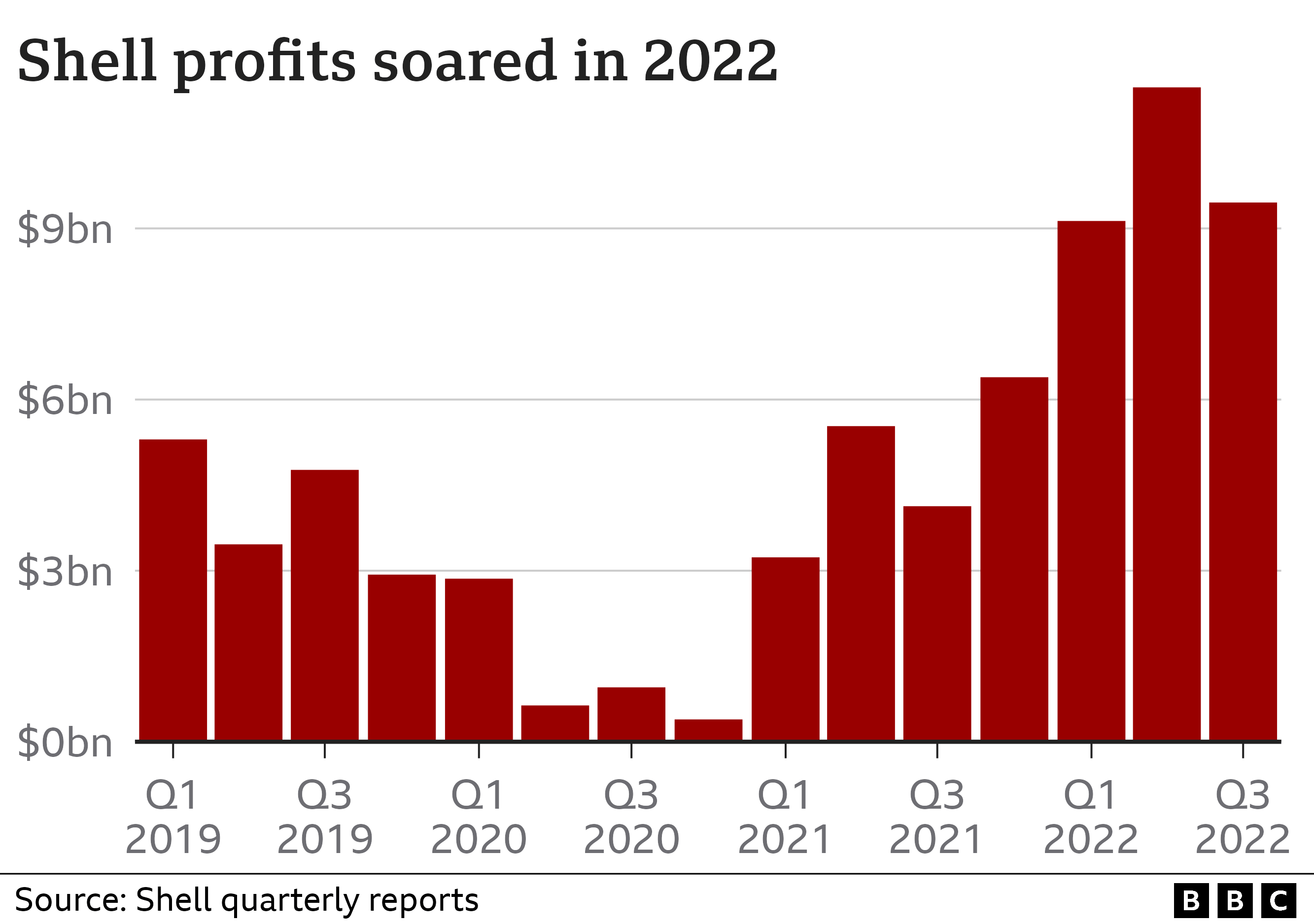 Frances O'Grady, general secretary of the TUC union, said Shell's profits were "obscene – especially at a time when millions are struggling with soaring bills".
"The government has run out of excuses," she said. "It must impose a higher windfall tax on oil and gas companies. The likes of Shell are treating families like cash machines.
So far this year, Shell has reported profits of $30bn which is more than double the amount it made over the first nine months of 2021. The company plans to reward its shareholders with a 15% increase in its regular dividend and is on track this year to beat its record annual profit of $31bn in 2008.
Stuart Lamont, an investment manager at RBC Brewin Dolphin, said the higher pay-out from Shell to its shareholders "may well raise a few eyebrows" at a time when UK households are facing surging energy bills.
Fellow energy company TotalEnergies also released bumper results on Thursday, posting third quarter profits of $9.86bn compared with $4.77bn a year ago.
'Gold mine'
Jonathan Gant, a fossil fuels campaigner at Global Witness, said oil and gas companies were the architects and beneficiaries of a "broken energy system".
He said it was "blindingly obvious" that energy firms were sitting on an "untapped gold mine".
"It's time to stop punishing people for a system they didn't create and take the money this country desperately needs from the immense profits Shell and other energy companies are enjoying."
The government is providing help for gas and electricity bills through the Energy Price Guarantee scheme. This limits the price per unit of energy that companies can charge consumers and businesses. The scheme was initially planned to last for two years but Chancellor Jeremy Hunt has announced it will now only run until April.
Nathan Piper, an oil and gas analyst at Investec, said fears of recession in many countries had led to oil prices dropping globally. Gas prices in the UK have also dropped sharply due to a lack of gas storage space and unseasonably mild October weather.
However, Mr Piper told the BBC the drop was "likely to be short-lived ahead of colder winter weather and associated increases in gas demand for heating".