Liz Truss reverses her plan to scrap a business tax rise but vows to deliver economic growth.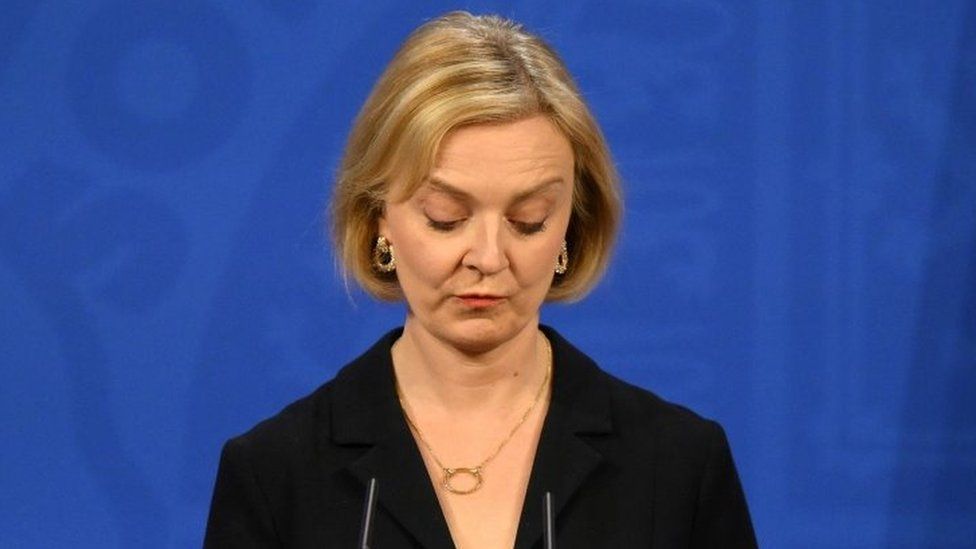 Liz Truss has described sacking her chancellor and junking a major economic policy after just 39 days as prime minister as "difficult".
In a brief statement after a day of turmoil, she reversed planned cuts to business tax aimed at boosting growth.
She admitted "parts of our mini-budget went further and faster" than the markets were expecting.
But she insisted she would stay on as PM to see through her "mission" to get the economy growing.
"I'm absolutely determined to see through what I promised – to deliver a higher growth, more prosperous United Kingdom to see us though the storm we face," Ms Truss said.
The 10-minute news conference came after a dramatic day in which the prime minister fired Kwasi Kwarteng as chancellor after he returned early from a US summit.
The prime minister has appointed former Health Secretary Jeremy Hunt – who backed Rishi Sunak in the Tory leadership contest – as the new chancellor.
Ms Truss said her new chancellor shared her vision for the country and would deliver her economic plan.
Admitting "we need to act now to reassure the markets", Ms Truss reversed a key policy to scrap the planned rise in corporation tax from 19% to 25%.
The decision is the second major U-turn on the mini-budget after Ms Truss cancelled her plan to scrap the top rate of income tax earlier this month.
In office for 39 days, Ms Truss won the Conservative Party leadership last month last month after promising to slash taxes and deregulate the economy in a bid to "get Britain moving".
On 23 September, Mr Kwarteng unveiled a so-called mini-budget to deliver the prime minister's vision, announcing the biggest package of tax cuts in decades.
But the mini-budget spooked financial markets and sparked a revolt among Tory MPs, who urged the prime minister to drop parts of her economic plan to shore up the UK's finances.