As pressure mounts, Kwasi Kwarteng cancels meetings in the US to head home for discussions on the mini-budget.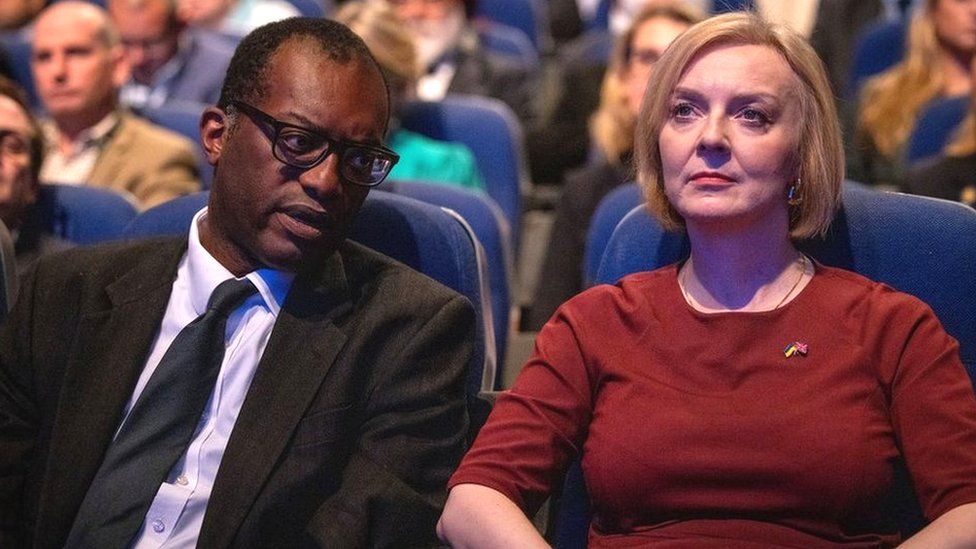 A U-turn over the mini-budget is on the table as pressure mounts on Liz Truss to change her economic plans.
Discussions are ongoing between the prime minister and her MPs about how she could reverse aspects of her mini-budget to reassure financial markets and her own party.
Many Tory MPs believe a U-turn on some of her tax-cutting package is now all but inevitable.
But on Thursday the chancellor said the government's position had not changed.
All aspects of the mini-budget – including changes to the energy bills support package and the pledge to scrap the planned rise to corporation tax – are under discussion among MPs.
The febrile atmosphere in Westminster was apparent as the BBC spoke to dozens of sources across Parliament and the government.
"It's checkmate, we're screwed," one Tory MP remarked.
"There is no question in my mind, they'll have to junk loads of this stuff and U-turn," another said.
If the government does announce changes to its plans it is not clear when this might happen.
Chancellor Kwasi Kwarteng is due to arrive back in the UK from Washington, where he has been at a meeting of the International Monetary Fund, on Saturday.
On Thursday, he said he was "not going anywhere" – and when asked if he and Ms Truss would still be in their jobs this time next month, he said: "Absolutely, 100%."
As it stands, Mr Kwarteng is set to spell out how he will pay for the government's £43bn package of tax cuts and get the UK's national debt falling in a statement on 31 October, alongside an independent economic forecast.
The government has already U-turned on its plan to scrap the top rate of income tax, but this only made up £2bn of the tax cuts announced by the chancellor last month.
Some Tory MPs think the government's tax-cutting plans should be reversed, while others believe the help with energy bills should be more targeted.
Other scenarios being discussed by Tory MPs include the chancellor resigning or the prime minister being ousted.
However, there is little agreement on what should happen next or who should replace Ms Truss if she is removed.
According to the Times, senior Conservatives are holding talks about replacing Ms Truss with a joint ticket of Rishi Sunak and Penny Mordaunt, who both ran for the leadership this summer.
Unlike the summer leadership contest, MPs would propose just one person to succeed the PM, with the other individual taking a senior cabinet role, the paper reported.
Among the possible U-turns, there has been speculation the government could reverse its plan for corporation tax.
Ms Truss has pledged to scrap a planned rise to the tax, which was set to increase from 19% to 25% in 2023.
When asked about the positive market response to the speculation of a U-turn on corporation tax, Mr Kwarteng told the Daily Telegraph: "Let's see."
However, he added that he still thought ensuring "competitive" tax rates for businesses was a "great idea".
Former Home Secretary Priti Patel, meanwhile, told Sky News the market would now "dictate" the prime minister's decision on corporation tax "primarily because we want to see stability".
Senior Tories are continuing to call for the government to change course.
Alicia Kearns, the new chairwoman of the Commons Foreign Affairs Committee, said the government had to "adapt" during a "crisis".
Asked if the government's tax cuts should be reversed, she told the BBC: "There are some that are worth keeping, there are some that are not, but do I want to see mass borrowing at this point? I don't think that's reassuring."
Former minister Johnny Mercer called for a "course correction" from No 10, describing the impact of rising mortgage rates on people who want to buy a home as "unconscionable" and "politically unsurvivable".
"Get on and do it – we all know it's coming. It's not a game for folks down here," he said of his Plymouth Moor View constituency.
Scottish Conservative leader Douglas Ross called on the prime minister and chancellor to "get a grip" on the economy.
"There have been mistakes, they've got to work this out to settle the markets, to settle the economy and to get things back up and running again," he told the BBC One's Question Time.
Asked whether he believed Ms Truss could win the next general election, he replied: "Yes."
But other Tory MPs expressed support for the prime minister and said she must not reverse her plans.
Sir Christopher Chope, a Truss backer, told the BBC Two's Newsnight: "If we were to increase corporation tax having said that we're not going to, that would be totally inconsistent with the prime minister's policy of promoting growth, growth and growth."
He added that a U-turn would be a "complete betrayal of that she believed in" and he believed it would not happen.
Wales Office Minister David Davies said the government had to be "flexible" in what he described as an economic "storm".
However, he said Mr Kwarteng should remain chancellor and refused to accept recent market turmoil was due to a "mistake" by the government.