A Ukrainian fighter besieged at Mariupol tells the BBC he was held in solitary confinement by Russia.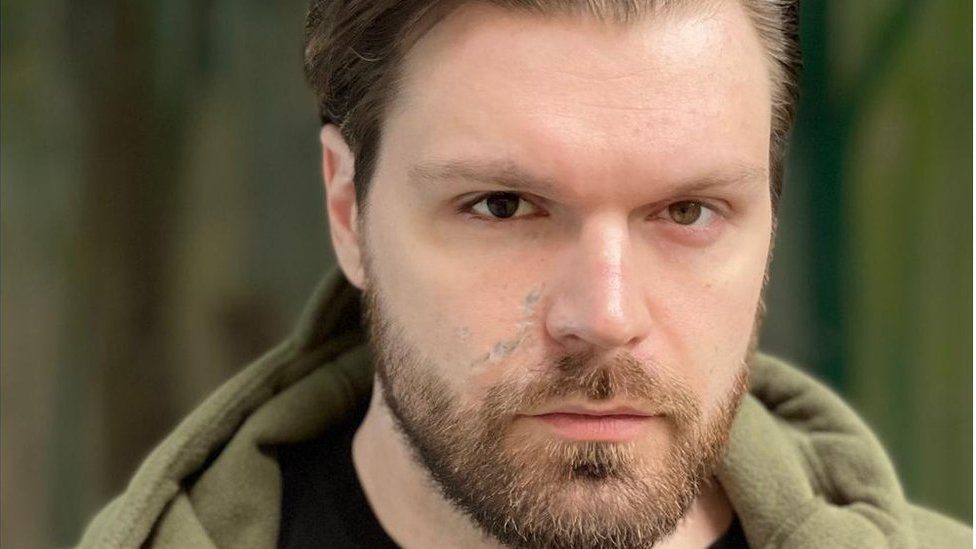 Ukrainian fighters who surrendered after weeks besieged deep under the Azovstal steelworks were kept in inhumane conditions by Russia, a released fighter has told the BBC.
Lt Illia Samoilenko told the BBC that he had been held in Russia in solitary confinement for 120 days and feared he would never return to Ukraine.
He said Russian forces confiscated his prosthetic arm after his capture.
The Azov Battalion fighter was released in a prisoner swap last month.
Lt Samoilenko, who is 28, lost his right eye and left arm after ammunition exploded in his hand while he was on a military mission in eastern Ukraine before the Azovstal siege.
The first thing he bought when he returned to Ukraine was a pack of cigarettes, "to feel alive," he said.
"I'm happy to see the people who've been waiting for me, and the tears of joy in their faces and their smiles".
In the first international media interview by an Azov fighter since some were released in a prisoner swap between Russia and Ukraine last month, he claimed some of his fellow fighters held separately had been tortured and denied adequate medical treatment and food.
Russia denies torturing or mistreating prisoners of war.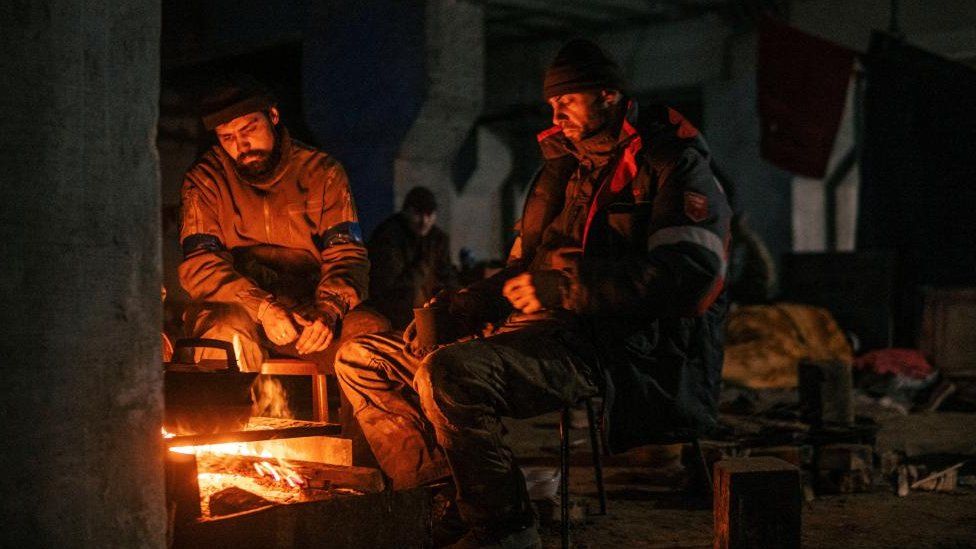 Lt Samoilenko was among the hundreds of troops who were besieged by the Russian military in the underground tunnels and bunkers of the vast Azovstal steelworks, under relentless bombing.
They refused to surrender until an order came from Ukraine's top military commanders, which put an end to the battle for the port city of Mariupol, the deadliest and most destructive in this war so far.
The fighters left Mariupol carrying few personal belongings, looking exhausted and with visible wounds. Some were walking on crutches. They were taken on buses to Russian-controlled territory.
All those who left the steelworks were first held at Olenivka, a prison in an area of Donetsk controlled by Russian-backed separatists, Lt Samoilenko said.
Days later, he and others, mostly Azov leaders, were transferred to an undisclosed location in Russia. He says he was kept alone in a cell, where he did push-ups and sit-ups and kept track of the time by mentally counting the days.
"[But] I wasn't physically tortured," he said, "so it was far from the things people suffered in other places".
Those who were sent to other locations, he alleged, faced conditions that were "very, very poor", which worsened "with each new week".
Lt Samoilenko said some of those released last month told him they had been given limited amounts of water and that some were malnourished.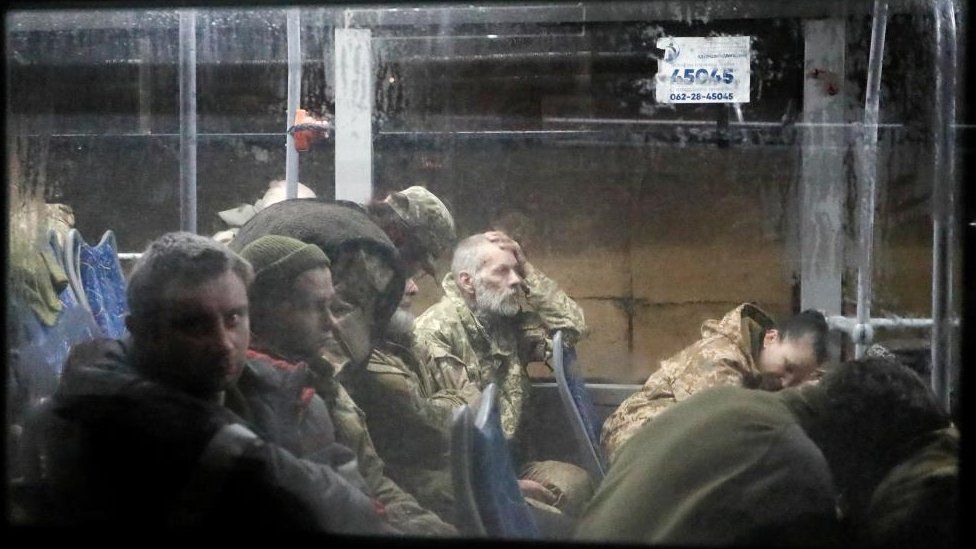 Russia, Lt Samoilenko said, didn't care about the rules of war. "They didn't care about the Geneva [Conventions]. They don't care about the lives of people." However, said he could not share more details yet.
"The Russians are also watching these interviews," he said. "When they see our happy faces, they're becoming more mad."
Days before the Azovstal surrender in May, Lt Samoilenko led a news conference that was broadcast live from a bunker beneath the steel works. For almost two hours, he described the desperate conditions for wounded fighters, and said he and all the others saw themselves as "dead men".
In Russia, the Azov Battalion to which he belongs is vilified by many because of its initial roots as a militia with links to the far-right, and it is used in Russia propaganda to justify President Vladimir Putin's baseless claim that he is "de-Nazifying" Ukraine. After their capture, some Russians defended harsh prison sentences for the Azov fighters; others called for their execution.
But in Ukraine, the fighters are symbols of the resistance against the Russian invasion, and celebrated on billboards. "I don't think personally that I am a hero," Lt Samoilenko told me.
Their release last month was seen as a major victory for President Volodymyr Zelensky, and a source of national jubilation.
The prisoner swap saw 215 Ukrainians and 55 Russian exchanged. Details of the deal, which happened amid embarrassing Russian setbacks on the battlefield, remain a mystery.
But release was bittersweet, Lt Samoilenko says, as many of his "comrades and battle brothers" remained in captivity, and "the Russians were still torturing them, keeping them in inhumane conditions".
Now in Kyiv, Lt Samoilenko is waiting for a new prosthetic hand, and receiving psychological counselling. Because soon, he said, "we have to return to the battlefield".
Additional reporting by Anastasia Levchenko