The warnings came ahead of a bruising appearance for Liz Truss at a meeting of Tory backbenchers.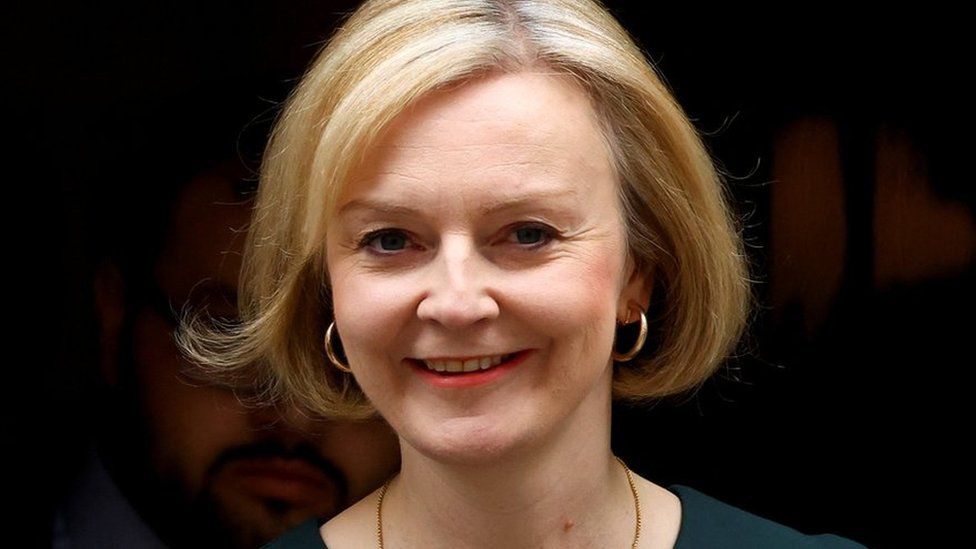 The government may have to rethink its tax-cutting plans to reassure financial markets and stabilise the economy, some senior Conservative MPs have said.
The warnings came ahead of a bruising appearance for the prime minister at a meeting of Tory backbenchers.
One loyal minister told the BBC: "We are completely in a dreadful place. There is no way out – maybe Liz Truss will find a way, but I cannot see it."
Ms Truss has repeatedly defended the proposed tax cuts outlined last month.
The chancellor's mini-budget on 23 September, which included £45bn of tax cuts funded by borrowing, sparked turmoil on financial markets and prompted the Bank of England to intervene to protect pension funds.
Kwasi Kwarteng is due to set out how he will fund the package and reduce debt on 31 October.
Ms Truss has denied she is planning public spending cuts, saying the government would instead focus on reducing debt "by making sure we spend public money well".
However, Mr Stride, a prominent backer of Ms Truss' leadership rival Rishi Sunak, suggested the government would need to show a "clear change of tack" to restore credibility with the financial markets.
"Given the clear government position expressed today on protecting public spending there is an emerging question. Whether any plan that does not now include at least some element of further row back on the tax package can actually satisfy the markets," he said.
Earlier, he told the Commons he believed it was "quite possible" the chancellor would have to further row back on the tax cuts announced in his mini-budget.
Asked to confirm whether this possibility was still on the table, Treasury Minister Chris Philp replied: "There are not any plans to reverse any of the tax measures announced in the growth plan."
Tory MP Kevin Hollinrake, who was also a Sunak supporter, said it would be better for the chancellor to U-turn on aspects of his mini-budget rather than cause more market turmoil.
"I think it's better to have looked at this more carefully in the context of what's happened over the last few weeks and say 'I think we've got some of this wrong and these tax cuts need to be introduced over time'," he told BBC Radio 4's World at One programme.
He suggested reversing the government's decision to scrap the planned hike in corporation tax was one potential option.
Mr Hollinrake said the markets would want to see something "tangible", adding: "It's got to be either moderate some of those tax cuts or cut spending to give the government credibility."
Meanwhile, former deputy prime minister Damian Green said an obvious way to reduce debt while ruling out public spending cuts would be to defer some tax cuts.
He told BBC Radio 4's PM programme the reversal of some parts of the mini-budget was being openly discussed by Tory MPs.
The government has already U-turned on its plan to scrap the top rate of income tax, following market turmoil and vocal opposition from some Tories.
However, this only made up £2bn of the tax cuts announced by the chancellor.
On Wednesday evening, Ms Truss faced sharp criticism from some of her own MPs during a meeting of the 1922 committee of backbenchers.
Sources in the room told the BBC that Robert Halfon had accused Ms Truss of "trashing blue collar conservatism".
He told her the party's record over the past 10 years had included things like boosting apprenticeships and the living wage, whereas she had cut tax for millionaires and wanted to cut affordable housing and benefits.
MPs who were present said he got a cheer, while Ms Truss looked "shocked" and said he could come to speak to her.
They said another Tory MP, James Cartlidge, also criticised the government's mini-budget, saying the communication had been poor and she had not prepared the markets.
Both MPs supported Mr Sunak during the Tory leadership election.
The BBC's Nick Watt said he encountered a "wall of derision and unease" about the prime minister outside the room.
One loyal minister told him: "We are completely in a dreadful place. There is no way out from this – maybe Liz Truss will find a way, but I cannot see it.
"It's like Black Wednesday in 1992, when interest rates shot up, we lost economy credibility, and it took us 15 years to get it back."
However, leaving the meeting the prime minister said it had been "very good".
One MP who backed Ms Truss in the leadership race said the PM acknowledged during the meeting that she could have laid the ground better for her recent policies.