Some Tories oppose the government lifting the ban on fracking in England and want a vote on the issue.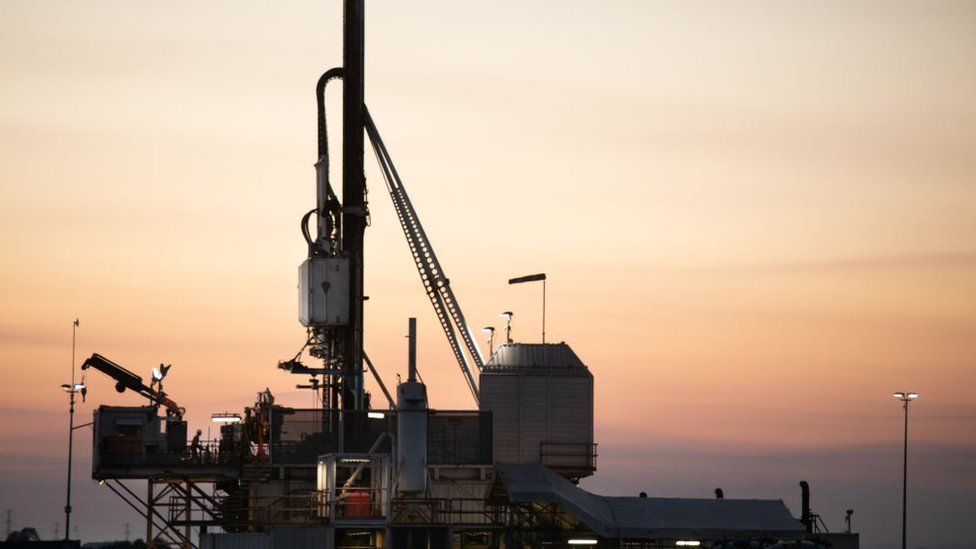 Some Conservative MPs are in talks with opposition parties to try to block the government's fracking plans, the BBC has been told.
Currently, MPs are not set to get a vote on the government's pledge to lift the ban on fracking in England.
But Labour want to force a vote on the issue, while some Tory MPs have told the BBC they would like this too.
Fracking was halted in 2019, following opposition from environmentalists and local concerns over earth tremors.
The controversial practice involves drilling into the earth to recover oil and gas from shale rock.
A number of Conservatives told the BBC they had spoken to opposition parties about what mechanism they could use to force the government to change its plans.
A Labour source also confirmed they had spoken to some backbench Conservative MPs who are willing to work together on "opposing fracking".
Some Conservatives said they believe dozens of their colleagues have raised concerns with No 10 and the prime minister about her plans to bring back fracking where there is "local consent".
Some of them have argued publicly, and others privately, that the government has not clarified how it could prove "local consent".
Others have argued that the plans go against the 2019 Conservative manifesto commitment to maintain the ban on fracking unless the science had changed to show it can be done safely.
In the past, a ban was placed on fracking after it triggered seismic events or earthquakes that breached a threshold set by the government.
Business Secretary Jacob Rees-Mogg has said that tolerating a higher degree of risk and disturbance from fracking appears to be "in the national interest" given the desire to produce more energy domestically since Russia's invasion of Ukraine.
Cross-party MPs who oppose fracking are looking for a parliamentary mechanism they could use to force MPs to get a formal vote on the issue – and use this to try and persuade the government to change its plans.
One idea being considered by opposition parties and Tory rebels is an amendment to future energy or planning bills – draft laws – blocking fracking from taking place, that MPs could then have the opportunity to vote for or against.
If enough Tory MPs voted with the opposition parties, this could overturn the government's majority meaning the amendment would pass.
However, amendments to proposed laws do not always get selected by the Speaker of the House of Commons.
Another option being considered is Labour tabling an opposition day debate on the issue, though some rebel Tory MPs could be less likely to vote for a Labour motion than an amendment to a government bill.
While an opposition day vote would not be binding, if it was backed by enough Tory MPs it could be used to show a lack of support for fracking in Parliament.
Opposition sources have told the BBC that fracking is just one policy area where they are attempting to tap into opportunities to overturn the government's plans by getting enough Tory MPs to vote with them instead which, if successful, would scupper the government's parliamentary majority.
Given the number of Tory MPs publicly – and privately – opposing fracking, some have told the BBC they feel the government may eventually see this as one fight too many after weeks of infighting within the Tory party over the government's economic plans.
Earlier this month, the government was forced to perform a U-turn over its plans to scrap the top rate of income tax for the highest earners after widespread opposition from within the Tory party.
Meanwhile, there is currently a live debate in the party over whether or not the government should raise benefits in line with prices or wages, which would be lower.