Rights activists say security forces are firing indiscriminately at protesters and homes in Sanandaj.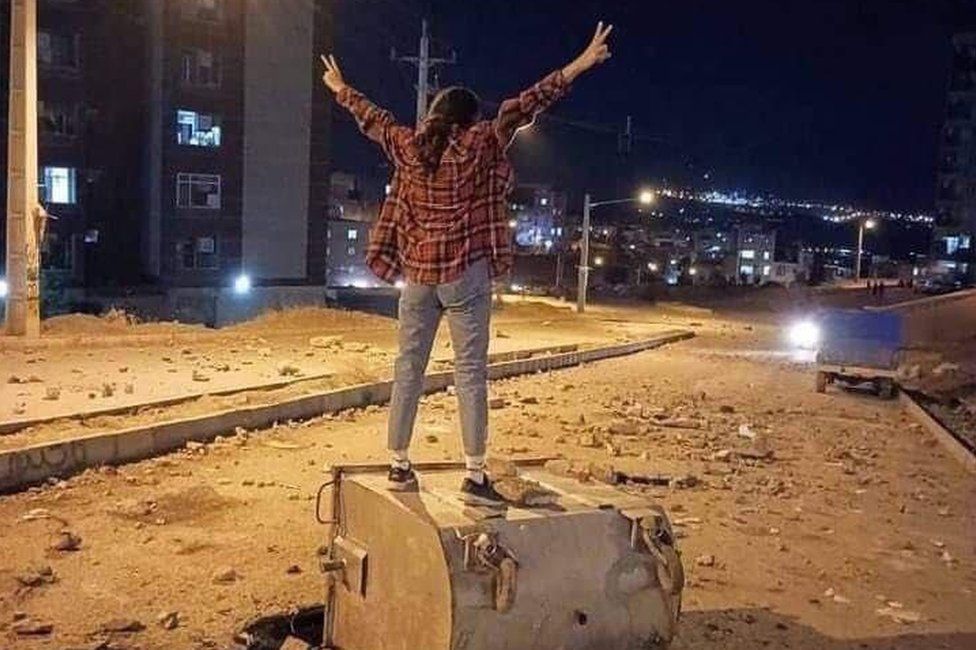 Human rights activists have expressed alarm at a crackdown on protests in a Kurdish-populated city in western Iran.
Amnesty International said there were reports that security forces had used firearms indiscriminately in Sanandaj.
Kurdish group Hengaw posted a video which it said showed police shooting at homes in the city and another in which gunfire and cries could be heard.
It reported that at least five civilians had been killed and 400 injured across the region since Sunday.
But it warned that the death toll might be higher because authorities were disrupting local internet and mobile networks.
Protests against the clerical establishment have swept across Iran since the death three weeks ago of Mahsa Amini, a Kurdish woman from the western city of Saqqez who fell into a coma after being detained by morality police in Tehran for allegedly violating the strict hijab law.
The unrest is now considered the most serious challenge to the Islamic Republic since its inception in 1979.
Iran's leaders have accused foreign enemies and exiled opposition groups of fomenting "riots" that they will not tolerate.
The Norway-based group posted videos which it said showed intense clashes between protesters and security forces in the city on Monday night. Repeated gunfire can be heard in the footage, as well as cries and shouts.

Last night in #Sanadaj security forces stormed into neighbourhoods. sounds of gunfire could be heard. Many injured and arrested. In another part of the city revolutionary guards mistakenly fired on their own militias, at least one killed and more injured. #Mahsa_Amini‌ pic.twitter.com/9HEVJbpoTG

— @jiyargol (@jiyargol)

Videos of ongoing demonstrations by schoolgirls in Sanandaj and elsewhere in the region were also posted online.
During a visit to the city on Tuesday, Interior Minister Ahmad Vahidi blamed "counter-revolutionary terrorist" groups for the "riots" and vowed that security forces would continue to respond with an iron hand, state media said.
The government has denied killing protesters and said that more than 20 security personnel have died.
Thousands of people have also reportedly been arrested in the crackdown.
They include the daughter of late former president Akbar Hashemi Rafsanjani, Faezeh Hashemi, who the judiciary said on Tuesday had been charged with "disruption of public order and propaganda against the Islamic Republic", according to AFP news agency.
In another development, protests by workers in Iran's vital oil and gas industry reportedly widened on Tuesday.
However, state media denied the reports of a strike.
On Monday, dozens of employees blocked roads outside the Assaluyeh petrochemical complex in Bushehr province and shouted: "Do not fear, we stand together." A regional official insisted it was related to a wages dispute.