The funeral Mass has taken place for Jessica Gallagher, one of 10 victims of last week's explosion.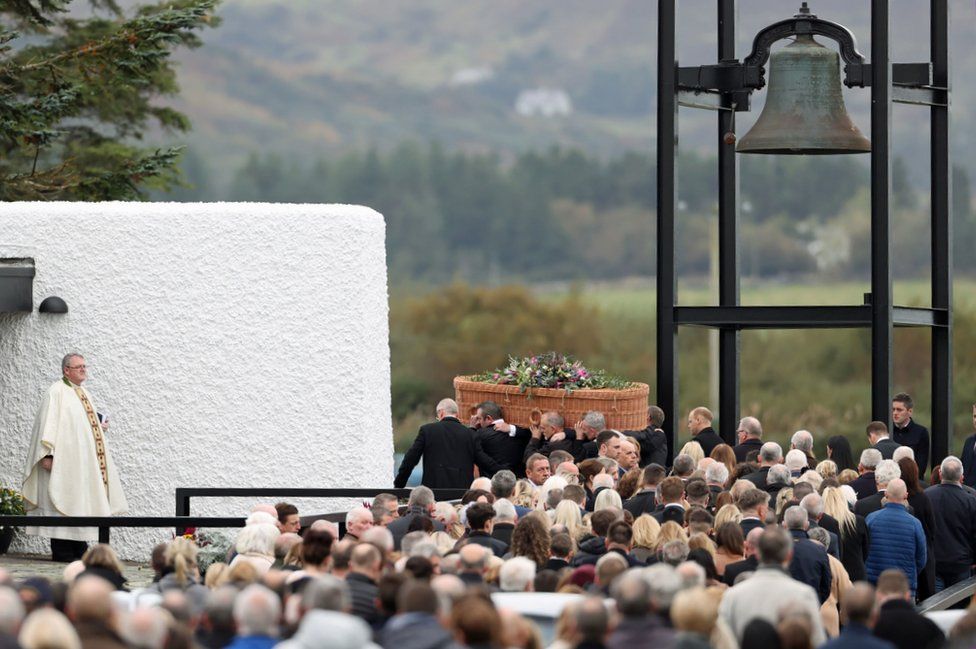 A young woman who was killed in Friday's explosion in County Donegal will be remembered for the "ripples of love, affection and warmth" she left behind, funeral mourners have heard.
The service for Jessica Gallagher, 24, took place at St Michael's Church in Creeslough.
Ten people were killed in the blast at a service station in the small village.
The funeral of another victim, 49-year-old Martin McGill is taking place at the same church.
An investigation is under way into the cause of the explosion but police have said it appears to have been an accident.
The building complex where the blast occurred included a service station, convenience shop and residential apartments.
The store, which included a post office, was the main shop serving the 400-strong village, which has been mourning an unprecedented loss of life in its community.
Donegal 'was in her heart'
During Ms Gallagher's funeral Mass, Creeslough priest Father John Joe Duffy said she had a "radiant smile".
"She always brought the sun whether things were happy or difficult," he said.
Mourners were told how the fashion designer, who was to start a new job in Belfast on Monday, used Donegal tweed as a feature in her work.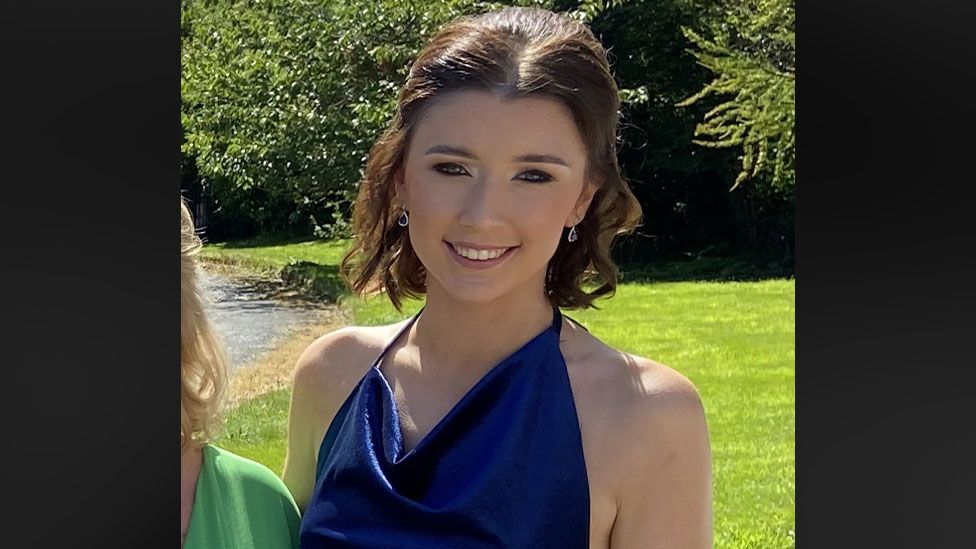 The county was "in her heart", Fr Duffy continued.
He said Pope Francis had conveyed that he was "heartbroken" by the disaster in the village.
Irish President Michael D Higgins is being represented at both of Tuesday's funerals by his senior aide.
Mr McGill, who was originally from Scotland, was described as a devoted son who cared for his elderly mother.
He moved to Creeslough to look after of both his parents but his father had since died.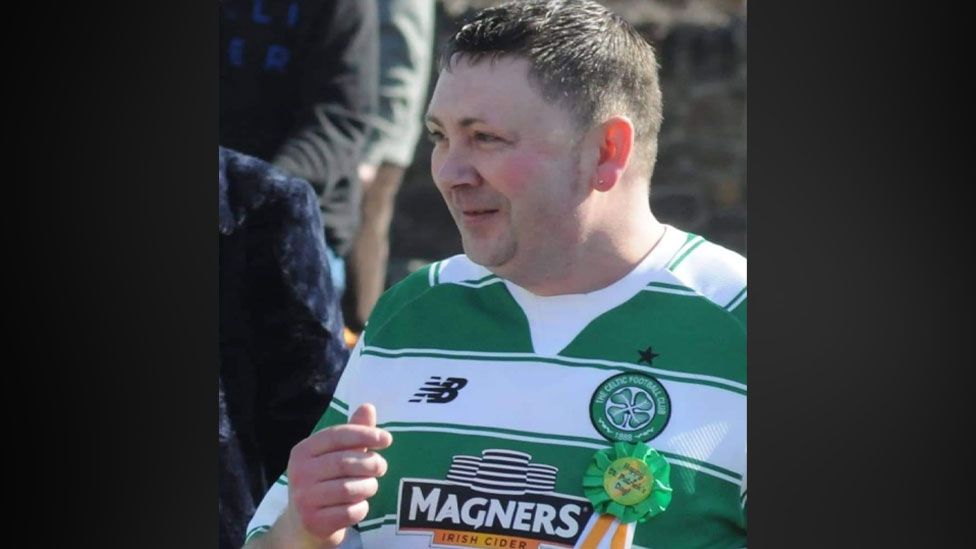 The club's players will also wear black armbands during the match.

Close-knit community together in grief
by Charlotte Gallagher and Davy Wilson in Creeslough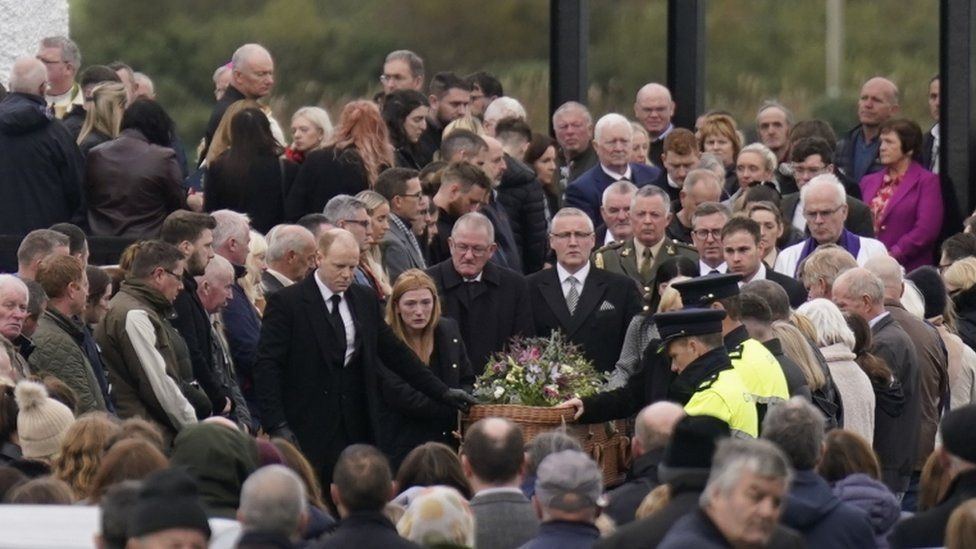 The village of Creeslough fell silent twice in as many hours on Tuesday.
First when the hearse carrying Jessica Gallagher was driven through the village, where family, friends and neighbours had gathered to remember the young woman who had travelled the world and come home to start her career.
Then, again, when a lone piper accompanied the funeral cortege of Martin McGill as it made the short distance from his family home to St Michael's Church.
One man offered a salute as the cortege passed, another standing nearby wiped tears from his face.
The simple white church where many of the funerals will take place is in the foothills of the Donegal mountains.
It sits opposite the primary school attended by the youngest victim, five-year-old Shauna Flanagan Garwe, and the pharmacy where Martin McGill had gone that day to pick up his elderly mother's medication.
After the funeral Mass of Ms Gallagher, many took a moment to find comfort with each other – an entire community united in its loss, together in its grief.

Eight people who were injured in the explosion remain in hospital.
A man in his 20s is critically ill in St James's Hospital in Dublin.
On Monday, nurses from Letterkenny Hospital lined the road as the remains of another victim James O'Flaherty, who was originally from Sydney in Australia, were taken from a chapel in the town.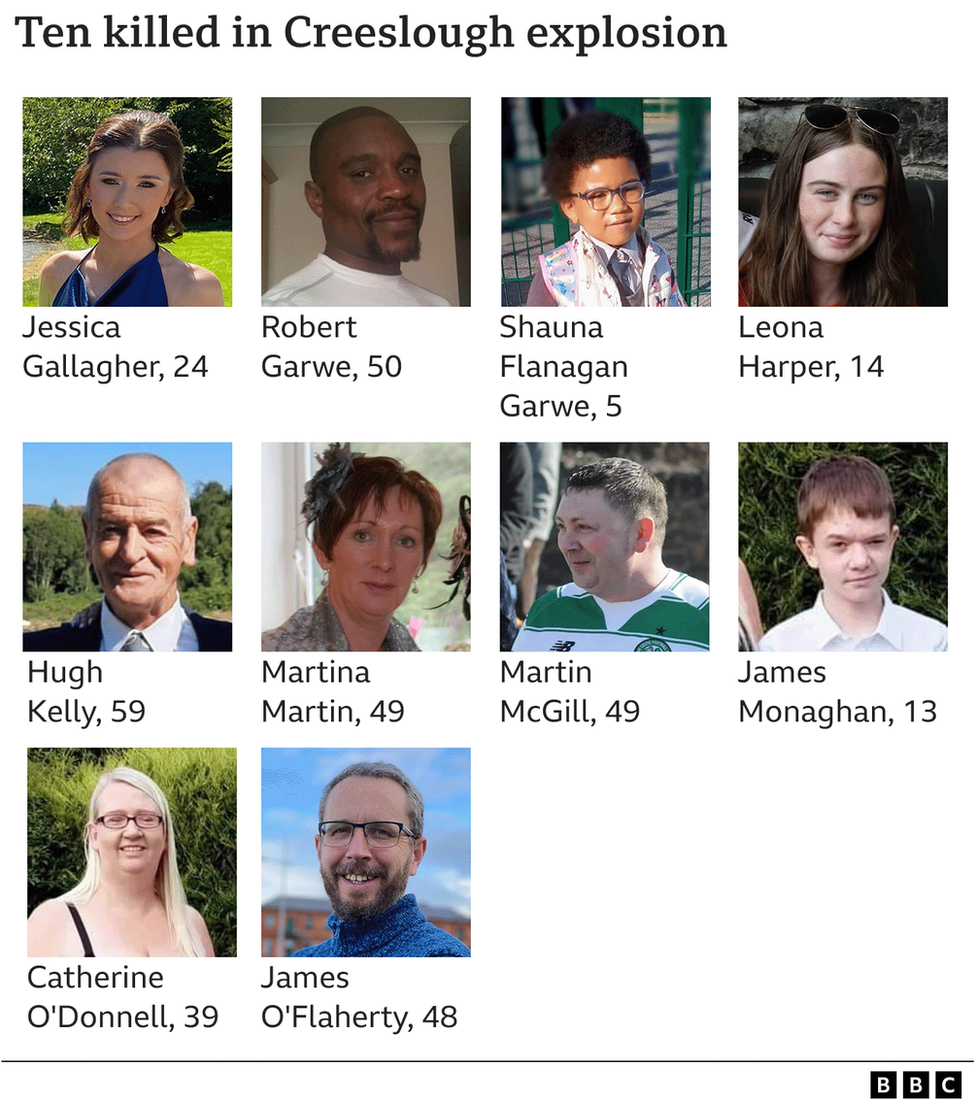 His wife Tracey is a nurse at the hospital and her colleagues gathered outside the chapel as the hearse drove past.
His funeral is due to take place on Wednesday morning and a service set for the afternoon for two other victims – Catherine O'Donnell and her son James.
Leona Harper and Martina Martin will be buried on Thursday.
Candlelit vigils have been held and messages of sympathy have poured in from across Ireland and around the world.
Books of condolence have been opened across Ireland and in the Guildhall in Londonderry, Belfast City Hall and at Stormont.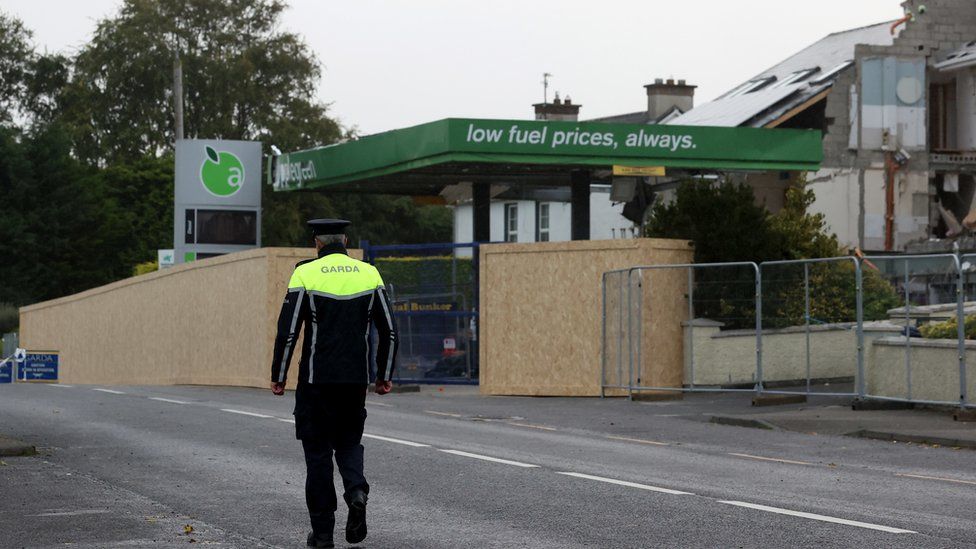 Special messages have come from the Pope and King Charles.
The leader of the Catholic Church in Ireland, Archbishop Eamon Martin, visited Creeslough on Monday.
He said he was "stunned by the tragic and horrific" explosion.