The first minister tells delegates at the SNP conference in Aberdeen that independence is "essential".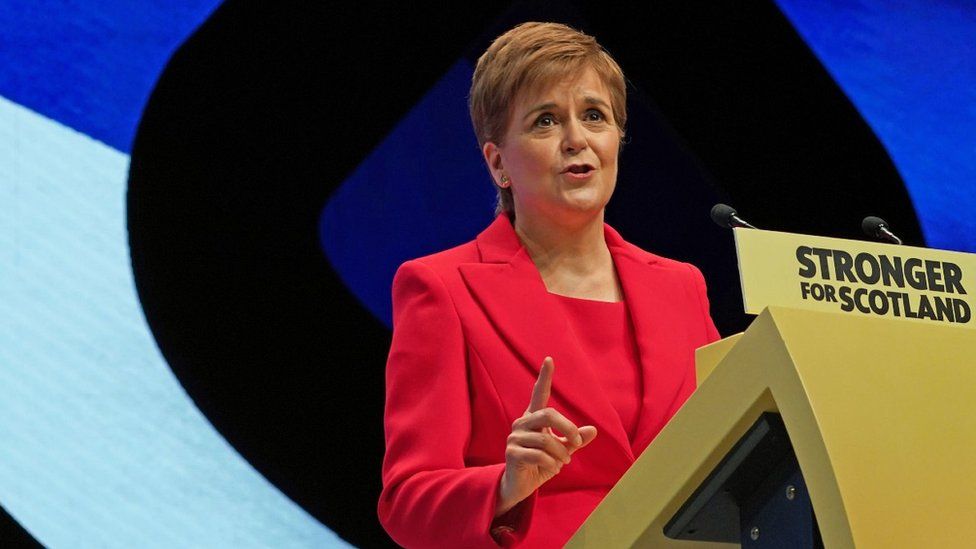 First Minister Nicola Sturgeon has told her party members they are "the independence generation" in her keynote speech at the SNP conference.
The SNP leader told delegates that independence was "essential".
She also told the conference in Aberdeen that she would unveil a new economic prospectus next week.
Ms Sturgeon said this would include a proposal to use oil revenues to set up a £20bn investment fund if Scotland became independent.
She also announced an increase to a child benefit bridging payment.
In her rallying cry to party members, Ms Sturgeon told the conference: "We are the independence generation
"I believe – firmly – that we will be the first, in the modern world, to live in an independent Scotland."
While the SNP leader warned independence was not "a miracle economic cure", she insisted it was "essential to escape Westminster control and mismanagement".
She urged the "independence generation" to keep in mind two points.
"First is the fundamental right of the nation of Scotland to self-determination," she said.
"And the second is what history teaches us – the overwhelming power of democracy to triumph."


This speech – and the reaction to it – underlined how united the SNP is under its leader, and how firmly they believe that independence is coming.
Nicola Sturgeon talked about the "arc of history" moving towards it, about being part of "the independence generation".
There are still major questions over how that will actually happen, and in all honesty there were long spells over the weekend when this did not feel like a gathering of a party which is one year out from a referendum.
But the process issue is on hold for today, deferred to the Supreme Court, which will become the focus of the debate from tomorrow morning.
And as ever Ms Sturgeon's speech was the spark that energised the entire conference.
There was ovation after ovation for her promises that "the overwhelming power of democracy" would triumph.
There was a message to staunch unionists too, with the first minister promising that "whatever happens in future, Scotland belongs to you as much as it does to us".
But for the most part this was a speech for the faithful in the room – and they clearly loved every moment of it.

At the first in-person conference since 2019, the first minister said her party would publish a paper next week which would make the economic case for independence.
She said this would include plans for a fund which would deliver up to £20bn of investment within the first decade.
The SNP leader said this would be funded from remaining oil revenues and by using borrowing powers.
"It will set out how we can build a new, sustainable economy based on our massive renewable energy resources," Ms Sturgeon said.
"It will show how in an energy rich, independent Scotland, we can deliver lower prices and stronger security of supply."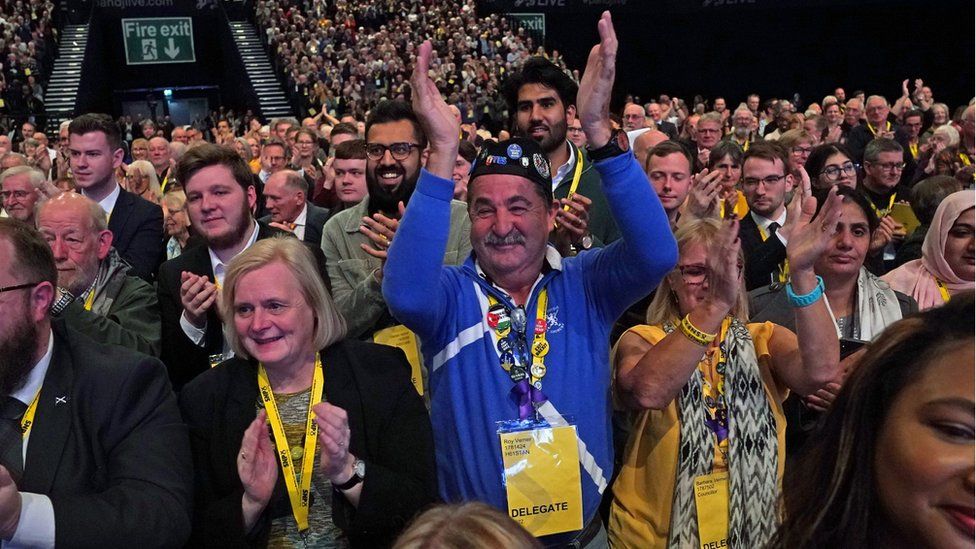 The speech comes ahead of a Supreme Court hearing on the Scottish parliament's ability to legislate for an independence referendum.
Ms Sturgeon said that if the court rules in her favour, the Scottish government will hold a referendum on 19 October 2023.
If not, she said she would respect the rule of law and then "put our case for independence to the people in an election".
"I will never – ever – give up on Scottish democracy," the first minister said.
She insisted that independence could help Scotland forge closer ties with its near neighbours.
Ms Sturgeon said that England, Scotland, Wales and Ireland would always be "the closest of friends".
"We will always be family.
"But we can achieve a better relationship – a true partnership of equals – when we win Scotland's independence."
She also said the NHS would be protected in a written constitution after independence and confirmed two new cancer diagnosis centres are opening – one in the Borders and one in Lanarkshire.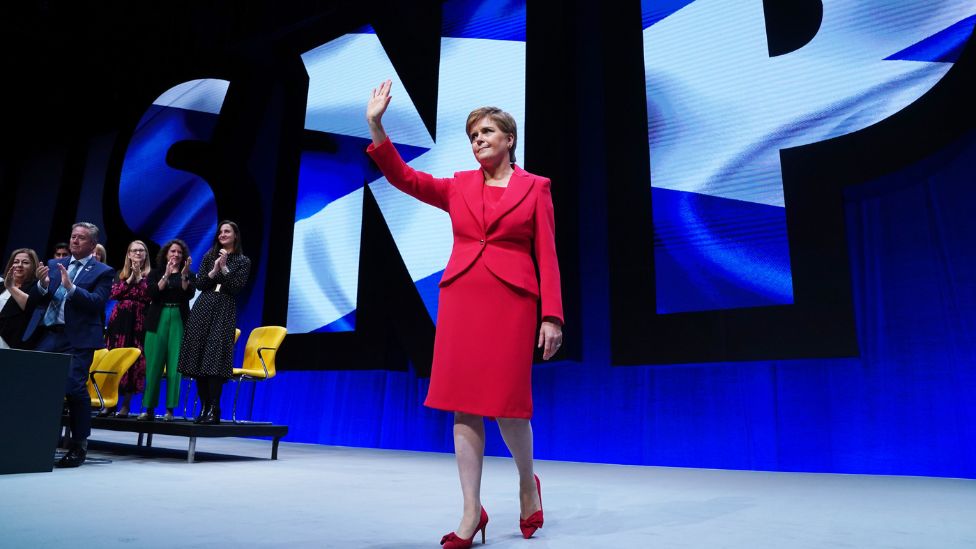 Ms Sturgeon – who announced her desire to continue as first minister for "quite some time yet" – told the conference that the government would double this year's final quarterly bridging payment to 145,000 school age children.
This will rise from £130 to £260 as part of a £19m investment.
She went on to take aim at Liz Truss's UK government, who were accused of overseeing "chaos and catastrophe".
The SNP leader responded: "My dream is that we live in a world where those fleeing violence and oppression are shown compassion and treated like human beings… not shown the door and bundled on to planes like unwanted cargo."
The first minister also expressed solidarity with people facing oppression and violence in Ukraine, Afghanistan and Iran.