As MPs return to Westminster, the prime minister signals that she's in listening mode, says the BBC's Chris Mason.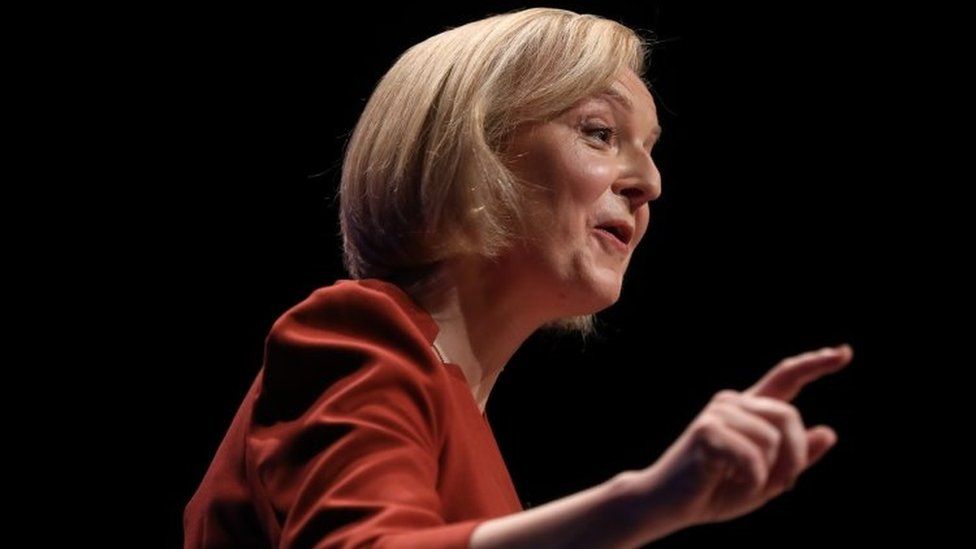 When a leader lets it be known they are in listening mode, or words to that effect, it usually means there is already a 170 decibel political firework display well under way.
There is and it's volcanic.
The breakdown in discipline during the Conservative Party Conference in Birmingham last week was extraordinary because of its breadth: nervous activists, jittery backbenchers and disloyal cabinet ministers.
So where do we find ourselves as MPs prepare to return to Westminster?
In the words of one senior figure: "This is a party that is unstoppable when it has the will to win. But the opposite is true too, when it decides it has a death wish."
Among Liz Truss's critics, and there are many, her speech to close the party conference "bought her half a week" in the words of one.
"It wasn't brilliant, but it wasn't terrible."
But things do seem just a little cooler than they were in the hothouse of Birmingham.
Mr Hands was a supporter of Rishi Sunak for the party leadership, and very, very few of those MPs were given jobs in Liz Truss's government.
Bizarrely, given the prime minister has been in post for a month now, this is the first normal Westminster week of her time in office.
After the mourning period for the Queen and the party conferences, Parliament is back, and the usual weekly fixtures, such as Prime Minister's Questions on Wednesday are in place.
Conservative MPs can expect a noticeable dollop of love and attention coming their way from Downing Street, with the PM leading meetings of groups of Tory MPs, Project Reassurance (my phrase, not theirs) is underway.
There will be a cabinet meeting on Tuesday morning as usual.
Among many of the issues causing ructions: benefits payments, and whether Universal Credit, a benefit received by 5.6 million people, rises in line with wages or inflation.
A basket of benefits have, by law, to go up in line with prices – such as the Personal Independence Payment, Disability Living Allowance, Carers' Allowance and Incapacity Benefit.
But Universal Credit does not – it is a decision taken every year.
The inflation figure that the rate could be lifted by is the one for the Consumer Prices Index, in September.
Ministers will have that number by the middle of next week – and so will have, by then, a more rounded sense of how much of a cost gap there is between the two options.
The prime minister says she has not decided what to do, although my understanding is her initial hunch was to put them up by the lower amount (wages), rather than the higher, more expensive amount (prices).
But, it doesn't look like she has the numbers in Parliament to do it.
Just this morning, the former cabinet minister Sajid Javid joined those saying it must rise by the higher amount.
"The last week means the prime minister has no political space at all," one cabinet minister told me.
If anything you have read in the last few days sounds like a fountain of hyperbole from excitable reporters – and yes, we are occasionally guilty of a splash of excitability – just measure the depth and breadth and verbiage of the pushback in the newspapers over the weekend.
Cabinet ministers, including Penny Mordaunt, arguably the most transparently disloyal last week, pledged their loyalty.
Then there was a grandee, Sir Bill Cash; and a message from the grassroots too, in a letter to the Sunday Telegraph.
At all altitudes of the party, there is a collective attempt to discourage what some see as a lemming tendency taking grip.
It's the prime minister's job to try to turn that fatalism off.