A woman and her teenage son and a 14-year-old girl also died in the petrol station explosion.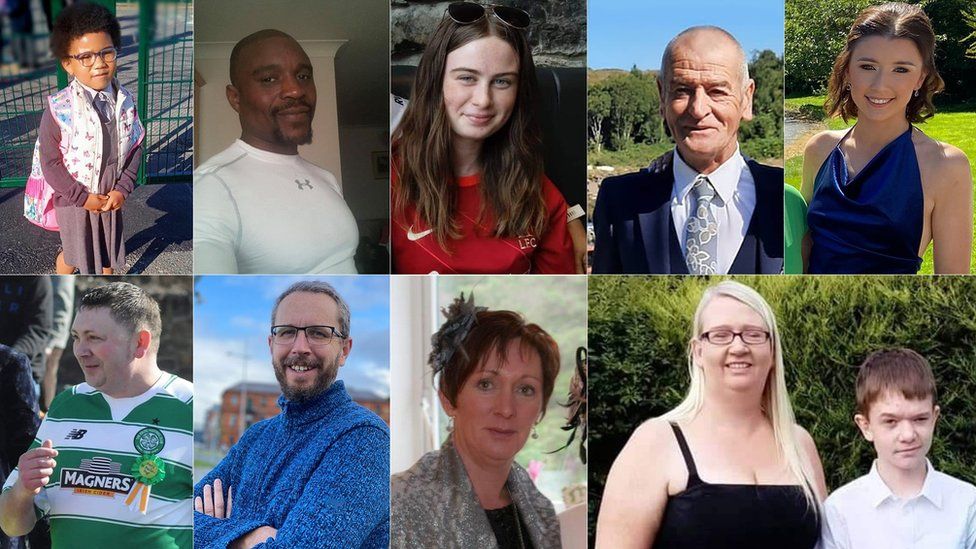 The names of the 10 people killed by an explosion at a petrol station in County Donegal in the Republic of Ireland have been confirmed.
The victims of Friday's disaster include five-year-old Shauna Flanagan Garwe and her dad Robert Garwe, 50.
Catherine O'Donnell, 39, and her son James Monaghan, 13, also died.
Leona Harper, 14, Jessica Gallagher, 24, James O'Flaherty, 48, Martin McGill, 49, Martina Martin, 49 and Hugh Kelly, 59 also lost their lives.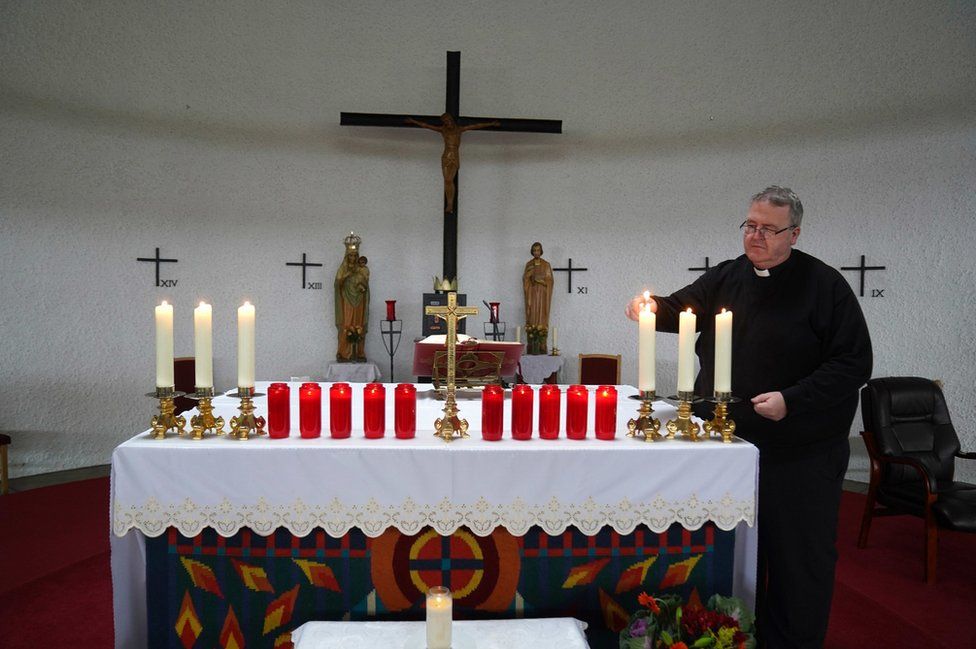 A man in his 20s who was injured is critically ill in St James's Hospital in Dublin.
Seven other people who were hurt in the explosion are in a stable condition in Letterkenny University Hospital in County Donegal.
'They are all local people'
On Sunday An Garda Síochána (the Irish police force) said it was continuing to investigate the cause of the explosion.
Garda Supt Liam Geraghty said the victims were "all local people".
"They are all very much involved in the local community; they were all people who were shopping in their local shop," he said.
"The schools are going to be impacted, local GAA clubs are going to be impacted, the local church and general community is going to be severely impacted.
"But it is very strong community so I'm sure the community will come together and will support each other."
'Eternally grateful'
Pope Francis was among those who have offered their condolences to the people of Creeslough.
In a letter to the Bishop of Raphoe Alan McGuckian, the Pope's representative wrote: "His Holiness Pope Francis was saddened to learn of the loss of life and destruction caused by the explosion in Creeslough.
"He expresses his spiritual closeness to all those suffering in the aftermath of this tragedy."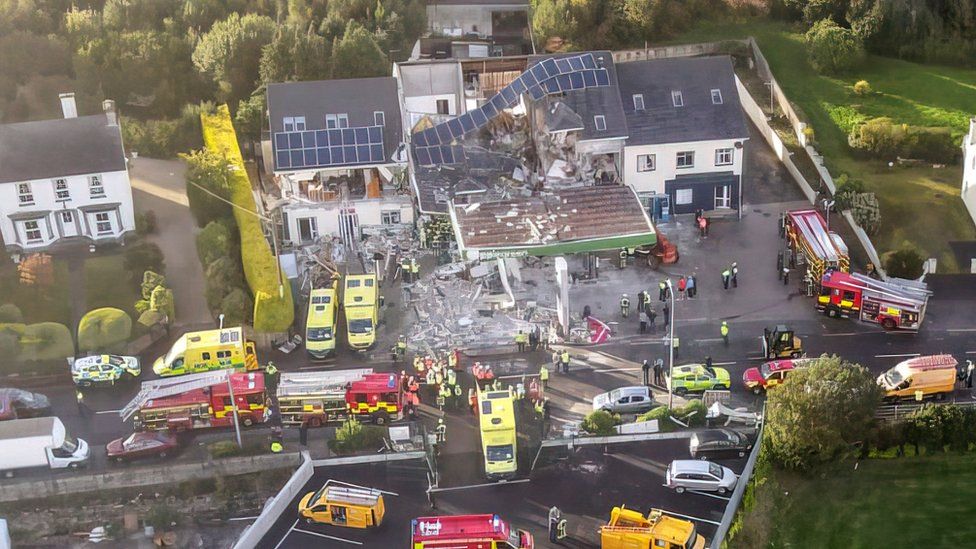 Teenager Leona Harper who was killed in the explosion was described as a talented rugby player by her club in Letterkenny.
Her family said they were "eternally grateful" to those who had helped to find her body.
"Emergency services and locals worked through the night to return Leona to her family 24 hours after the tragic explosion," read a statement released on her relatives' behalf.
Leona was a supporter of Liverpool Football Club, which said it was deeply saddened by her death.
We are deeply saddened by the loss of Leona. Our thoughts are with her family and friends, as well as all those affected by Friday's tragedy ❤️

— Liverpool FC (@LFC)
He said the disaster was one that "anybody could have been caught up in".
"Why did they have to be there at that awful moment?" he asked.
Later hundreds of people attended a vigil in memory of the victims.
It was held in the town of Milford, a half-hour drive from Creeslough and was the first of almost 20 vigils due to be held across County Donegal on Sunday.
'People were heroic'
More details have emerged about the search operation to free those trapped in the rubble, during which the emergency services were helped by volunteers from the village.
Dr Gerry Lane told Irish national broadcaster RTÉ that the explosion had left the building "inherently unstable".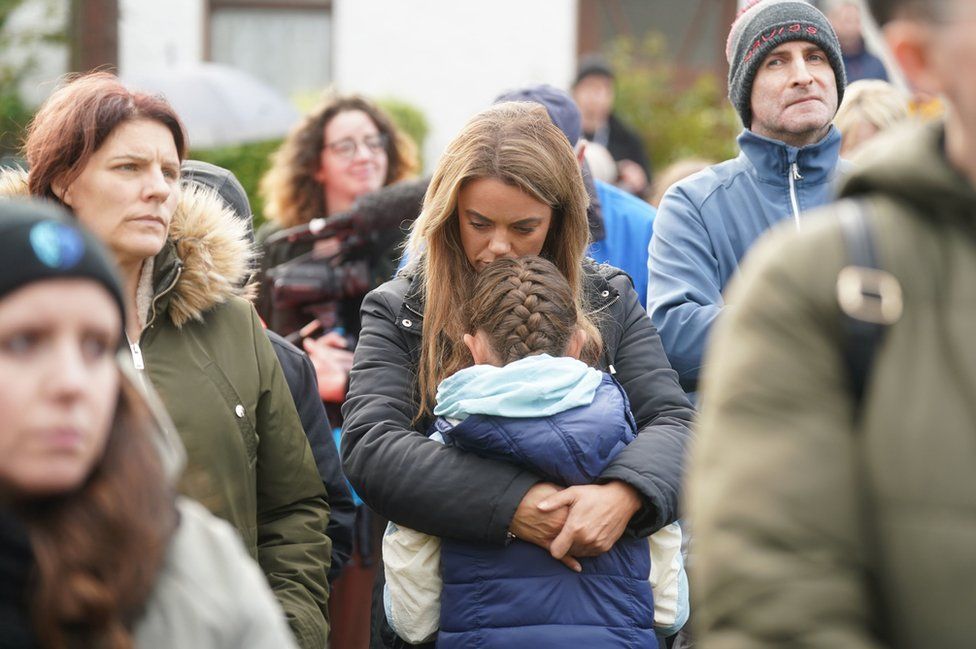 "I saw people in shorts and flip-flops wrenching corrugated iron away with their bare hands," he said.
"Those people were heroic but were placing themselves in a great deal of danger."
Dr Lane said three of the rescue workers were injured over the course of Friday night.
JJ McGowan, the chief ambulance officer at the scene, described the difficult conditions encountered by the emergency teams.
"At one stage the fire service had constructed a small mouse hole in the wall to get into part of the scene," he said.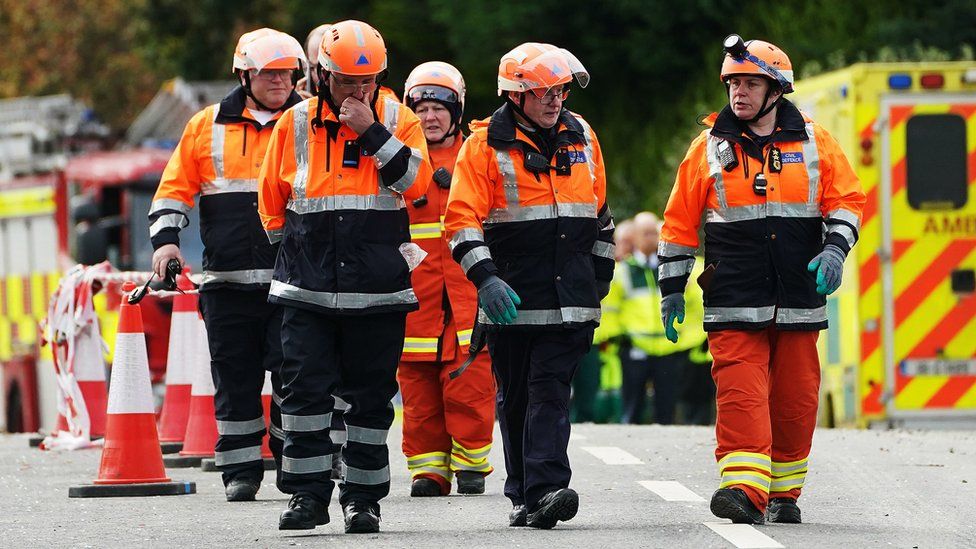 "And all I could see was two of our boots sticking out of it.
"One of our lads [was] in there trying to see what he could see… through what you could only describe as a mouse hole."
Ten red candles have been lit inside the village church in tribute to those who lost their lives in the explosion.
Over the coming days communities across counties Donegal and neighbouring Tyrone will come together for vigils.
Books of condolence are also opening across Northern Ireland.