Senior MPs call on the party to rally around Liz Truss or risk ending up in opposition.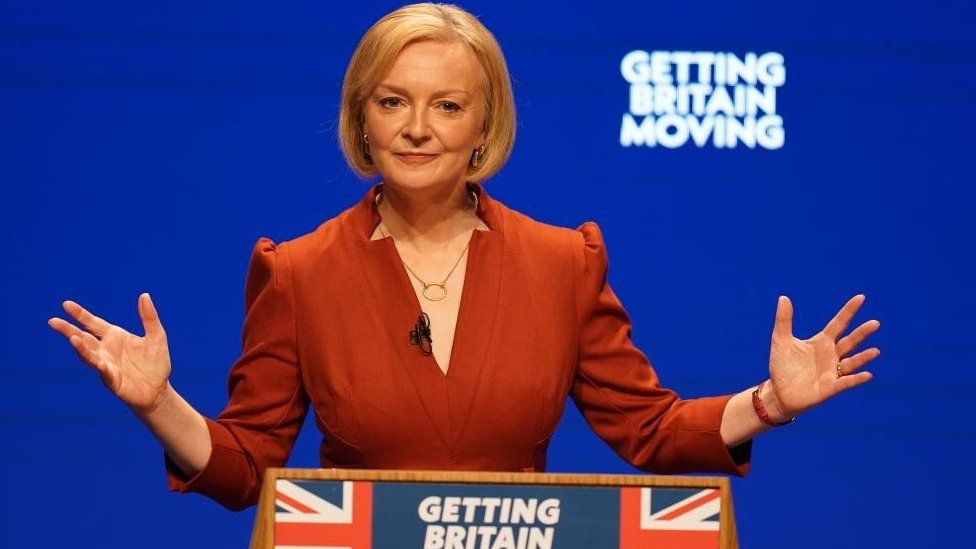 Four cabinet ministers have urged fellow Conservatives to get behind Prime Minister Liz Truss, after a week of open disagreement within the party.
They warn the party must unite or it risks ending up in opposition.
Home Secretary Suella Braverman and Commons Leader Penny Mordaunt are among those to have written opinion pieces in Sunday's newspapers.
Disagreements also emerged over calls to raise benefits in line with inflation.
Ms Braverman and Ms Mordaunt both stood against Ms Truss in the Tory leadership race.
Another leadership rival, the Chancellor of the Duchy of Lancaster Nadhim Zahawi, has also penned an article – along with Environment Secretary Ranil Jayawardena.
Meanwhile, senior Tory volunteers have written an open letter to the Sunday Telegraph warning MPs to "stop infighting, unite behind the PM and focus on delivering for this country and taking on the Labour Party".
In an echo of the 2015 election campaign, Ms Braverman and Mr Zahawi both suggest that any future Labour administration would be propped up by the SNP.
Ms Braverman was this week reported to have said she had "reservations" about government plans to relax some immigration controls as part of a trade deal.
But she uses her article in the Sun On Sunday to warn against "splits and fallout" in the Conservative Party, while stating that she and the prime minister are working together on immigration.
"Those working with Labour to undermine our prime minister are putting the Conservatives' chance of victory at the next election in real danger," she writes.
"So the choice for my colleagues and for us is as party is simple: Back Liz or get Keir Starmer, hand-in-hand with Nicola Sturgeon."
But he says "now is the time" for the Tories to rally behind Ms Truss, adding that his fellow Conservatives need to hold their nerve.
The cabinet office minister adds that Tory MPs should be supporting their leader, not "working against her", as he cautioned "division will only result in drift, delay and defeat".
Ms Mordaunt, who stated her support for increasing benefits in line with inflation despite no such commitment from government, is also warning against party infighting.
"Division will only play into the hands of those who would take our country in the wrong direction," she writes in the Sunday Telegraph, adding, "we have to unite behind the prime minister and fight".
Mr Jayawardena's piece for the Sunday Express echoes this message, saying colleagues must "get behind" the Ms Truss and "deliver, deliver, deliver".
BBC political correspondent Ian Watson says No 10 is keen to quell any talk of rebellion among Conservatives as MPs return to Westminster this week after the party conference season.
But he says despite the co-ordinated messages from cabinet ministers, Ms Truss's internal critics could interpret the need for such explicit declarations of support as a sign of vulnerability.