A Ukrainian official said two sites were found near Lyman, with one estimated to hold 200 dead.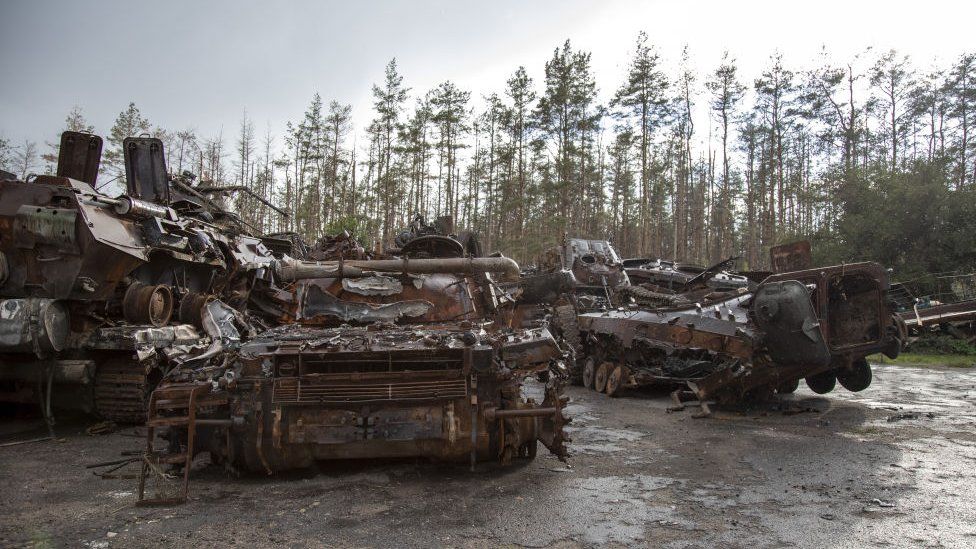 Ukraine says two mass burial sites have been found in the recently-recaptured eastern town of Lyman, after Russian retreated.
The Ukrainian governor of the Donetsk region, Pavlo Kyrylenko, said one burial site had about 200 individual graves containing civilian bodies.
It was unclear how many bodies the second site held, but it may contain both soldiers and civilians, he said.
The time and cause of death for the deceased is yet to be determined.
The BBC was not able to independently verify the claims.
Mr Kyrylenko, writing on Telegram, said officials had begun investigating both burial sites. He also asked people not to speculate on the details until the investigation was completed.
Lyman is in Donetsk – one of four partially-occupied Ukrainian regions which Moscow declared it was annexing. Ukraine and its Western allies have dismissed the move as an illegal land-grab.
Ukraine's President Volodymyr Zelensky has previously accused Russia of deliberately killing civilians in other locations in Ukraine.
Mr Zelensky said that mass graves were found this spring in Bucha, near the capital Kyiv, and also near Mariupol – the key south-eastern Ukrainian port now occupied by Russia since its invasion of Ukraine in February.
Ukrainian forces said they found mass graves and evidence that civilians had been killed after their feet and hands were bound.
Hundreds of graves were also found outside the eastern city of Izyum days after Russian troops retreated, according to Ukrainian authorities. It is unclear what happened to the victims, but early accounts suggest some may have died from shelling and a lack of access to healthcare.