A quiet, charming, unassuming man – and arguably the most popular leader on Earth.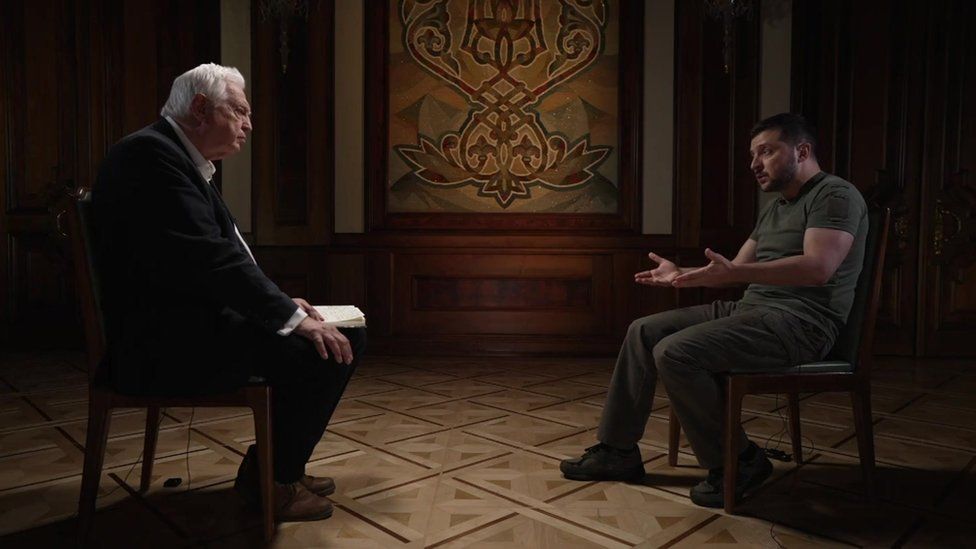 It's always a temptation to see great wars as a clash between individuals – Napoleon against Wellington, Churchill against Hitler – but it's usually a mistake. There's vastly more going on in a war across continents than simply a duel between two people.
But Vladimir Putin's invasion of Ukraine does have the genuine flavour of a personal battle.
It was very much his own idea, hatched with a group of three or four officials and generals at a time when Russia was cut off by Covid, even though by now, nearly eight months after it began, millions of lives in Russia and Ukraine have been damaged by it.
And one man has risen to prominence because he's opposed it with extraordinary success.
Volodymyr Zelensky is a quiet, charming, unassuming man. He's famously an actor by profession, and played the part of the president of Ukraine on television long before he was elected to the actual job. Maybe, of course, the quiet charm and the apparent lack of assumption are part of the act: you'd need to know him a great deal better to be able to be sure about that. My guess is not, though.
Zelensky seems pretty much as he appears, and like a lot of actors he has a clear-sighted appreciation of himself and the limits of his abilities.
In the presidential palace, where the main staircase is defended by sandbagged emplacements and you can't even take a watch with you if you're a visitor, Zelensky's trademark dark green T-shirt seemed to fit in perfectly.
Whichever of his top officials suggested that he should appear on television wearing that during the frightening days of February and March, when the Russians were very close and the streets of Kyiv were full of the rust-coloured steel tank-traps called "hedgehogs", deserves a special award.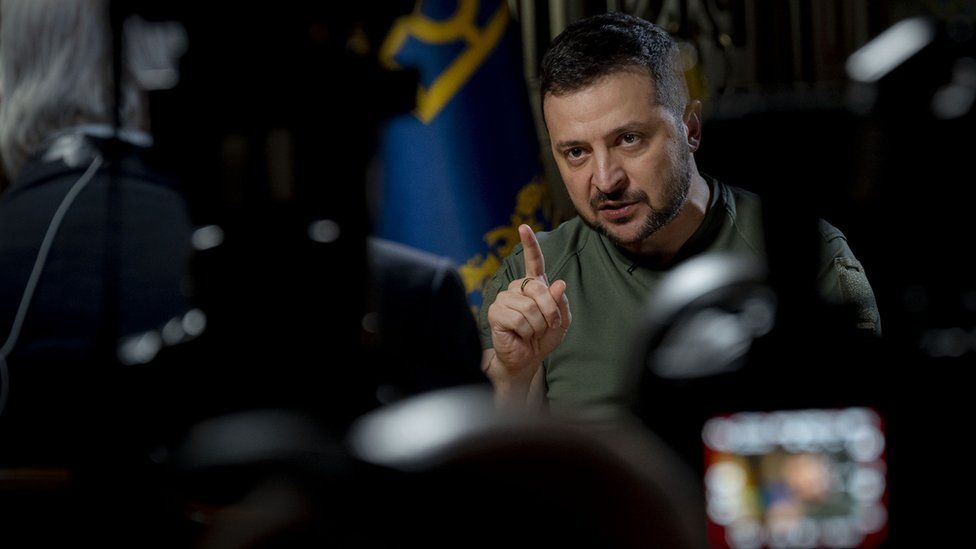 Zelensky struck precisely the right note – tough, dressed-down, practical and ready for a fight. In those days, most of Ukraine's friends abroad were certain that the Russians would carve their way through to central Kyiv in no time. It was a sign of Zelensky's toughness of character that he announced he was staying, whatever happened.
His ability to continue striking the right note has lasted for eight months.
A few days ago, though, he got something wrong, and seemed to be calling for a pre-emptive strike to stop Russia using its battlefield nuclear weapons – relatively small-yield bombs that would have an appalling effect locally, but would be fairly limited in the damage they did over a wider area.
Zelensky's words weren't well-chosen, and they handed Moscow an easy win for a few hours. When I interviewed him, he was sufficiently anxious to dampen down the criticism by making his defence in English. He meant, he said, pre-emptive sanctions which the West should impose on Russia to dissuade President Putin and his generals from opening up Europe's first nuclear war.
"We're not terrorists," he said when I questioned him about this, and that opened up another question. The New York Times has suggested the US now believed that Ukrainian agents were responsible for the car bomb in Moscow last August which killed the ultra-conservative television reporter Darya Dugina, and may have been intended for her equally extreme father, who used to be close to Putin.
Zelensky insisted that his government had absolutely nothing to do with it. Of course he would.
Yet there are plenty of presidents and prime ministers who would turn vicious if you asked them questions like this. Not Volodymyr Zelensky: he stays calm and surprisingly warm. He's a great deal better at talking about emotions and the effects of the war on ordinary people than he is about detailed questions of policy, but that's part of the reason for his enormous success, not just in Ukraine but around the world.
He must be the most popular leader on Earth at the moment, and he is winning his personal public relations duel with President Putin hands down; Putin angry and scowling and reluctant to leave the Kremlin, Zelensky making trips to newly liberated towns. He is even showing sympathy for the young Russian conscripts who are sent to fight in Ukraine, saying to me, "without weapons and body armour – just cannon-fodder".
I wondered if his very public refusal to consider negotiating with Vladimir Putin was a signal to other Russian political leaders that if they wanted to end the war they would have to push Putin aside. After speaking to him about it, I decided not.
He doesn't seem to have the slightest interest in Putin as a person, and has no respect whatever for him as a war-leader who micro-manages the fighting in angry calls with his generals.
Did he care if Vladimir Putin fell from power, I asked?
Zelensky blew out his cheeks and shook his head. "Not in the slightest," he said.