Sir Jeffrey Donaldson says if his party's demands are not met, there will be "no basis to re-enter Stormont".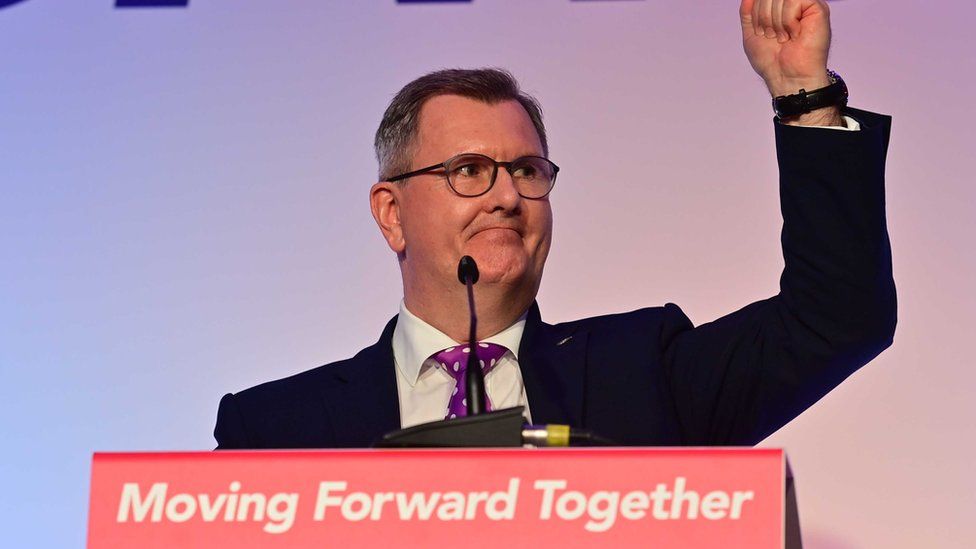 DUP leader Sir Jeffrey Donaldson has issued a warning to the prime minister over his party's future at Stormont
In his first conference speech as leader, he said if his party's demands on the Northern Ireland Protocol are not met "there will be no basis to re-enter Stormont".
Members met in Belfast on Saturday for its first annual conference since 2019.
In setting out his demands, he said: "Either the prime minister delivers the provisions of the Protocol Bill by legislation or by negotiation and ensures that our place in the United Kingdom is restored.
"On this issue, it is not words but actions we need to see and we will judge any outcome on the basis of actions not words."
Sir Jeffrey said his party welcomed the resumption of negotiations between the UK and EU and wished both parties "well".
The DUP leader also reaffirmed his party's long-term commitment to power sharing.
"For the benefit of those watching in London and Brussels," he said.
"If decisive action is taken on the protocol that restores our place fully within the United Kingdom, this party will take its place once again in a fully-functioning executive."
On the prospect of an early Assembly election, Sir Jeffrey said: "We are ready and we will take our case to the people as the lead party of unionism.
"We will campaign as never before to secure a further fresh mandate from the people."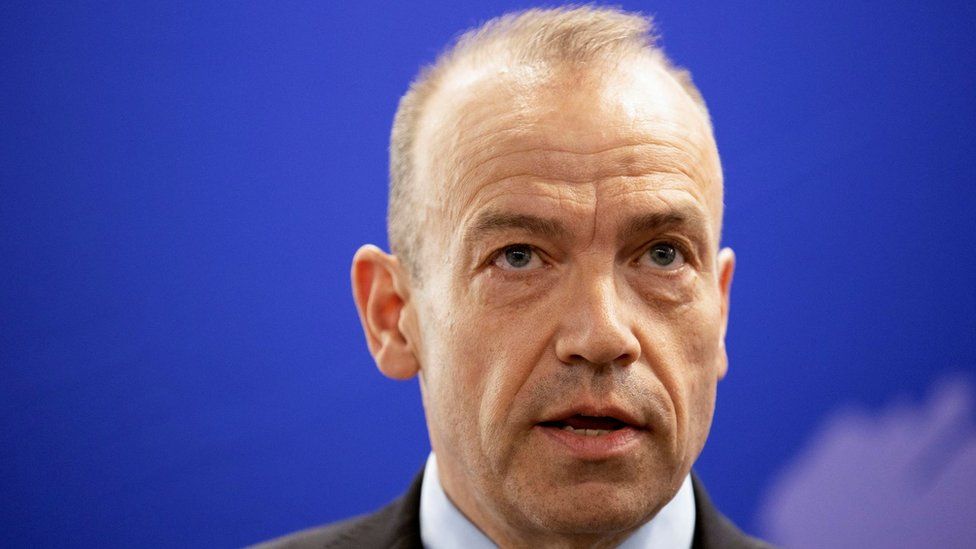 He also warned delegates about the pressure his party will face over its refusal to re-enter Stormont.
"In the coming weeks we may be tested as never before," he said
"Let us not be found wanting but rather rise to the challenges ahead so that when future generations look back on this period, they will be able to say of us that our legacy was not based on short-term fixes but on the long-term solutions we secured for all the people in Northern Ireland."
The DUP leader also called for greater unionist unity in the aftermath of the last assembly election.
He blamed "splintered unionism" for seats lost to other parties.
"The outcome of May's election must act as a wake-up call to unionists across Northern Ireland."
He added: "It is vital that lessons are learned in its aftermath and before we return to the polls.
"As unionists, we must be honest with one another; it wasn't nationalists or others who caused the loss of several pro-union seats at the election.
"That was the direct result of a splintered unionism where seats were lost in Strangford, North Antrim and East Antrim."
Sir Jeffrey has faced criticism from other political parties for blocking the formation of a new Northern Ireland Executive and assembly at Stormont.
The DUP wants checks between Great Britain and Northern Ireland to be significantly reduced and has insisted Northern Ireland's place within the UK internal market must be "fully restored".
Talks between both sides resumed this week, with British and Irish ministers suggesting progress could be made to reach a new deal.
You can watch Sir Jeffrey Donaldson's speech at the DUP conference on the BBC News NI website from midday and on the BBC iPlayer.