Four men, three women, a teenage boy and girl, and a young child are among the dead, police confirm.
Nine people are now confirmed to have died after a huge explosion at a petrol station in County Donegal.
The explosion happened at an Applegreen service station in the village of Creeslough on Friday afternoon.
Gardaí (Irish police) said three fatalities were confirmed on Friday, the others on Saturday morning.
Eight people were also taken to hospital after the blast. The search operation at the site has now become a recovery mission.
The blast destroyed the building and a section of an apartment building.
Many emergency services vehicles remained at the scene overnight, including fire services from sides of the border, gardaí (Irish police) and civil defence, while a coastguard helicopter airlifted some of those who were injured in the blast from Letterkenny University Hospital to Dublin.
'Tsunami of grief'
The Taoiseach (Irish Prime Minister) Micheál Martin said this was an "unspeakable tragedy".
"The entire nation is shocked at what has happened," he said.
Mr Martin made a special mention of the fire and emergency crews from Northern Ireland who, he said, came quickly and willingly to help.
"That will be long remembered… that solidarity and that sense of strong community between the essential services."
Earlier the Taoiseach said he expected the number of deaths to rise.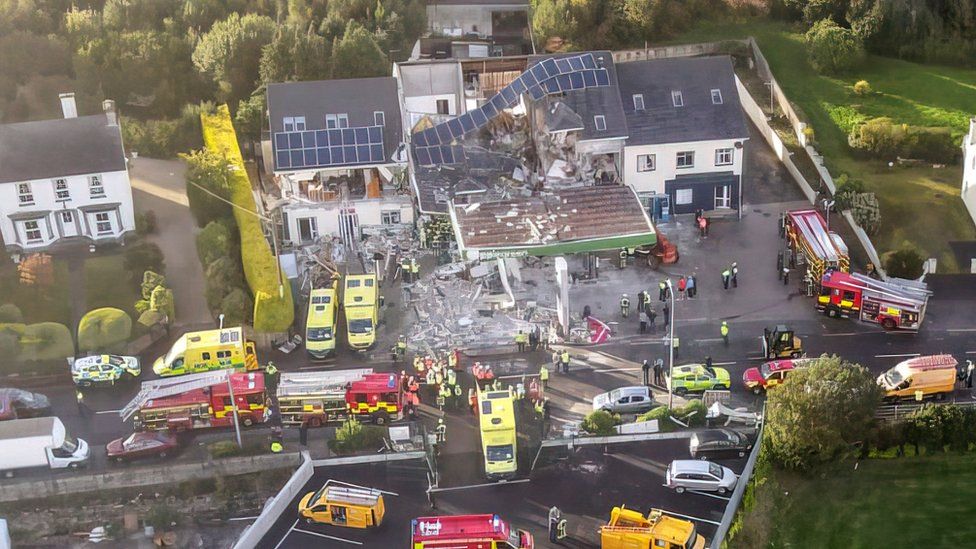 The founder and chief executive of Applegreen, Joe Barrett, said Friday was a "very dark day for Creeslough, for Donegal, for Ireland" and the wider Applegreen family.
"This is a hugely tragic event, and I would like to offer our deepest sympathies to the families and friends of the deceased, and to the entire community in Creeslough," Mr Barrett said.
"We are utterly shocked and saddened at what happened yesterday.
"We have been working with our local partners in Creeslough since 2014. We are providing them with assistance and support locally at this very difficult time."
The local church in Creeslough held Mass on Saturday morning for the community.
Father John Joe Duffy told the congregation that their community has been hit by "a tsunami of grief".
Catholic Bishop Alan McGuckian has visited the County Donegal village.
Describing the "darkest day in Donegal", he urged all parishes in the diocese of Raphoe to come together to pray at Mass this weekend.
"Last night I went to Creeslough to offer pastoral support. I met and prayed with family members who are in terrible shock and pain," he said.
"I have witnessed at first hand the immediate reaction of the local community to the tragedy who, in their bravery, took risks at the site to help others even to the detriment of their own safety.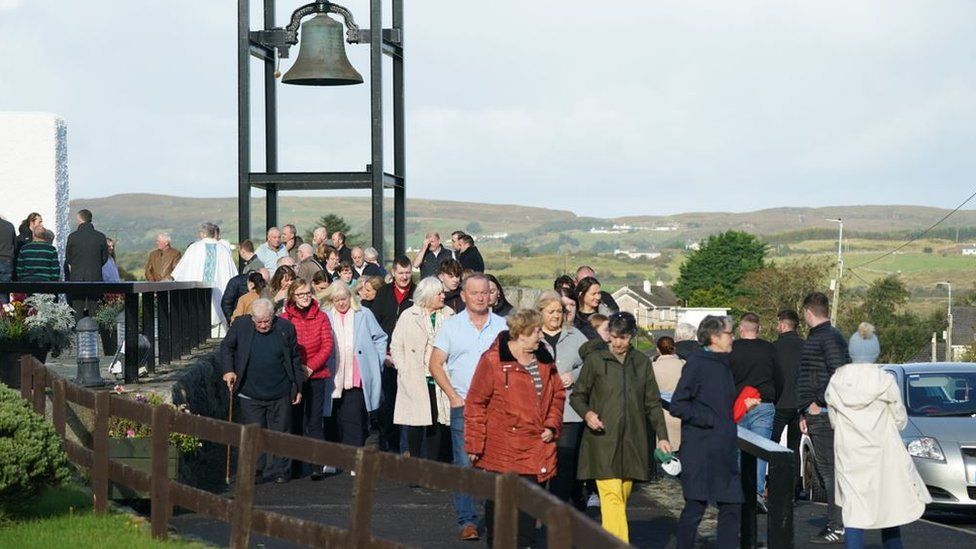 Creeslough is a small village in the Republic of Ireland and is about 15 miles from Letterkenny and 30 miles from the border with Northern Ireland. It has a population of about 400 people.
In a statement on Twitter the Applegreen company said the news was "devastating".
"Our thoughts and prayers are with the families and friends of the deceased, those who have been injured, and the wider Creeslough community," they tweeted.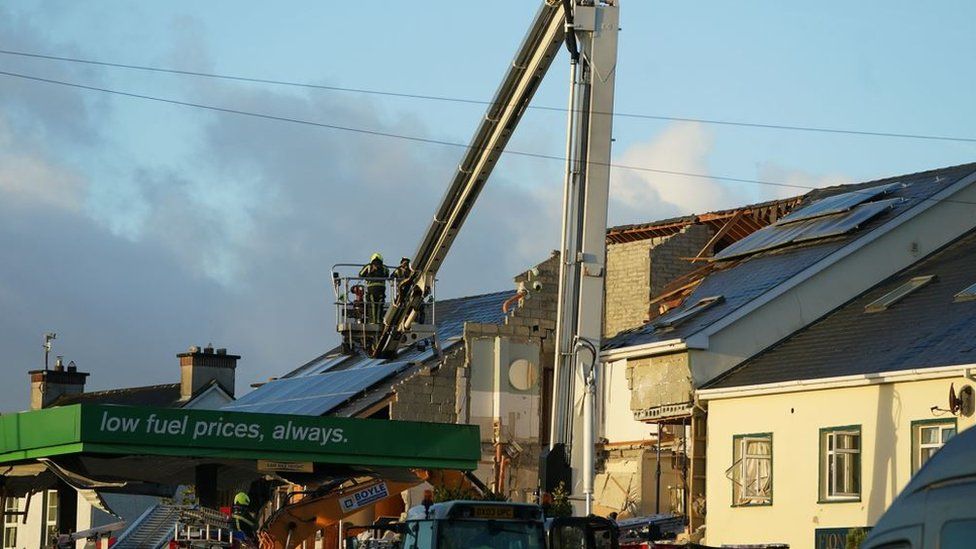 Local Sinn Féin politician Pearse Doherty said the community in Creeslough "will be forever changed".
"It has affected so many and it has been said how close-knit this community is," Mr Doherty said.
"The community is just in shock, we're just numb and there are broken hearts all over.
"There are many people in this community that will see wakes and funerals… and that trauma is going to last a long time. "
PSNI Chief Constable Simon Byrne tweeted on Saturday morning to pay tribute to those dealing with the tragedy.
Our thoughts this morning are with those affected by the unfolding tragedy in Creeslough. pic.twitter.com/igxg59n2HT

— Simon Byrne (@ChiefConPSNI)

'They listened for signs of anyone trapped'

A tragedy on this scale is really something this tight-knit rural community could never have imagined.
There is just such a sense of disbelief in Creeslough.
All that is left of the shop and the flats above is just a crumpled mess of rubble.
The emergency services worked through the night.
At times they asked for complete silence around them while they listened for signs of anyone trapped.
The cause of the explosion is still not known, but police are working on the theory it was perhaps a gas explosion.
Locals say it happened at a time when the shop would have been busy because local schools had just finished for the day.
It will be a major operation throughout the course of the day to try and find out if there are any more survivors here, or indeed if anyone else has lost their life.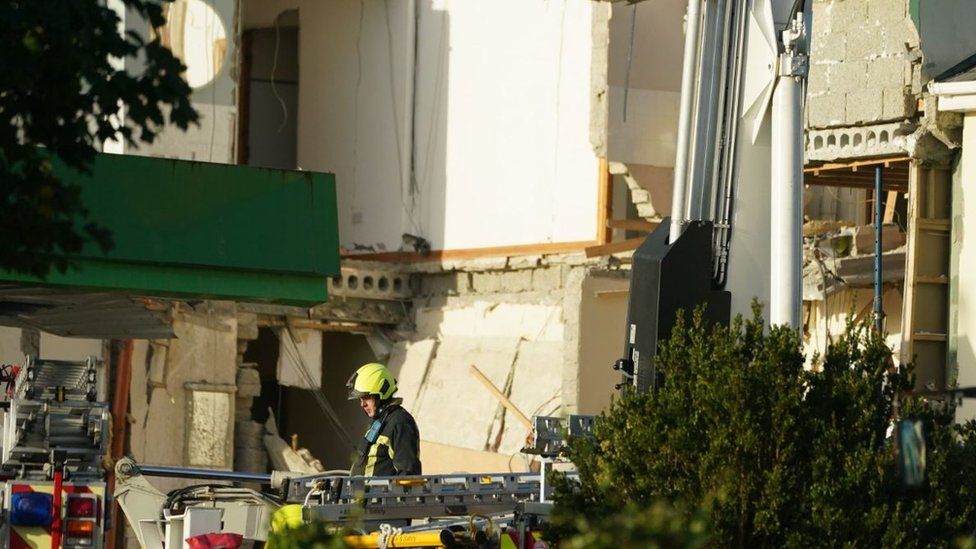 On Friday afternoon, Letterkenny General Hospital said it was dealing with "a serious incident involving multiple injured people requiring immediate attention".
It stood down its major emergency standby protocol at about 22:00 local time.
The hospital manager, Sean Murphy, said it was an "unbelievably tragic and sad day" for the community and county.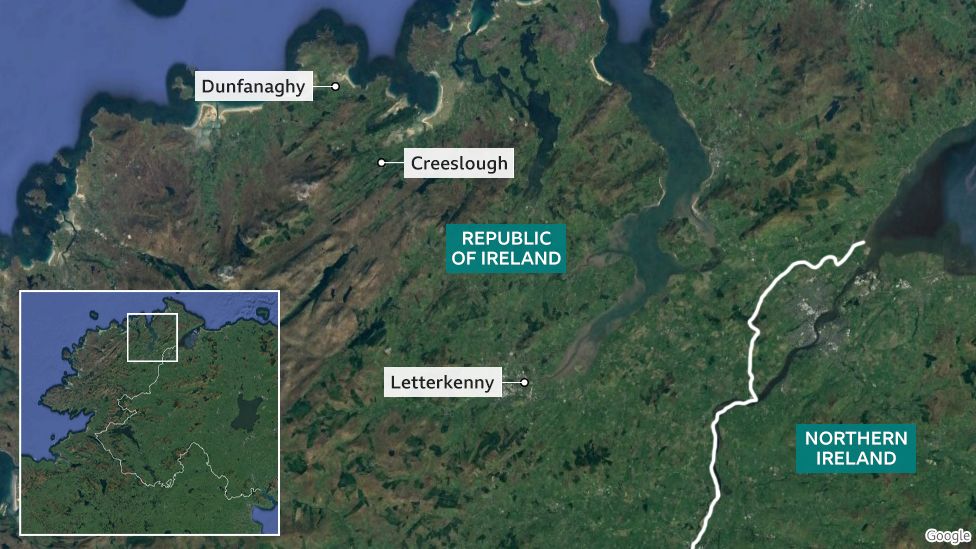 Speaking on RTÉ's Morning Ireland, Mr Murphy expressed his sympathies to all those who have lost loved ones and those who are waiting for news.
He also paid tribute to the work of staff at the hospital, as well as community and care services in the area.
"I'd also like to acknowledge the support we got from members of the public, those we had to ask to leave the hospital and go for treatment in primary care centres," Mr Murphy said.
Mr Murphy said they admitted a number of children, but did not want to go into detail.
Liam McElhinney, chairperson of the local Gaelic Athletic Association club in Creeslough, Naomh Michaeál, said he had visited the shop a short while before the incident.
"I was in shock when the news came through. I myself had just left the shop at half two so it just shows you could be in the wrong place at the wrong time," he said.
"Some of the people that have died are known personally by myself and it's very hard to watch.
"It could have been any of us… it's a massive thing to happen in our community and it'll take a long time to get over it."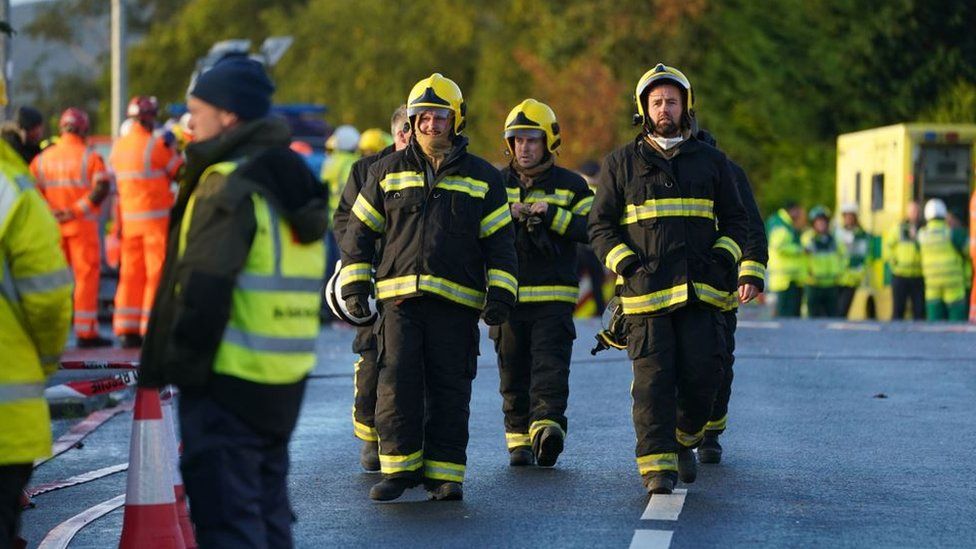 Meanwhile, Irish President Michael D Higgins said his thoughts and prayers were with those who have lost their lives, and their families.
In a statement, President Higgins said: "May I, as president, express what I know will be the shock shared by all people throughout the country on learning of the terrible tragedy which has unfolded in Creeslough, County Donegal.
"All of our thoughts must go out to all of those who have been affected. Those who have got news of loss of a loved one, those injured and, most of all, those who are waiting with anxiety for news of their loved ones."
Adrian MacAuley from Londonderry owns an apartment behind the petrol station.
"The place seems to be devastated," he said.
"Our thoughts are with anybody that was injured in it because Creeslough is a fantastic community," he added.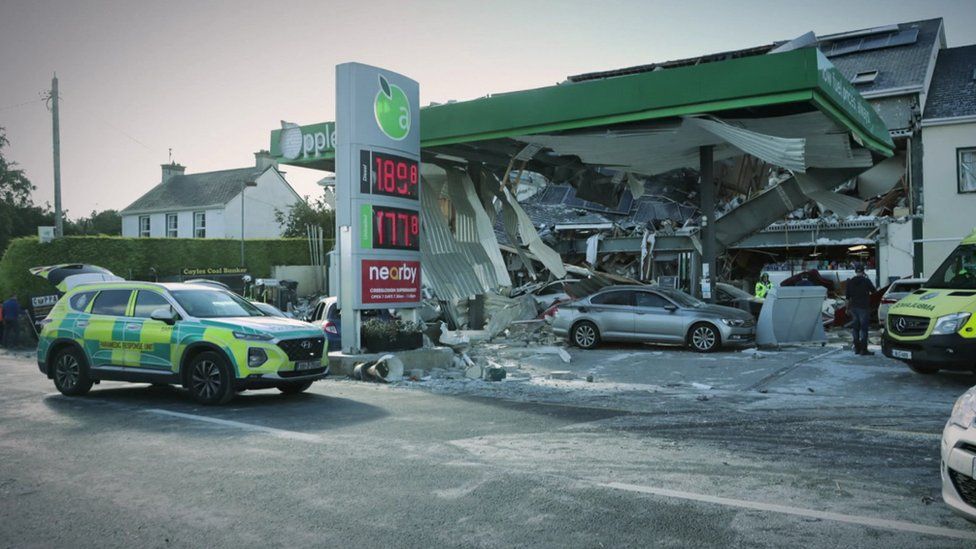 Local resident Kieran Gallagher's house is about 150 yards from the scene.
"I was in my house at the time and heard the explosion. Instantly I knew it was something – it was like a bomb going off," he said.
Donegal Fine Gael TD (Member of the Irish parliament the Dáil) Joe McHugh said people in the area were "numb" with shock.
"It's a very surreal situation here and we know there will be difficult times ahead," he said.
Bishop of Raphoe, Alan McGuckian, told BBC News NI everyone in the county was "shocked and shaken beyond words".
Speaking from the scene, he said Creeslough was a "peaceful and quiet town" and it was a "terrible day".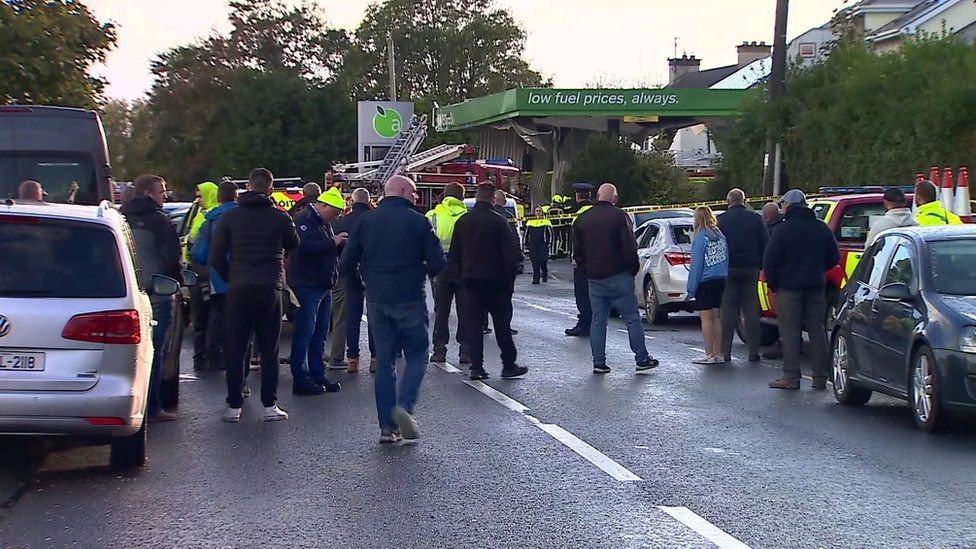 The Shandon Hotel in Dunfanaghy said some of its team members had been "directly affected" by the incident and was reserving spare rooms for first responders.