Videos have circulated for days of male students chanting obscene misogynistic abuse in Madrid.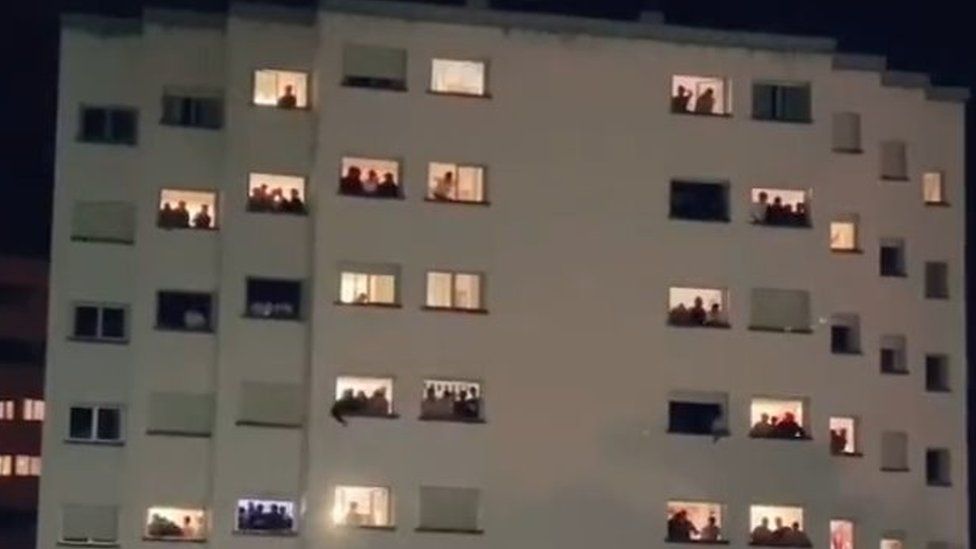 Spanish prosecutors are investigating a group of male university students filmed chanting obscene misogynistic abuse at female students in Madrid.
Videos have circulated for days of abuse being hurled from the windows of an all-male student building late on Sunday at women in the block opposite.
It has drawn political condemnation and triggered widespread debate.
One student shouted: "Whores, come out of your holes, bunnies. You are a load of nymphomaniac whores."
Then, in a choreographed move, fellow students across the Colegio Mayor Elías Ahuja building pulled opened their blinds and started shouting and making animal noises.
As Sunday night's video of students from Complutense University went viral, there was an immediate backlash from politicians across the spectrum.
Socialist party prime minister Pedro Sánchez criticised the "macho, inexplicable, unjustified and absolutely repugnant behaviour".
"We should not give any excuse for these behaviours which surely don't represent the general feeling of Spanish society," he said.
"I think it's important that all political parties and the media express a clear 'no' to these macho behaviours, and do not give a take a single step back on real equality between men and women."
The leader of the conservative opposition Popular Party, Alberto Núñez Feijóo, called for society "to finish with these intolerable sexist attitudes".
Madrid's public prosecutor has opened an investigation to decide whether the incident amounts to a hate crime.

The scandal has left the Elías Ahuja residence under national scrutiny.
In a statement it said the episode had been "incomprehensible and inadmissible" and "contrary to the ideas and values" of the institution. It has expelled the alleged ringleader and said that others involved will attend a course on gender equality.
However, some of the residents of the Santa Mónica all-female building, which was the target of the abuse, have apparently defended the male students implicated and claimed that the incident has been blown out of proportion.
A statement attributed to residents of the Santa Mónica accommodation said: "Despite the seriousness of their words, this is a practice which is a tradition between university residences, which has created an impression of hate and sexism which could be no further from realty."
It was not clear how many female residents supported the statement, which was posted on social media. And others have given a very different view.
Ángela Ruiz, a former resident of Santa Mónica, wrote: "I was one of those 'Mónica whores' and I heard these kinds of shouts EVERY DAY for the two years I was at the residence."
This affair comes as Spain's coalition government has been making efforts to promote gender equality and eliminate violence against women.
In May, congress approved legislation, known as the "Only yes means yes law", making it easier for victims of sexual violence to prosecute their assailants by emphasising the importance of consent.
A study last year found that one in five young Spanish men did not believe that gender violence existed, instead seeing it as an "ideological invention".
Meanwhile, another disturbing video apparently of the Elías Ahuja residence from several years ago has been circulating. In it, students are shown making what appears to be a Nazi salute as they sing the words "Sieg Heil".