Councils in England say social care reforms have left them facing serious financial pressures.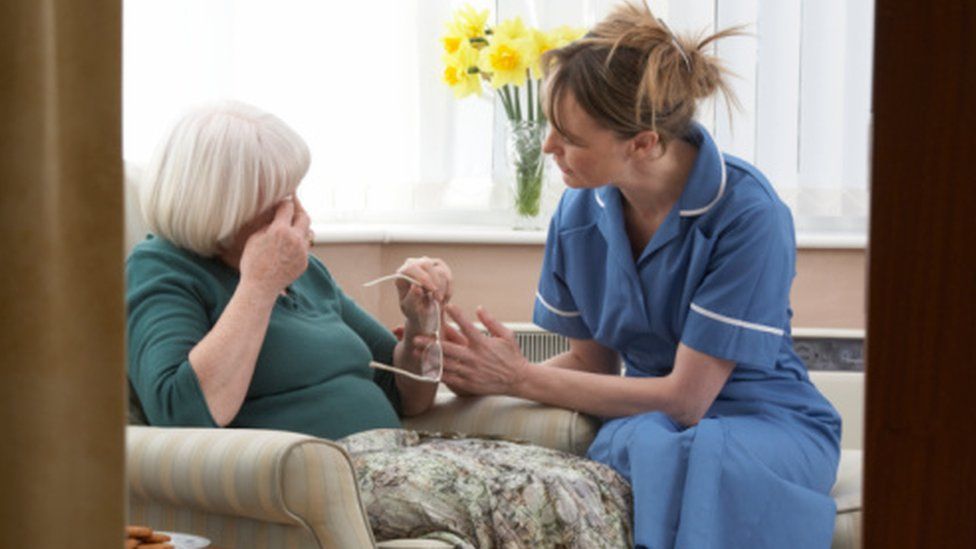 England's county councils have urged the government to delay its social care reforms, warning of serious staffing and financial pressures on services.
Changes designed to help people cover their personal care costs are due to come into effect in October 2023.
The changes include a more generous means-test and a lifetime cap on care costs of £86,000.
But councils say adult care services could deteriorate if the rollout of reforms is not delayed for a year.
The County Councils Network (CCN) told the BBC that councils were facing a "perfect storm" of pressures that would leave them too short of staff and money to implement the changes.
Local authorities have been asked to assess everyone who is eligible to receive more financial support under the reforms to social care.
The CCN said an estimated extra 5,000 staff would be needed over the next 12 months to undertake an additional 197,000 care and financial assessments.
But it added that councils would "find it almost impossible to recruit that level of staff by next October", leaving them struggling to cope with a predicted "mountain" of new assessments which could result in longer waits for care.
"Loading these reforms onto a system that is already in crisis could worsen care services by the time these reforms to 'fix' social care are introduced," Councillor Martin Tett, the adult social care spokesman from the County Councils Network, said.
The Department for Health and Social Care (DHSC) said it was investing £5.4bn over the next three years to reform adult social care and "protect people from unpredictable social care costs".
A DHSC spokesperson said the department was working with local authorities to implement the reforms, and had made £500m of extra funding available for social care this winter.
Reforms feared unworkable
According to a report by the CCN, the number of assessments is likely to increase by 45% overall, but some areas are likely to see an even steeper increase.
In south-east England, for example, the number of assessments is expected to almost double.
The cap on personal care costs is a central element of the government's social care reforms, which were announced by former prime minister Boris Johnson in 2021.
To pay for the reforms, Mr Johnson introduced a National Insurance hike, which has since been scrapped by his successor, Liz Truss.
Last month Ms Truss said she would honour the cap on the cost of social care, insisting no-one would have to sell their home to pay their bills during their lifetime.
Health Secretary Therese Coffey has said the funding for health and social care will "come from general government money, the funding levels aren't changing".
From October 2023, the idea is that no-one with a high level of need will pay more than £86,000 over their lifetime for personal care, such as washing, dressing, eating and medication.
Once people have reached this cap, ongoing costs for personal care – but not the cost of health treatment – will be paid for by local authorities.
The councils say they are facing additional financial pressures, as inflation is set to add £3.7bn to their costs in 2023.
The CCN's report says "if government doesn't provide any more funding to offset these costs", councils will have to reduce the care services available, or charge more for them.
In August, a committee of MPs called for an "urgent funding injection" into social care and for the government to carry out its own assessment of the burdens the reforms would place on councils.
Councillor Tett said councils "remain committed to supporting these reforms but it is imperative they have the time to mitigate the pressures they will create, recruit a sufficient number of staff, and stabilise services in the short term".
"If not, these reforms could be unworkable at inception," he said.
A previous attempt to introduce a cap on care costs, drawn up by Sir Andrew Dilnot, was delayed from 2016 to 2020.
The government cited the estimated £6bn cost and the "genuine concerns of stakeholders" as reasons for the postponement.
The Local Government Authority had called for a delay. The changes were later dropped.

Could history repeat itself?

History appears to be repeating itself in the call by England's largest councils for a delay to the long-promised government plans "to fix social care once and for all".
In 2015, the last time the introduction of a cap on care costs was close to implementation, councils also requested a delay.
The reason was the care system was under such pressure after years of underfunding, staff shortages and increasing demand, councils didn't believe they could make the change work.
Roll forward seven years, post-Covid and with the cost-of-living crisis those pressures have only increased.
Even though the new prime minister has repeated the promise of £13bn to pay for the reforms, most of that will be needed to cover the cost of the cap and means-testing changes.
Only a relatively small amount is set aside for staff recruitment and training, and none to meet the increasing demands of an ageing population.
So it is easy to see the reasoning behind the call for a delay to the reforms, but it is a gamble nevertheless. If reform is pushed back again, the danger is a one-year delay turns into many more years of inaction.