Aslef union members at 13 rail companies walk out on Wednesday in a row over pay and conditions.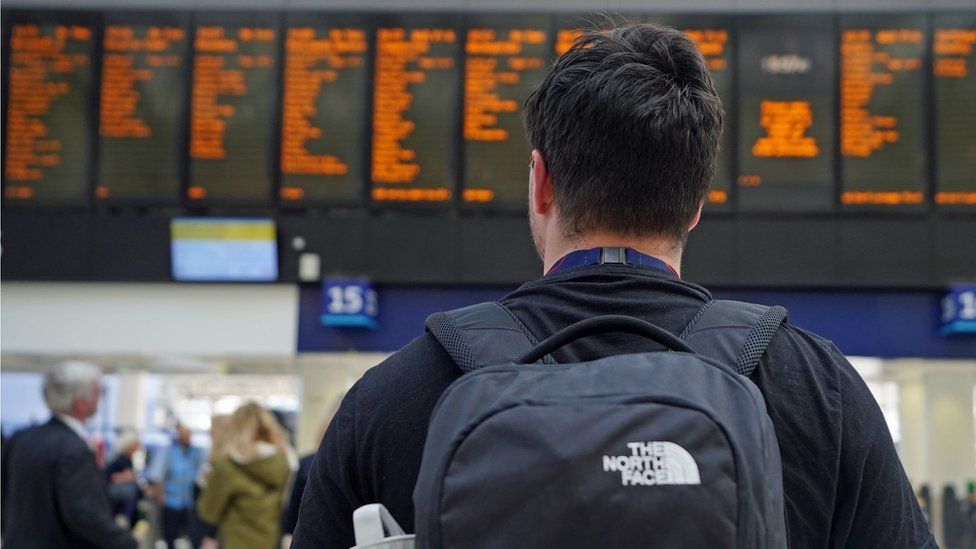 Rail services in the UK are being disrupted as around 9,000 train drivers in the Aslef union take part in another large-scale strike on Wednesday.
The 24-hour walkout, in a row over pay and conditions, means no trains on lines run by firms such as Northern, Avanti West Coast and Southeastern.
Others are running limited services, and the rail industry has warned passengers that trains run by unaffected operators will be busy.
Some stations are also closed.
Journey planners such as National Rail Enquiries have been updated with the new timetables, detailing how the strike will affect services.
The Associated Society of Locomotive Engineers and Firemen (Aslef) strike is the latest in a series of actions, as unions representing rail workers battle the government and companies over pay, job cuts and changes to terms and conditions.
Only train companies directly involved in the strike will be affected. That differs from RMT strikes, which also involve Network Rail signallers and therefore cause nationwide disruption.
However, with 13 train companies involved in Wednesday's action, the disruption is extensive.
Aslef has timed its strike around the Conservative Party Conference in Birmingham, which ends on Wednesday. It also coincides with several football fixtures.
People with tickets for Wednesday can use them on Tuesday, Thursday or Friday.
The Transport Salaried Staffs' Association (TSSA) union also has plans for much smaller scale strikes this week, including CrossCountry on 5 October, Great Western Railway on 6-7 October, and Avanti and c2c on Saturday, 8 October.
The National Union of Rail, Maritime and Transport Workers (RMT) is also staging a further walkout this Saturday. The RMT's general secretary, Mick Lynch, told the BBC that rail worker members of the union will soon be balloted over further strike action, potentially stretching into the spring.
Daniel Mann, director of industry operations at the Rail Delivery Group, which represents industry operators, said the strikes would hurt passengers, undermine businesses and "further damage the railway's recovery".
Separately, the Transport Secretary Anne-Marie Trevelyan said her message to trade union leaders was to take their seats at the negotiating table so a "landing zone" could be found that everyone could work with.Aslef said it was always happy to talk, but there had to be substantive proposals on the table.The next national strike involving members of the RMT is due to take place on Saturday.
On Tuesday, the Transport Secretary also told the Conservative party conference that she had asked the rail industry to launch consultations on reforming ticket office provision.
She insisted it was "not about cutting jobs" but about "putting the passenger at the heart of the railway".


Passengers will be wondering how long strikes will last.
If nothing changes, it seems the answer could be for months to come.
The RMT has already said it will re-ballot members for further strike action.
Train drivers' union Aslef has made it clear it doesn't believe an agreement is imminent – despite some progress in talks with the group that speaks for train companies.
Aslef says the train companies involved are imposing real terms pay cuts – that is, wages are failing to keep up with rising prices.
The Rail Delivery Group has insisted neither taxpayers nor passengers can be asked to pay more to plug the financial gap left by the pandemic – so reforms must be agreed to afford pay rises.
The new Transport Secretary Anne-Marie Trevelyan has already taken a different approach to the strikes than her predecessor.
She has met the leaders of the two main rail unions and spoken of all sides needing to make compromises.
The question is whether this will lead to any concrete changes which lead to a breakthrough.