Liz Truss will use her first conference speech as prime minister to explain her economic policies.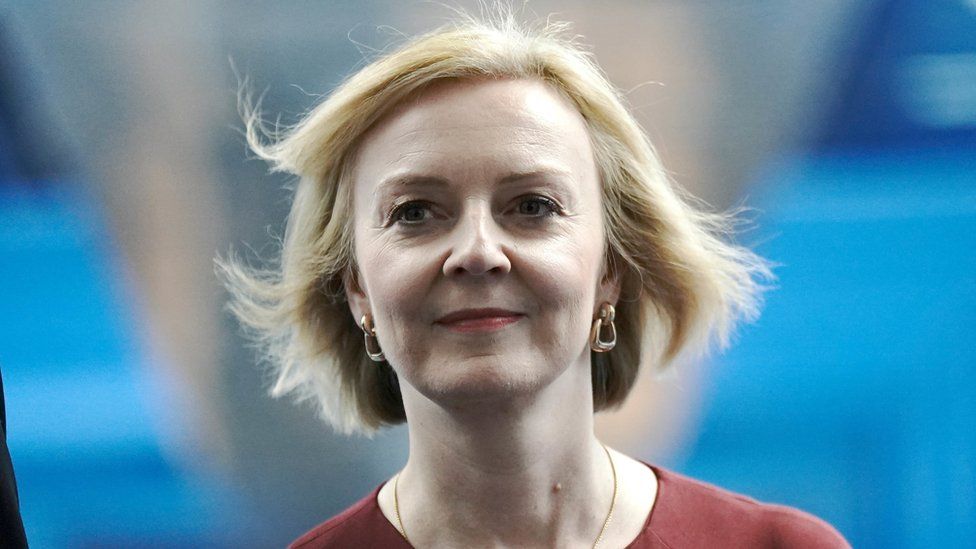 Liz Truss will use her set-piece Tory conference speech to explain why she thinks the "disruption" caused by her economic policies will be worth it.
"Everyone will benefit" from the economic growth produced by her tax-cutting plan, the PM will claim.
After a bruising conference marked by U-turns and internal division, she will set out a long-term vision for the country under her leadership.
And she will attempt to reassure her party that she is on the right path.
"Whenever there is change, there is disruption," she will tell party members on Wednesday.
"Not everyone will be in favour. But everyone will benefit from the result – a growing economy and a better future."
Asked what "disruption" there could be and whether higher mortgage interest payments were acceptable, Foreign Secretary James Cleverly told BBC Breakfast: "There's almost an inevitability about an increase in interest rates because it's going on around the globe.
"What we need to do is make sure we find a way of offsetting that by having a growing economy, growing wages."
The four-day conference in Birmingham has been overshadowed by wrangling within the party over the future direction of the economy.
This week Ms Truss – who became prime minister a month ago after winning a Tory leadership contest – dramatically abandoned plans to scrap the top rate of income tax announced at the mini-budget on 23 September, after criticism from her own MPs.
Home Secretary Suella Braverman, who was in favour of abolishing the 45p tax rate for higher earners and disappointed by the U-turn, said the policy had been overturned by a "coup" within the party.
Cabinet colleagues have also come out publicly against the suggestion that benefits could be linked to the rise in earnings rather than inflation.
Penny Mordaunt, the Leader of the Commons, said it "makes sense" for Universal Credit to continue to be linked to inflation, which has soared during the cost of living crisis.
Other senior Tories, including former leader Sir Iain Duncan Smith, have also said during the conference that an inflation-level rise should go ahead.
Asked whether Ms Mordaunt was right in her comments, Foreign Secretary James Cleverly said no policy had been made yet but it was better to "feed ideas directly into the centre" of government.
Chancellor Kwasi Kwarteng has faced pressure following financial turmoil in the wake of the mini-budget, after markets reacted badly to plans to borrow to fund £45bn in tax cuts.
The Conservatives have slumped in the polls since the mini-budget was unveiled, with Labour opening up wide leads.
In an interview with Times Radio, former Transport Secretary Grant Shapps said MPs would "find a way to make change" if poll numbers against Ms Truss did not improve.
"I want Liz to succeed, so I'm hoping that she can turn us around," he said. "I think there is a window of opportunity for her to do it."
However, former Brexit Secretary David Davis, who has been a strong critic of Ms Truss, said the idea of getting rid of her before the next election was "fantasy".
He told BBC Radio 4's Today programme it had been "a poor start" to her leadership but "you've got to make this work".
"If the party splits into pieces then we will lose the next election," he added.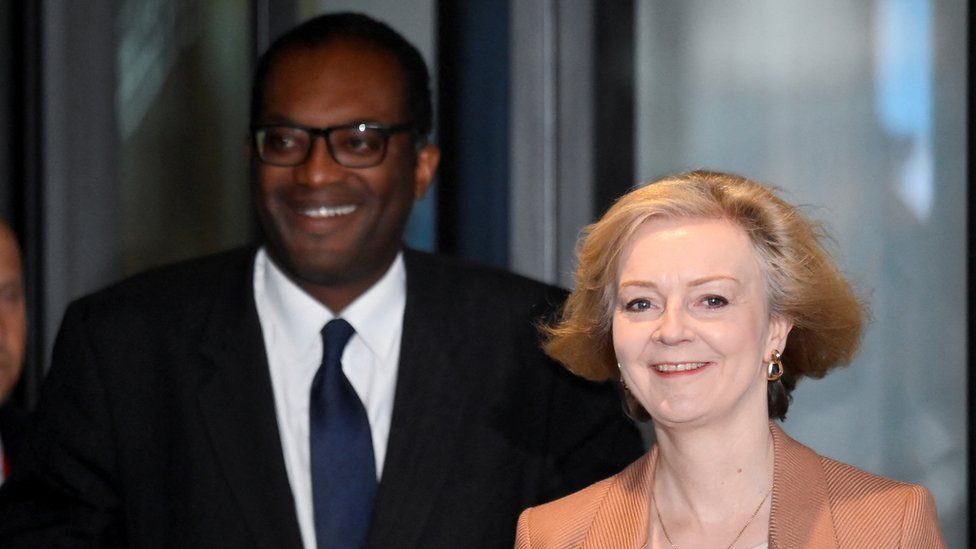 While there are no big policy announcements expected in her speech, BBC Political Editor Chris Mason said Ms Truss would use her platform to "attempt to pull this party together" following days of "open dysfunction".
"Governments function through the exercise of power and authority – and there've been two transparent examples in the last two days of this government lacking in both…
"This is a government that is nervous – with a lot to be nervous about."
Ms Truss will also say there has been too much focus on redistributing wealth within society, rather than on increasing the size of the economy.
"Instead, we need to grow the pie so that everyone gets a bigger slice," she will say.
"That is why I am determined to take a new approach and break us out of this high-tax, low-growth cycle.
"We have huge talent across the country. We're not making enough of it.
"To deliver this, we need to get Britain moving. We cannot have any more drift and delay at this vital time."
A No 10 source said Ms Truss would aim to spell out her long-term vision in her address, and was planning to speak to Tory MPs in Parliament next week to listen to concerns and explain her plans.