The PM is facing opposition from some Tory MPs over how the government will pay for its growth plans.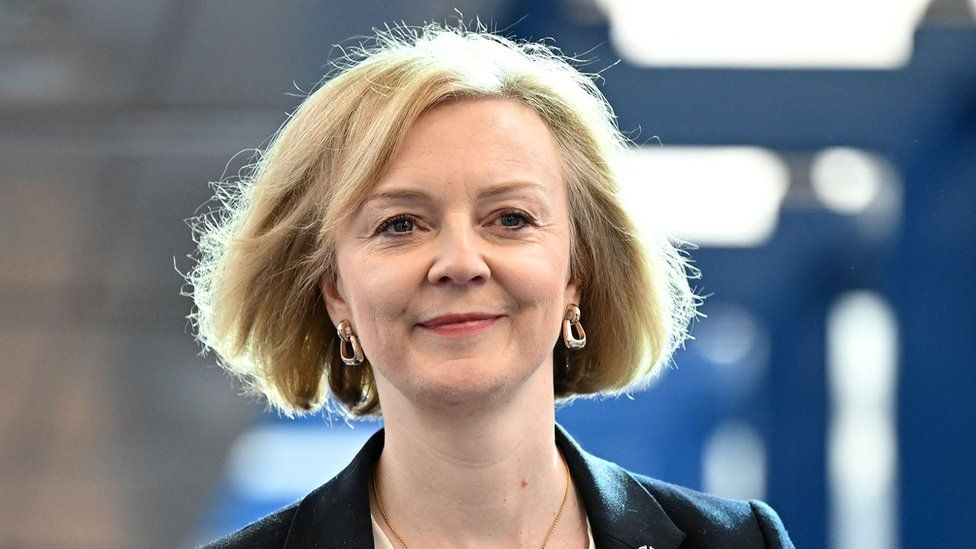 Liz Truss has refused to rule out real-terms benefit cuts to help pay for her government's tax-cutting growth plan.
The PM's predecessor, Boris Johnson, promised to increase benefits in line with inflation.
But asked whether she would maintain the commitment, Ms Truss told the BBC the government had to be "fiscally responsible" and bring debt down.
She said the government was listening and does "reflect on where we could have done things better".
Speaking in her first BBC interview since the U-turn on plans to scrap the 45p rate of tax for higher earners, she reiterated that the government could have laid the groundwork better for the measure.
The PM is facing opposition from some Tory MPs over how the government will pay for its growth package.
Chancellor Kwasi Kwarteng's tax-cutting mini-budget on 23 September saw the pound's value plummet, borrowing costs soar, and the Bank of England bail out pension funds.
On Monday, following a growing backlash from Tory MPs, Mr Kwarteng announced the government was dropping its plan to scrap the top rate of tax.
The chancellor also confirmed he would bring forward his medium-term fiscal plan, which will outline how the government plans to cut the UK's debt, "shortly" rather than at the end of November.
Speaking to Radio 4's Today programme, Ms Truss insisted scrapping the top rate of tax had not been a "core part" of her economic growth package.
She also said it showed she was leading a "listening government" that was responding to voters' concerns.
Asked about whether she would commit to increasing benefits in line with inflation, Ms Truss said: "We are going to have to make decisions about how we bring back down debt as a proportion of GDP in the medium term."
She added that she was "very committed to supporting the most vulnerable", including providing an extra £1,200 to the poorest households.
"So we have to look at we have to look at these issues in the round. We have to be fiscally responsible."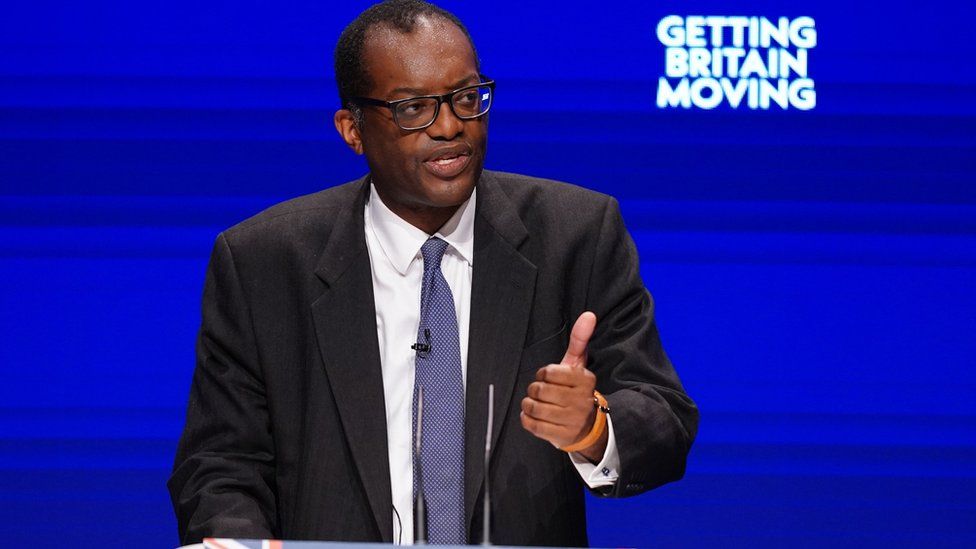 In May this year, then-chancellor Rishi Sunak said benefits would be uprated by this September's Consumer Prices Index measure of inflation, which is currently 8.6%, subject to a review by the work and pensions secretary.
Mr Kwarteng has declined to commit to the policy, though the government has pledged to increase state pension contributions in line with inflation.
Failing to keep benefits in line with rising prices would leave some of the poorest households facing a real-terms cut in their incomes.
Former cabinet minister Michael Gove told Times Radio he would need "a lot of persuading" to stop benefits from rising in line with inflation, while former Housing Secretary Esther McVey said it would be a "huge mistake" not to give a cost of living increase to benefit payments.
"[It] cannot be that the books are balanced on the back of benefits," she added.
Former Work and Pensions Secretary Damian Green told LBC that a freeze or cut in benefits would not get through the Commons.
The Joseph Rowntree Foundation said the government must urgently reassure those on the lowest incomes that it "won't renege" on its promise to raise benefits in line with inflation.
Principal policy adviser Katie Schmuecker said: "Liz Truss felt able to give that assurance to pensioners, now she must be clear that she won't target cuts at those on the lowest incomes who have been struggling for months to feed their families, cook hot food and heat their homes."
Labour's shadow chancellor Rachel Reeves: "The idea that the government can afford to give tax cuts to the wealthiest, but not uprate benefits in line with inflation, I think is grotesque."
Meanwhile, former Home Secretary Priti Patel is set to accuse Ms Truss and Mr Kwarteng of "spending today with no thought of tomorrow" at a fringe event at the Conservative Party Conference on Tuesday, according to The Times.
"I want to see our party regain its credibility by restoring its commitment to sustainable public spending," she is expected to say.
"Right now, we have got into a pattern of borrowing huge amounts to fix today's urgent problems or generate short-term populist headlines.
"Each time, it seems that there's a good case, but what does this mean for future generations?"