Dramatic scenes show teenagers waving headscarves and chanting against clerical authorities.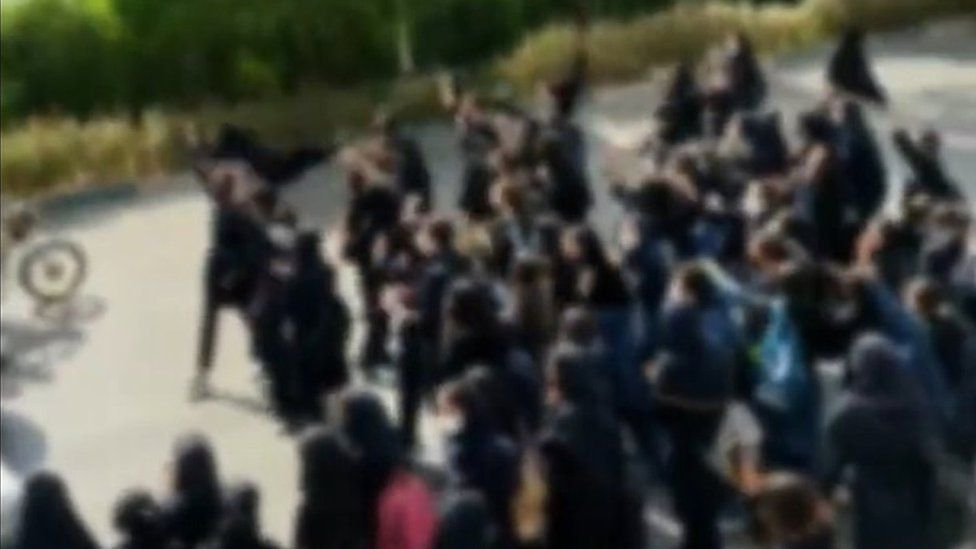 In an unprecedented move, schoolgirls have joined the protests that have swept Iran since the death of a woman detained for breaking the hijab law.
Videos verified by the BBC show teenage students in uniforms waving their headscarves in the air while shouting slogans against clerical authorities.
The chants echoed those heard at the wider protests over the past two weeks.
In Karaj on Monday, hijab-less girls were filmed forcing a man thought to be a local official out of their school.
The footage shows them shouting "shame on you" and throwing what appear to be empty water bottles at the man until he retreats through a gate.

In another video from Karaj, which is just to the west of the capital Tehran, students are heard shouting: "If we don't unite, they will kill us one by one."
In a march in Gohardasht, Karaj, schoolgirls remove their head coverings today chanting "death to the dictator" while cars sounds horns in support.

It's hard to put into context just how unprecedented these scenes are in Iran.#مهسا_امینی #MahsaAminipic.twitter.com/xxMatcVA7u

— Shayan Sardarizadeh (@Shayan86)

A number of students were also photographed standing in their classrooms with their heads uncovered. Some were raising their middle fingers – an obscene gesture – at portraits of Ayatollah Khamenei and the founder of the Islamic Republic, Ayatollah Ruhollah Khomeini.
The first reaction from Iran's supreme leader about protests over the death of #MahsaAmini was loaded with warnings of escalation, yet the protests themselves spread to secondary schools today with some schoolgirls making a point about how they felt towards the supreme leader. pic.twitter.com/ya2MPr15b4

— Siavash Ardalan (@BBCArdalan)

The protests by the schoolgirls began hours after Ayatollah Khamenei, who has final say on all state matters, broke his silence on the unrest and accused the United States and Israel, Iran's arch-enemies, of orchestrating "riots".
He also gave his full backing to the security forces, which have responded to the protests with a violent crackdown.
The unrest was triggered by the death of Mahsa Amini, a 22-year-old Kurdish woman who fell into a coma after being detained by morality police on 13 September in Tehran for allegedly violating the law requiring women to cover their hair with a hijab, or headscarf. She died in hospital three days later.
Her family has alleged that officers beat her head with a baton and banged her head against one of their vehicles. The police have denied that she was mistreated and said she suffered "sudden heart failure".
The first protests took place in Kurdish-populated north-western Iran, where Ms Amini lived, and then spread rapidly across the country.