The chancellor has been under pressure to say how he will pay for major tax cuts package.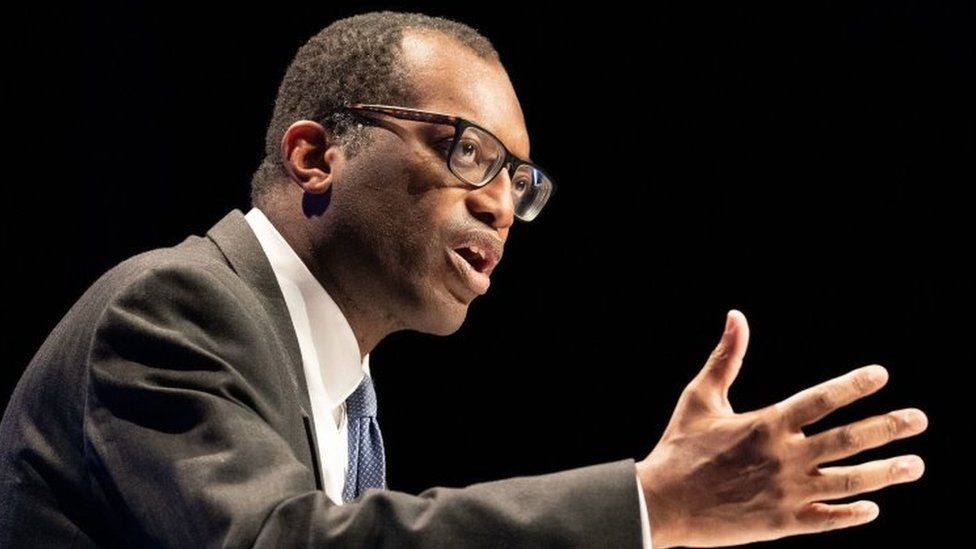 Chancellor Kwasi Kwarteng will set out his plan to get UK debt falling earlier than planned, after markets reacted badly to his tax cuts package.
He could publish details on how the cuts will be paid for later this month despite previously insisting he would wait until 23 November.
The move follows a dramatic U-turn on scrapping the 45p rate of income tax for higher earners.
Mr Kwarteng said he wanted to "move forward" with no "distractions".
In a speech to the Conservative Party conference, he acknowledged the "turbulence" caused by his mini-budget, which saw the pound plummet in value and borrowing costs skyrocketing.
The chancellor said his medium-term fiscal plan, which will outline how the government plans to cut the UK's debt, would come "shortly" rather than at the end of November.
While the date is yet to be confirmed, it could be published this month.
The BBC's economics editor, Faisal Islam, said the move was the latest sign that the chancellor was willing to do what it takes to regain confidence lost since the mini-budget on 23 September.
Tory MPs and opposition parties had urged the chancellor to release the plan earlier to shore up confidence in the UK's economic outlook.
Last month, as financial markets reeled from the tax-cutting mini-budget, the chancellor said he would set out his plan on 23 November and asked the Office for Budget Responsibility (OBR) to report back to him by that date.
Forecasts from the independent OBR give an indication of the health of the nation's finances. The BBC understands the government was given a draft before announcing the tax cuts, but it has not been published.
Now the OBR will bring forward forecasts alongside the plan, analysing whether the tax-cutting agenda of Prime Minister Liz Truss can deliver the economic growth it has promised.
The OBR will cost all the policies announced by the chancellor and provide new numbers for borrowing. The budget watchdog will also cast judgement on the government's claims that its raft of reform policies will boost the growth of the economy.