The chancellor says he wants to focus on delivering growth, after admitting it's been a "tough day".
Kwasi Kwarteng has promised to "focus on the task in hand" after a dramatic U-turn over tax cuts for the rich.
The chancellor ditched plans to cut the 45p rate of income tax after a revolt by Tory MPs – hours before his speech to the Conservative party conference.
He had planned to use the speech to promise to "stay the course".
That line – briefed to journalists on Sunday – was left out but Mr Kwarteng made it clear he intended to deliver the rest of his £43bn tax cut package.
He told Tory members, who packed into the hall in Birmingham, that he was determined to end the UK's "decline" and deliver economic growth.
He also announced that he would publish details of how the government plans to pay for its tax cuts package and bring the national debt down in the "medium term" earlier than planned.
The chancellor has previously resisted calls to publish the plan before 23 November, but he said in his speech it would be released "shortly". The Treasury would not give a date.
Mr Kwarteng began his speech with an admission of the pressure he has been under over the past 24 hours.
"It has been tough but we need to focus on the job in hand. We need to move forward.
"No more distractions. We have a plan and we need to get on and deliver it. That is what the public expect from the government."
He also acknowledged the turmoil caused by his mini-budget, which saw the pound plummet in value before recovering to where it was before his statement.
"I know the plan put forward only 10 days ago has caused a little turbulence. I get it. We listened. And now we want to focus on the major parts of our growth strategy."
Mr Kwarteng relaxed with supporters at a Policy Exchange fringe meeting following his speech, telling that beyond the "hullabaloo" around the tax row people had told him he was doing the right thing.
Earlier he had sought to reassert his authority with a staunch defence of the rest of his economic plan, arguing that the government had needed to act now not just on energy bills but to boost economic growth.
"With economic growth, everybody benefits," he said.
To applause he added: "And I mean, everybody. While we all believe in growth, we as Conservatives also believe that it is an important principle that people should keep more of the money they earn.
"I don't need to tell you that. That isn't radical, that isn't irresponsible, it is a deeply held belief that we all share as Conservatives."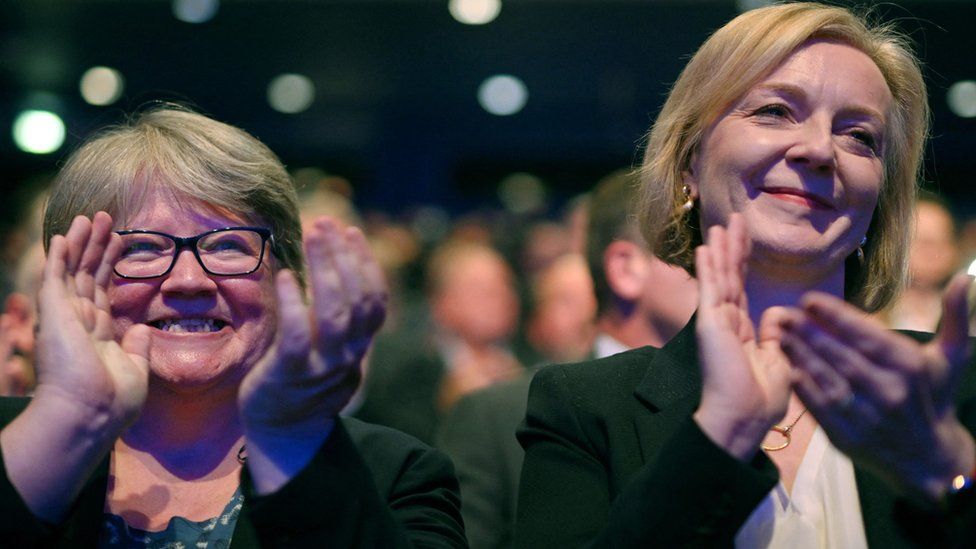 Downing Street said Prime Minister Liz Truss – who was in the front row for the speech – continues to have confidence in Mr Kwarteng, despite the U-turn on the 45p top rate.
Former cabinet ministers Grant Shapps and Michael Gove were among the Tory MPs to make public their private concerns about the planned tax cuts for top earners, at a time when households were struggling with the cost of living.
Another former cabinet minister, Andrea Leadsom, welcomed the U-turn, saying: "It was not the right time and it was not the right measure."
Mel Stride, who chairs the Treasury select committee and ran Rishi Sunak's leadership campaign, suggested there may still need to be further changes.
Mr Sunak has stayed away from this week's conference, along with many of his supporters.
Labour's shadow chancellor Rachel Reeves said "so much damage has already been done" despite Mr Kwarteng's tax U-turn.
There was now a "Tory premium on the cost of borrowing for government, but also for individuals," she told BBC Radio 4's PM.