The average annual household energy bill in the UK will rise from £1,971 to £2,500.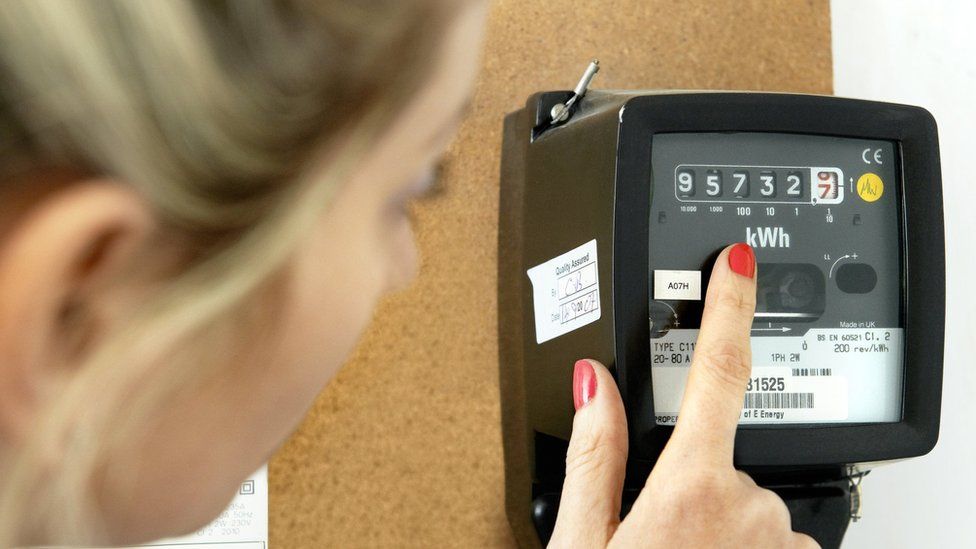 Householders are being advised to read and submit their energy meter readings before Saturday ahead of prices rising.
This will stop suppliers from from estimating usage and charging a higher rate for energy used before 1 October.
From next month, the price cap for the average annual household energy bill will rise from £1,971 to £2,500 – an increase of 27%.
The cap, frozen by the government, determines cost per unit, but bills are calculated by how much energy is used.
The government announced the energy price cap would be frozen until 2024, in an effort to limit soaring energy costs.
It means that bills for an average household – one that uses 12,000 kWh (kilowatt hours) of gas a year, and 2,900 kWh of electricity a year – will not rise above £2,500.
However, if you use more gas or electricity than that, you will pay more.
Energy UK, the industry body, said customers should check the best way to submit their meter readings before 1 October.
Most suppliers will allow for a few days either side of that date to send their readings without penalising people in light of the "unprecedented" situation.
It added that high call volumes and website traffic were expected, and service providers had offered numerous channels for people to submit their readings.
"This week, every household across the UK must make sure it submits a meter reading to their energy firm to avoid paying a penny more than they absolutely have to when prices go up on 1 October," said Energy Action Scotland boss Frazer Scott.
"Fuel poverty is at record levels, levels of energy efficiency improvements are simply too low to provide respite and financial support is just a sticking plaster on the deepest of wounds."
Every household in the UK will receive a one-off £400 fuel bill discount from next month. This will be paid directly to customers' energy accounts over six months in instalments of £66 and £67.
A first instalment of £326 has already been paid to low-income households on certain benefits and tax credits.
On Tuesday, energy regular Ofgem published a review which found that most energy suppliers need to improve how they help struggling customers pay their bills.
Campaigners have warned millions of people will still face fuel poverty this winter – meaning a household spends 10% or more of its income on energy.
Citizens Advice recommends that customers who are not able to pay their bills should contact their supplier directly and offer to come up with a payment plan.