Holly Willoughby and Phillip Schofield were accused of avoiding the queue to see the lying-in-state.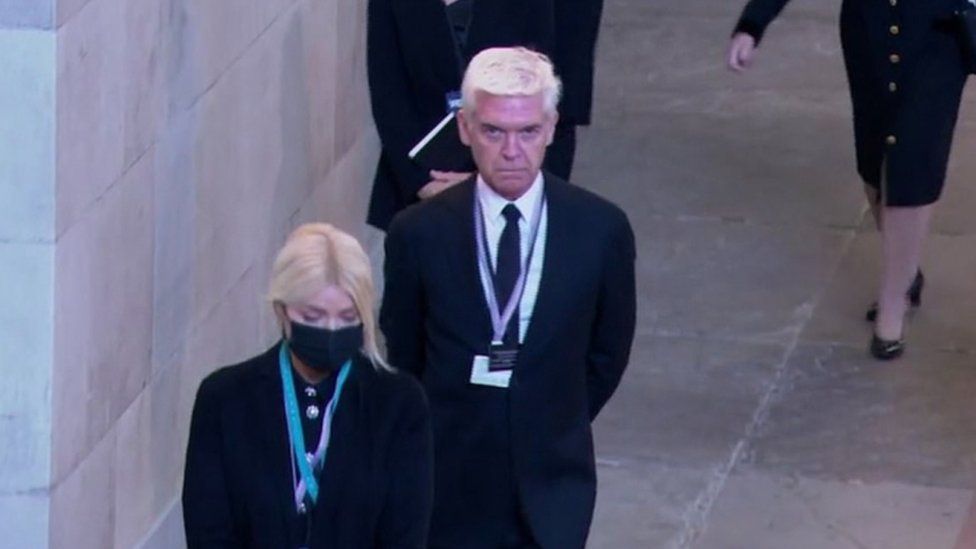 This Morning host Holly Willoughby has said "we would never jump the queue" after being accused of skipping the line for the Queen's lying-in-state.
The ITV presenter and her co-host Phillip Schofield were accused online of avoiding the wait to file past the Queen's coffin in Westminster Hall.
People stood for many hours in a line that stretched miles across London.
In a special This Morning programme on the Queen, Willoughby said their visit was "strictly for reporting".
Speaking on Tuesday morning during a segment recapping events since the Queen's death, Willoughby said she and her co-host were accredited as broadcasters to access the hall.
She said: "It was strictly for the purpose of reporting on the event for millions of people in the UK who haven't been able to visit Westminster in person…
"None of the broadcasters and journalists there took anyone's place in the queue and no-one filed past the Queen.
"We of course respect those rules, however we realise it may have looked like something else and therefore totally understand the reaction.
"Please know that we would never jump the queue."
The presenter explained that the pair were escorted around the edges of the hall to a platform at the back. This was in contrast to those paying respects who went past the coffin and were given time to pause, she said.
It comes after people complained on social media that the presenters appeared to have been "fast-tracked", in contrast to some members of the public who had to wait overnight in long queues.
One person who had waited in line said: "My 12-year-old daughter queued with us for 13 hours overnight…
"I can't believe this sorry excuse for a justification from ITV and that Holly and Phillip have gone along with this."
Schofield did not comment on the backlash during Tuesday's programme but said observing the Queen's lying-in-state was one of the "most profound moments" in his life.