The Met Office has warned of potential flash flooding, particularly in the south east of England.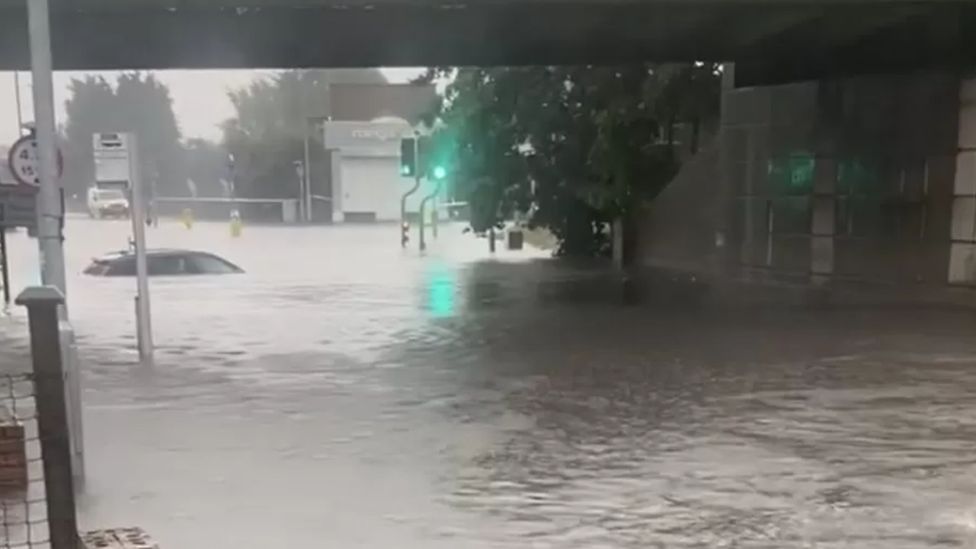 Thunderstorms and flash floods will hit parts of southern England during the afternoon and evening, forecasters say.
The most intense downpours are expected in the South East, where an amber warning was issued by the Met Office.
The amber warning is in place until 22:00 BST on Wednesday, while a yellow warning is also in place until midnight for much of southern England.
The Environment Agency has issued 22 flood alerts, with up to 100mm of rain possibly falling in some areas.
Heavy rainfall led to roads across England, Wales and Scotland becoming flooded on Tuesday, following weeks of extreme heat and tinder-dry conditions.
And more heavy rainfall is expected in England and Wales, with the most intense likely to fall in the south east covering London, Kent, West Sussex, Essex and Suffolk.
The warning issued by the Met Office says: "Fast-flowing or deep floodwater is likely, causing danger to life."
Grahame Madge, Met Office spokesman, said: "Heavy showers and thunderstorms will lead to some localised flooding and general disruption.
"Not everywhere will experience heavy downpours, or even see rain, but those affected areas could see 30mm to 50mm of rain falling in an hour."
Pollution warnings are also in place for almost 50 beaches in England and Wales after untreated sewage was discharged into the sea around the coast following the period of heavy rain.
Southern Water, one of the companies responsible for the affected regions, said storm releases were made to "protect homes, schools and businesses from flooding", adding the release was "95-97% rainwater".

Some areas hit by flooding this week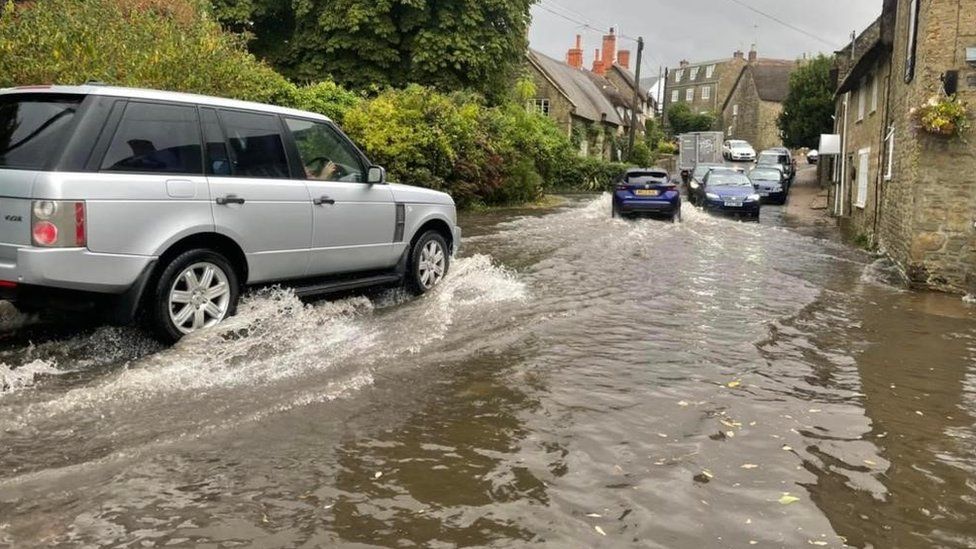 Heavy downpours are unlikely to ease parched conditions seen across much of the UK, however, because rainwater struggles to permeate dry ground.
The conditions mean water will be more likely to run off the dehydrated surface, leading to flash flooding in some areas.


Related Internet Links
The BBC is not responsible for the content of external sites.