Every principle of nuclear safety has been violated at Zaporizhzhia, the watchdog's head tells AP.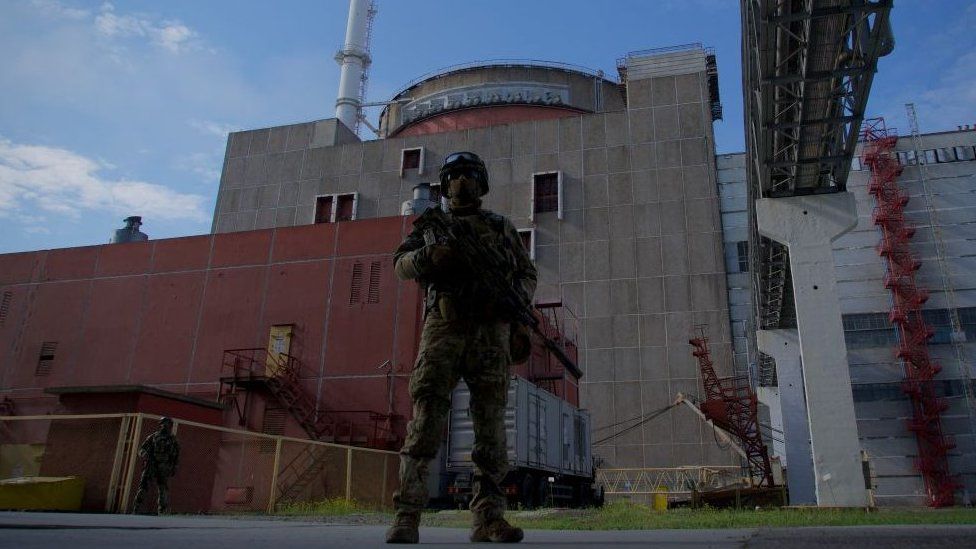 The head of the United Nations' nuclear agency has said the Zaporizhzhia nuclear plant in Ukraine is "completely out of control".
"Every principle of nuclear safety has been violated," Rafael Grossi told news agency Associated Press.
The site, held by Russian forces since early March, is Europe's largest nuclear power plant.
Mr Grossi said on Monday that his team had been ready to visit the plant for the past two months.
But they have so far been unable to carry out the mission, he said.
Meanwhile, a Russian-installed official in the Zaporizhzhia region has told Reuters news agency that Ukrainian forces were using Western-supplied weapons to attack the plant.
Yevgeny Balitsky said officials were ready to show the IAEA how Russians were guarding the nuclear facility while Ukrainians were allegedly attacking it, the agency reported.
Russia seized the power plant in the early days after the invasion, and the shelling of buildings there by Russian forces caused an international outcry.
The power plant in southern Ukraine is still operating, with Ukrainian staff under Russian control.
But the International Atomic Energy Agency's (IAEA) contacts with staff at the plant had been "patchy" and the supply chain of equipment and spares had been disrupted, Mr Grossi explained to the Associated Press.
There was also a lot of nuclear material there which needs to be inspected by the IAEA, he added.
"The people of Zaporizhzhia and people far from Zaporizhzhia are relying on all of us to prevent war from causing a nuclear tragedy," Mr Grossi – who runs the IAEA, which works with countries to help ensure the safe use of nuclear technologies – told a conference in New York this week.
In his interview on Tuesday, Mr Grossi said he and his team needed protection to reach Zaporizhzhia – which meant the co-operation of both Russia and Ukraine.
"I'm pleading to both sides to let this mission proceed," he said.
In 1986, Ukraine was the site of the world's worst nuclear disaster when a reactor at the Chernobyl plant exploded.

War in Ukraine: More coverage