Scott Neil couldn't believe how he got potentially fatal disease after a trip while walking home.
After grazing a knee while walking home from work, Scott Neil thought nothing of it: little did he know it almost cost him his leg or even his life.
The 31-year-old underwent surgery six times in six weeks in hospital as that cut developed into a very rare but potentially fatal flesh-eating disease.
Scott said it was "mind-blowing" that his graze could have led to him dying from this rare bacterial infection.
Warning: You may find some of the following content distressing
Doctors told him that he was hours away from losing his left leg and even dying.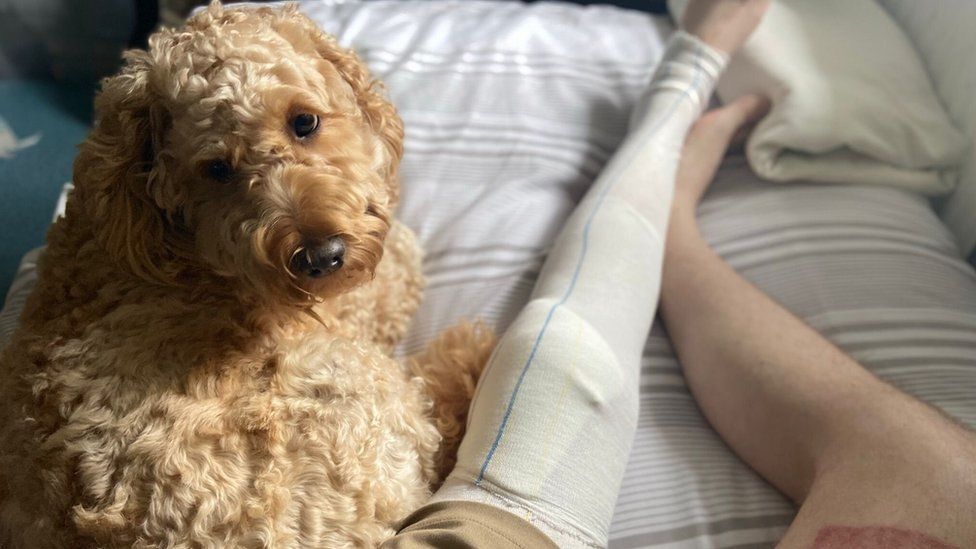 "It was pretty surreal," added Scott. "I remember thinking it was absolutely mind-blowing."
'Searing agony'
Scott recalls being in "searing agony", crying "tears of pain and just begging to go to the hospital" a few days after the fall walking to his home in Swansea in May last year – an incident that he describes as "nothing spectacular really" – with his leg swollen to double its size.
But that graze had turned into necrotising fasciitis, a life-threatening bacterial infection that happens if a wound gets infected, and it needs urgent hospital treatment.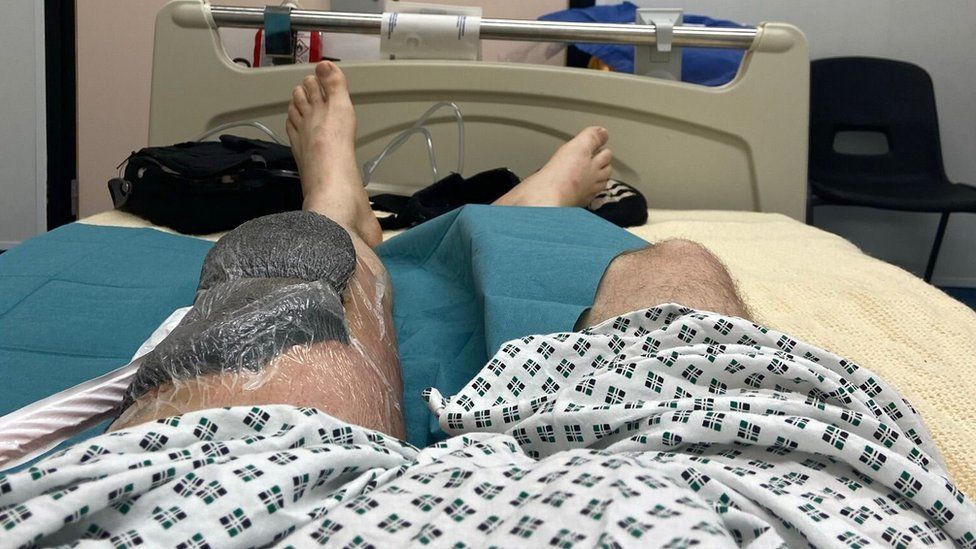 On arrival at hospital, he passed out in A&E from the agonising pain.
"I couldn't really come to terms with what had happened," said the musician from Swansea. "It was the most excruciating pain I've ever had".
Doctors operated and found necrotising fasciitis had "eaten away" at his quad and knee muscles.
'Incredibly serious'
"I was in a bit of a malaise with the pain and pain relief," he recalled.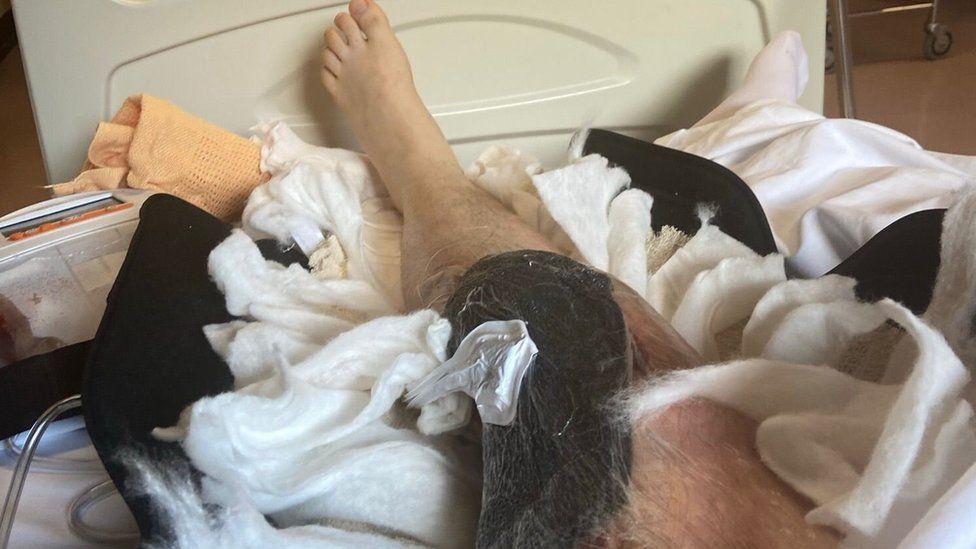 "So I didn't really acknowledge it fully to start with but it sort of hit me that this was incredibly serious."
Scott, who had just turned 30, spent six weeks in hospital and had six operations. Half of those were surgery to cut away "dead muscle" in an attempt to stop the spread.
Scott was one of the one in 130,000 people in the UK diagnosed with the infection every year.
Calf muscle replaced knee tissue
Muscle from Scott's back was initially used to replace the dead tissue taken from the knee before calf muscle replaced his quad muscle.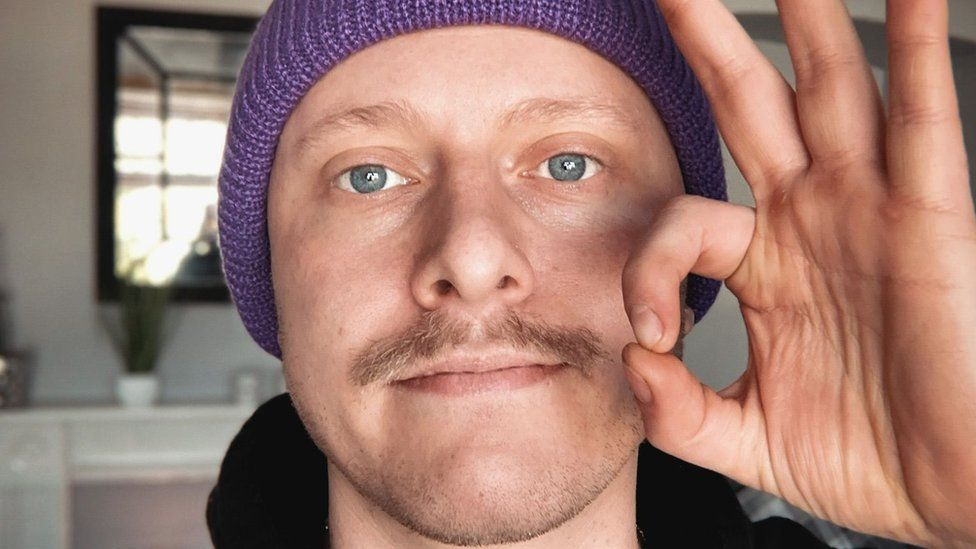 "That was really tough, I cried quite a lot," he recalled. "Watching your body look completely alien.

What is necrotising fasciitis?
The bacteria releases toxins that damage nearby tissue.
Early flu-like symptoms can quickly develop into vomiting and swelling of affected areas, before it spreads through the body causing dizziness and confusion.
It can progress very quickly and lead to serious problems such as blood poisoning (sepsis) and organ failure.

Specialists say that early diagnosis can be the difference between life and death, while campaigners want to raise awareness of necrotising fasciitis.
"Scott was really unlucky," said Dr Marina Morgan, one of the UK's leading doctors in its treatment.
"For necrotising fasciitis to develop, you need to have the right sort of aggressive bug sitting ready to get into the body – and then have a way of getting into the body, like a scratch.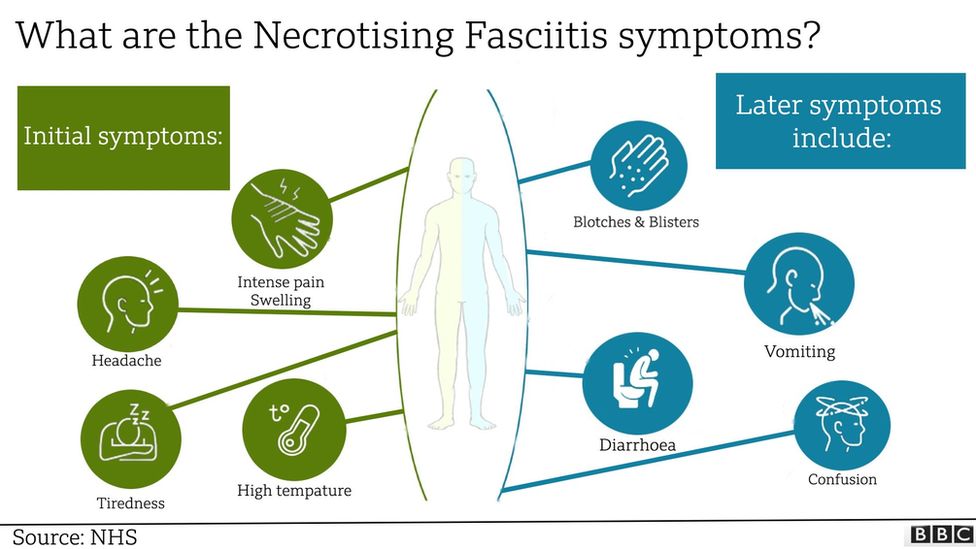 "If the body can't fight the bug off – if your immune system isn't very fit or you haven't had seen this bug before – you wouldn't have antibodies to fight it.
"The worst type of necrotising fasciitis is a bug called Group A Strep, which is more commonly a tonsillitis bug with not very many symptoms.
'Virulent nasty bug'
"People can become immune to it because they've seen the bug before, it causes tonsillitis when you're a child and it doesn't cause a big problem, and then those children grow up with antibodies and never get sick with it.
"But other people who have not seen it, then they meet that really virulent nasty bug and they can't fight it."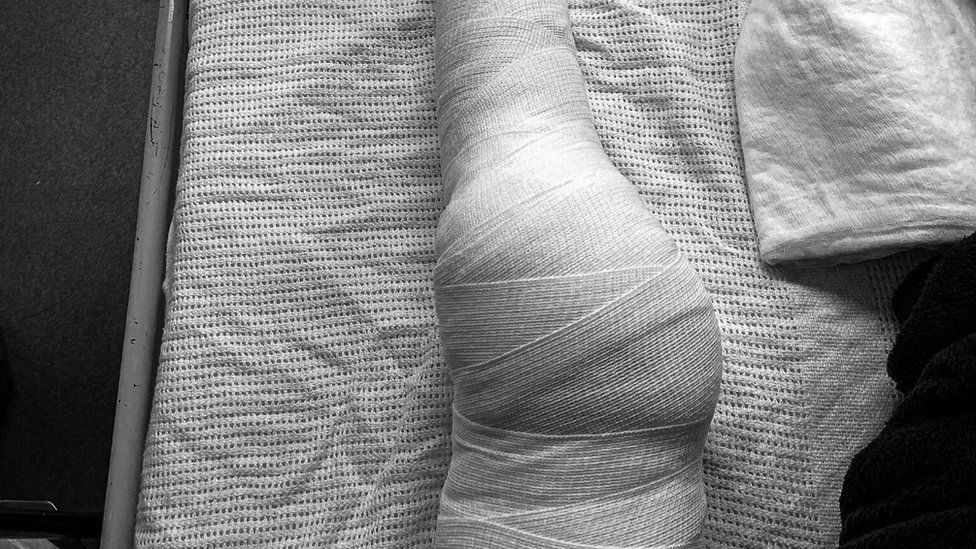 Dr Morgan said the "main feature" of necrotising fasciitis is "really bad agonising pain out of proportion to what you can see" on your skin.
"That's because the bug is deep in the tissue, like an iceberg," added the microbiology and infection consultant at the Royal Devon and Exeter Hospital.
She added that when stronger and stronger painkillers don't work for the patient, that's when clinicians "should be thinking this could be necrotising fasciitis" and give the right antibiotics.
Raise awareness call
There are an estimated one in 500 necrotising fasciitis cases in the UK each year, according to the British Association of Dermatologists, and there are four main types with different causes.
Learning about the rare condition will soon be part of the curriculum for junior doctors and medical students. But Dr Morgan, who is originally from Wales, said "not enough" people knew about necrotising fasciitis.
Doreen Cartledge lost her 23-year-old son Lee Spark to necrotising fasciitis in October 1999 and has formed a foundation in his name – the UK's only support group for people who have been affected by severe streptococcal infections.
"I ask survivors who contact me for support to spread the word about this disease because not a lot is known about it among the wider public and the mortality rate is so very, very high," she said.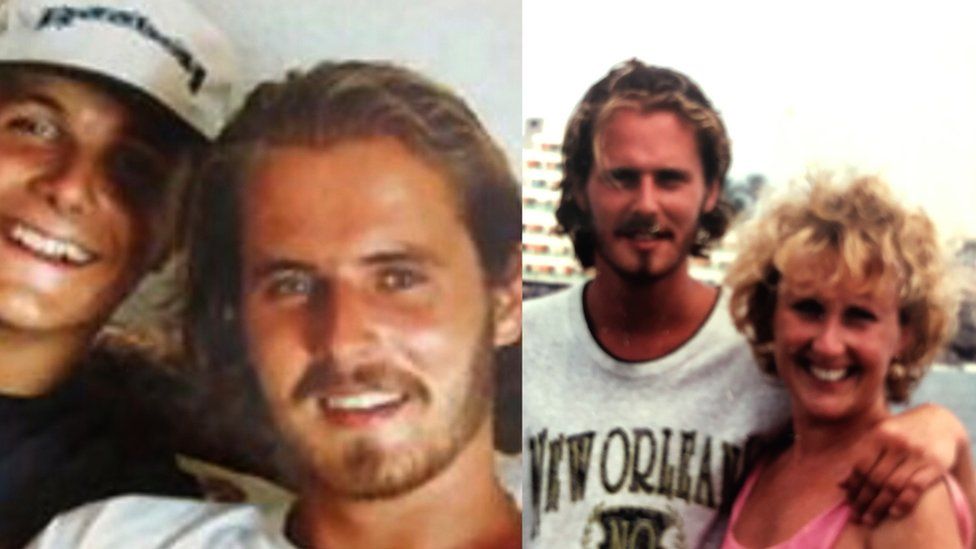 Lee, who was from the Ribble Valley area of Lancashire, was going for a job as a painter and decorator in Sheffield when he became ill with flu-like symptoms and died three days later.
"It's a fine line between scaremongering or raising awareness," added Doreen.
"But if people saw the repercussions after anyone having necrotising fasciitis if they survive, it's terrible.
"A lot of people have post-traumatic stress afterwards, so it would good if people were aware of the signs as early diagnosis and treatment is so important."
New zest for life
His ordeal took its toll on Scott both physically and mentally, but the part-time DJ, who is also in a band and works at a bar in Swansea, said his traumatic experience had given him a new zest for life.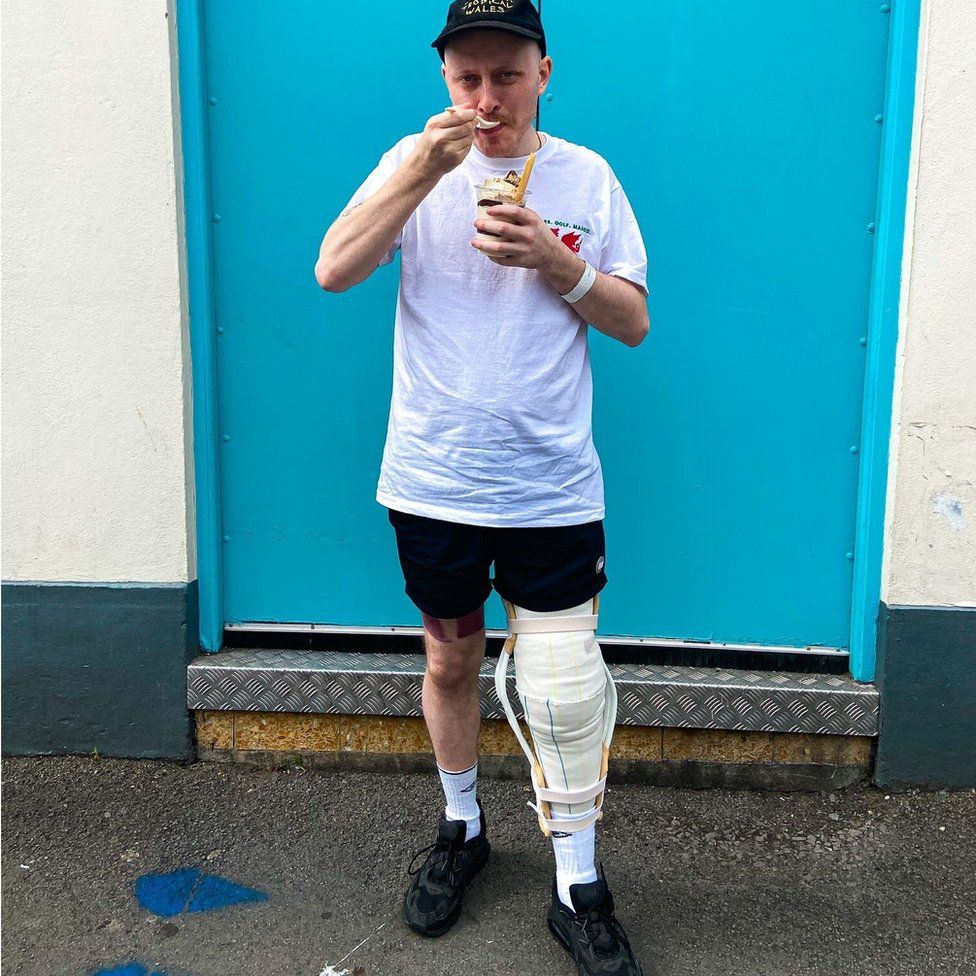 His surgery was a "success" and now more than a year later after lots of physio and determination, he can walk again unaided and can "do whatever I want."
"I remember having quite intense nights in a ward, which was the same ward I lost my Nan on, which was its own traumatic experience," Scott recalled.
"My mental health was at its lowest before this, so there was really only one way to get through it – and it was to face it.
"I had to stay strong for my family mostly. In a way, I was grateful to experience it because it showed me how to deal with trauma, there was only one way through it. Every trauma I'd experienced beforehand, I'd just buried away.
"I'm really grateful for the opportunity that facing trauma has led me to see. That's just being able to walk my dog, jump on a skateboard, run and kick a football."
If you have been affected by any of the issues in this story, the BBC Action Line has links to organisations which can offer support and advice