The language in family courts is also too hostile and often makes things worse, a top judge says.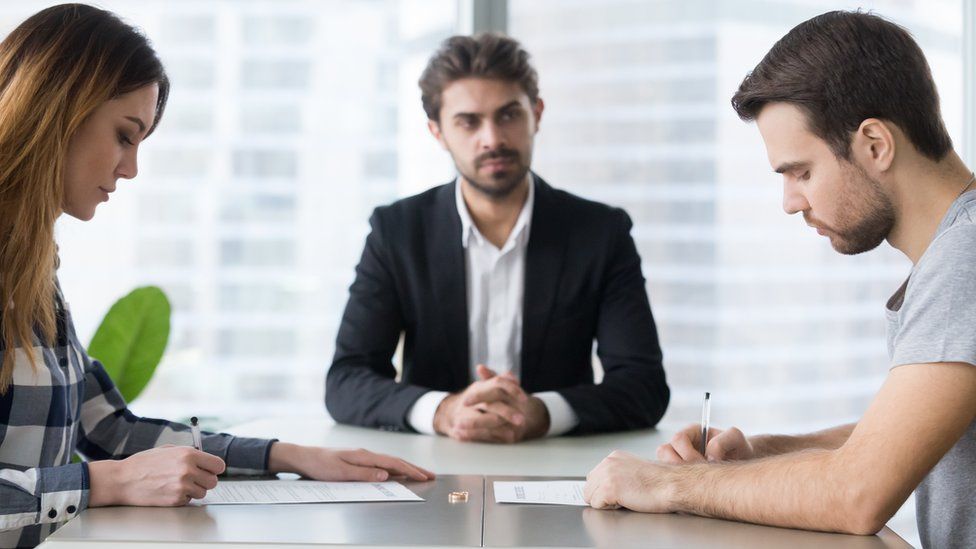 Too many divorce cases are going to court and the language used there is too hostile, a leading judge has said.
Sir Andrew McFarlane – who is head of family courts in England and Wales – estimated one fifth of marriage break-ups were wrongly ending up in court with one partner suing the other.
He said parents are fooling themselves if they think children aren't affected.
It is a rare public intervention from a sitting judge and his remarks are likely to resonate with many families.
But the top family judge said still too many were ending up in court when couples saw their issue as a legal issue, rather than a relationship issue.
"And in the end, it is not a legal issue, it's a relationship problem that they have and the law provides a structure that if they need to resolve the dispute," he said.
"We are seen at the moment as the first port of call, but we should be the last resort for them where there aren't issues of domestic abuse or protection or safeguarding.
"My feeling is that about 20% of the families who come to court to have a dispute about their children resolved, would be better served by at least, first of all trying to sort it out themselves in other ways."
And he said the hostile, adversarial language used in family court often made things worse and needs to change – comparing the problem to the bitter divorce battle made famous in the 1979 film Kramer Vs Kramer.
"The court cases are still listed as Smith against Smith or whatever it is and barristers talk about 'my opponent' or someone is the 'applicant' and someone is the 'respondent'," he said. "And we have hearings which are called dispute resolution hearings where we should just be problem solving for the future of the child."
'Wake up call' to parents
Sir Andrew also spoke about how the lengthy process could be harming children.
"Research shows consistently that if you're the child of parents who are at odds with each other, whether or not they are coming to court, that is unhealthy. It does your head in to put it in straightforward terms."
"You've just asked me about whether children are harmed by what goes on in their family and the evidence is, yes. And parents are, I think, fooling themselves if they say we are not involving the children or the children don't know."
He said family courts were trialling cases being provided with a "child impact assessment" – to "provide a wake up call to the parents as to the impact of what they are doing on their child".
Sir Andrew said the report was accurate – and that they were "fully stretched".
In his interview, Sir Andrew said he thought the family court's role in society was "very important" and people "need to know more about what we do".