The agency organising emigration for Russian Jews may soon be shut – drawing Israeli condemnation.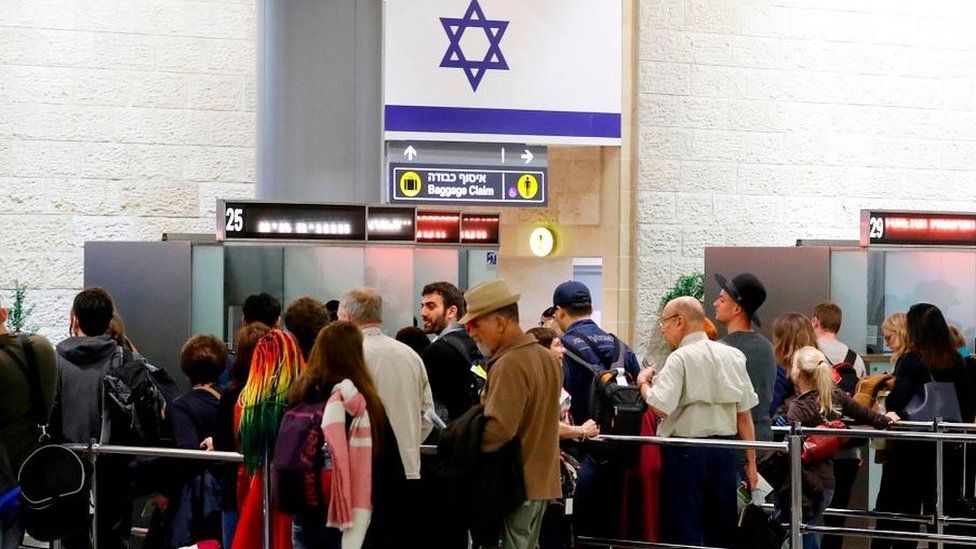 Russia's justice ministry has gone to court in a bid to shut down the Russian branch of the Jewish Agency, which organises Jewish immigration to Israel.
The case at Moscow's Basmanny District Court concerns unspecified legal breaches. A hearing is set for 28 July.
Israeli media has reported a surge in the numbers of Russian Jews arriving to settle in Israel this year.
An Israeli minister condemned the court case, seeing it as punishment for Israel's stance on the Ukraine war.
Nachman Shai, Israel's diaspora affairs minister, said "Russian Jews will not be held hostage by the war in Ukraine" and "the attempt to punish the Jewish Agency for Israel's position on the war is pathetic and insulting".
Israel has not joined the far-reaching international sanctions against Russia over its invasion of Ukraine.
But in April Russia protested after then Israeli Foreign Minister Yair Lapid – now interim prime minister – accused Russia of war crimes. Mr Lapid defended Israel's vote to suspend Russia from the United Nations Human Rights Council.
The following month Israel was outraged when Russian Foreign Minister Sergei Lavrov claimed that Nazi dictator Adolf Hitler "had Jewish blood". Russia falsely portrays Ukraine's government as "Nazi", yet President Volodymyr Zelensky is ethnically Jewish.
The souring of relations comes after a period of relatively close ties between Israel and Russia.
The Jewish Agency, also called Sochnut, was set up in 1929 and assisted Jews worldwide to settle in Israel. That emigration is called "Aliyah" in Israel.
The agency's activities were banned in the Soviet Union, which was staunchly anti-Israel, until 1989. Nearly a million Jews moved to Israel from the former Soviet Union between 1989 and 2006.
Israeli officials quoted by the Israeli daily newspaper Haaretz say the number of Russian Jews arriving in the first six months of this year reached 16,598. The figure for the whole of 2021 was 7,500.
The Jerusalem Post reports that Aliyah in 2021 was 30% higher than in 2020, with Russians forming the largest group.