Liz Truss vows a new economic approach, as she battles with Rishi Sunak to be the next prime minister.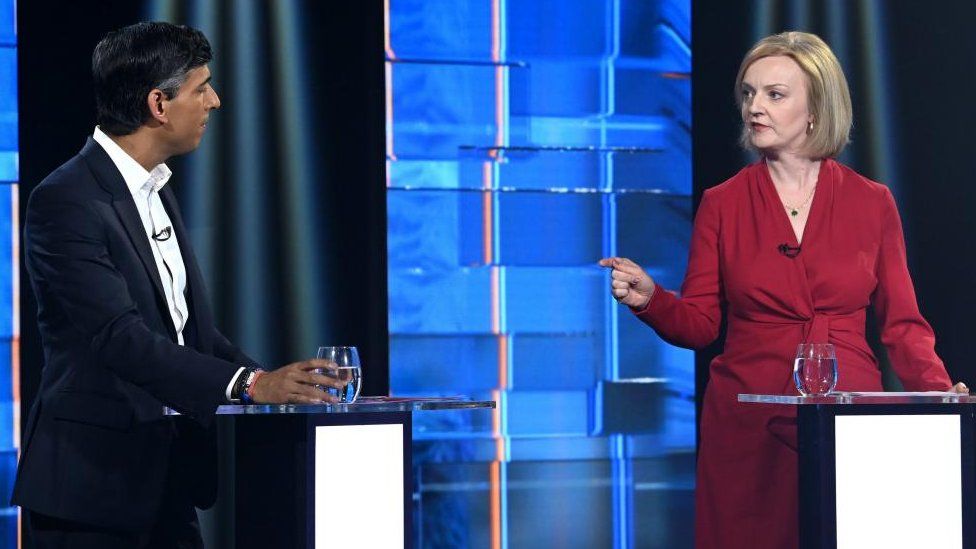 The economic policies of previous Conservative and Labour governments over 20 years have not delivered growth, Tory leadership candidate Liz Truss has said.
Ms Truss has criticised tax increases introduced by her rival Rishi Sunak, arguing they "choked off" growth.
But ex-chancellor Mr Sunak has promised to cut taxes and unleash economic growth once inflation came down.
Tory MPs chose the pair to enter the run-off to be the next prime minister.
Economic policy has become the main battleground as the rivals battle to win over the party's members, who will vote for their preferred candidate from next month.
The party's roughly 160,000 members will vote online or by post, with a final result due in September, when Prime Minister Boris Johnson will leave office.
The head-to-head leadership contest is intensifying, as Ms Truss made her pitch in an interview with the BBC, describing herself as someone who would "drive-through change".
She said: "We have had a consensus of the Treasury, of economists, with the Financial Times, with other outlets, peddling a particular type of economic policy for 20 years. It hasn't delivered growth."
Ms Truss and those in the Treasury – where she once worked under a Conservative government – "do have economic orthodoxy and they do resist change".
"What people in Britain desperately need now is change," Ms Truss said.
Ms Truss said she would have liked Mr Johnson to continue as prime minister despite promising to depart from his economic platform.
She said her plan for an emergency budget to reverse the National Insurance rise, scrap the planned corporation tax increase, and suspend the green levies on energy bills was "not a gamble" and would not drive up inflation further.
"The best way to achieve economic growth is cutting taxes and bureaucracy, and boosting private sector investment and innovation," he said.
Mr Sunak has previously said the tax burden needed to be reduced but not immediately, saying it was a matter of "when not if". He is expected to set out further policies in the coming days.

Liz Truss sounded sure-footed and confident in her interview with the BBC's Today programme, in contrast with Rishi Sunak's more hesitant and defensive performance in the same slot last week.
But her critics will point out the strength of her convictions now can be contrasted with the strength of rather different convictions in the past – notably on Brexit; she voted Remain in 2016.
Now, it's her economic convictions she's determined to frame this contest around. And her analysis of government economic failure was broader this morning than it has been until now.
She's previously criticised the cuts in public spending during David Cameron's time as prime minister.
So what would have been her approach then? More borrowing, as she advocates now? And where does she see the limit of borrowing?
These questions matter as the overall coherence of her economic strategy is scrutinised.

Ms Truss and Mr Sunak emerged as the final candidates after Ms Truss overtook Trade minister Penny Mordaunt, at one point the favourite, to secure second place in the final ballot of Tory MPs.
Mr Sunak, who consistently led among MPs, topped the ballot with 137 votes. But polls suggest he is less popular among the Conservative Party membership.
The two finalists will now set out their stalls at 12 hustings to be held around the UK. The first will take place in Leeds on 28 July, while the last will be in London on 31 August.
In her first broadcast interview of the leadership campaign, Ms Truss told the BBC she was "wrong" in the 2016 Brexit referendum, when she backed Remain.
"Some of the portents of doom didn't happen and instead we have actually unleashed new opportunities [after Brexit]," she said.
The political track record of Ms Truss – who was previously a member of the Liberal Democrats – has come under scrutiny during the leadership campaign.
Challenged on her conviction as an MP, and whether she would change her mind in the future, Ms Truss said she had developed her ideas as a politician throughout her life.
She has positioned herself as a "tax-cutting, enterprise-boosting, business-friendly" Conservative, in the mould of her political icon, former Tory Prime Minister Margaret Thatcher.
But in the BBC interview, she sought to distance herself from Lady Thatcher, who was prime minister from 1979 to 1990, insisting "I am my own person".
In his Telegraph column, Mr Sunak insisted he was a "Thatcherite" as he attempted to convince Tory members of his Conservative credentials.
Mrs Thatcher's trademark policies were tight control of the money supply to tame inflation, privatisations of state-owned companies, and tax cuts to boost enterprise.
The former chancellor has insisted the tax burden – the highest for 70 years – is the result of the pandemic and the unprecedented levels of government intervention required to steer the country through a public health emergency.
Mr Sunak wrote: "My values are Thatcherite. I believe in hard work, family and integrity.
"I am a Thatcherite, I am running as a Thatcherite and I will govern as a Thatcherite."
Former housing minister Robert Jenrick – a support of Mr Sunak – said the former chancellor would be a "Thatcherite candidate", as he raised concerns about Ms Truss's economic policies.
"It is the antithesis of Thatcherism to be going around making unfunded tax pledges merely to win a leadership contest," Mr Jenrick said.
But backbench Tory MP Michael Fabricant – who has backed Ms Truss – said the foreign secretary had some "very good ideas on the economy".
He said: "In that respect, while Rishi seems to have some good ideas, why didn't he put them in place during the 12 months or more that he was chancellor?"