Conservative MPs will decide on the two candidates to be put to a ballot of party members.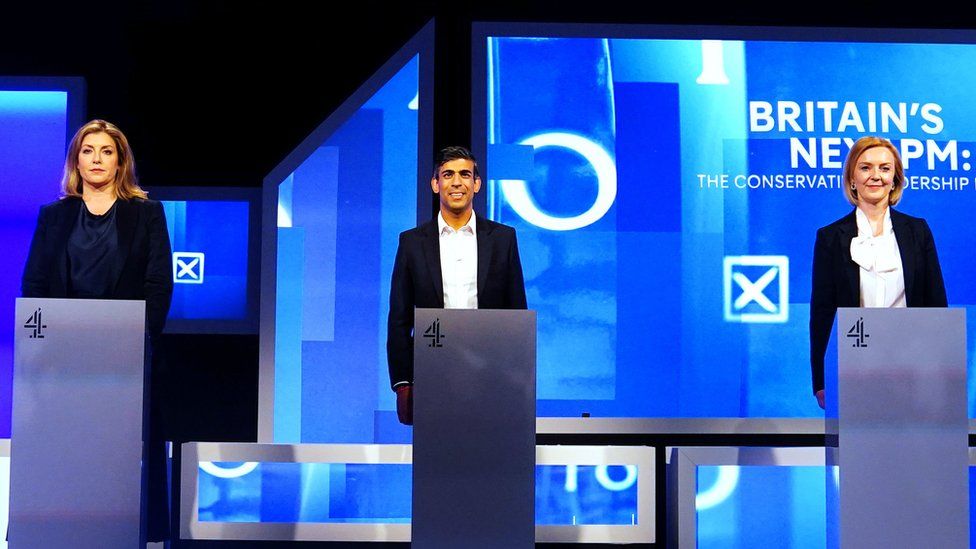 Tory MPs are to vote for the last time to decide which two leadership candidates should go through to the run-off vote among party members.
Only Rishi Sunak, Penny Mordaunt, and Liz Truss remain in the race after Kemi Badenoch was eliminated on Tuesday.
Mr Sunak is still the frontrunner, with Ms Mordaunt and Ms Truss vying for the second spot in the final round.
Conservative Party members will vote over the summer, with a result to be announced on 5 September.
Tuesday's vote saw Mr Sunak gain the support of three MPs to bring his total to 118, just short of the 120 he needs to qualify for the run-off.
Ms Mordaunt gained 10 votes to bring her total to 92, while Ms Truss gained 15 to close the gap and bring her total to 86.
Ms Badenoch gained one vote to reach 59 overall, but remained in last place and was knocked out of the contest.
Which of Ms Mordaunt and Ms Truss makes it to the final two is now likely to depend on who can attract the most support from those MPs who supported Ms Badenoch.
One of them, Ben Bradley, said he thought Ms Badenoch's voters could go "in all directions" and that he had not yet decided who to back on Wednesday.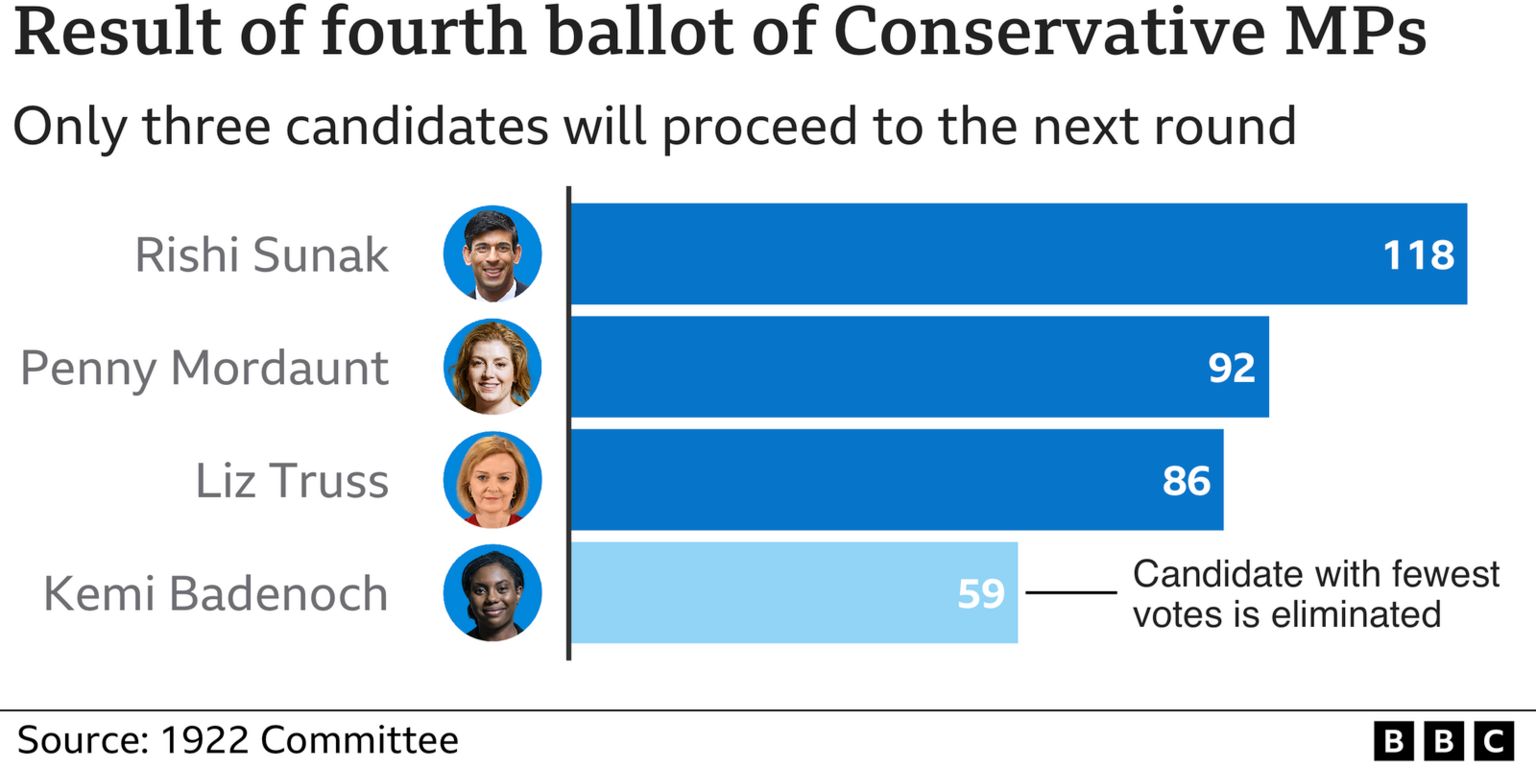 Former Tory leader Sir Iain Duncan Smith, who is backing Ms Truss, said Tuesday's result showed she "has the momentum" and had gained the support of a wide range of Conservative MPs.
Former Culture Secretary Maria Miller, a Mordaunt supporter, said she would offer the membership a "fresh choice" and the campaign was now focused on winning over Badenoch supporters.
The campaigns have also accused one another of transferring votes to their rivals as part of a strategy to improve their own position.
Speaking to LBC Radio, former cabinet minister David Davis, who is backing Ms Mordaunt, said it was the "dirtiest campaign" he had ever seen.
"Rishi [Sunak] just reallocated some… He wants to fight Liz, because she's the person who will lose the debate with him," he said.


There has been day after day of smiles and visions, promises and hustings.
But it now boils down to a final vote of Conservative MPs here, between 1pm and 3pm this afternoon, to decide which two of the three remaining candidates get a golden ticket to the run off vote among Tory party members.
Right now, the final realignment is underway.
Votes are fluid. Even if a candidate's numbers don't appear to move much between votes, they can still have gained some and lost others.

It is hard to judge who is most likely to win the run-off vote because participation in existing polling is low, but a YouGov survey of 725 party members on Monday and Tuesday suggested Mr Sunak would lose to either Ms Mordaunt or Ms Truss in a head-to-head.
The poll had Ms Mordaunt beating Ms Sunak by 51% to 37% and Ms Truss beating him by 54% to 35%.
The current size of the Tory party membership is not known for certain, but at the last leadership election in 2019 it was around 160,000, and is thought to have grown since.