Extreme heat warnings remain in place across the country with temperatures expected to rise again on Tuesday.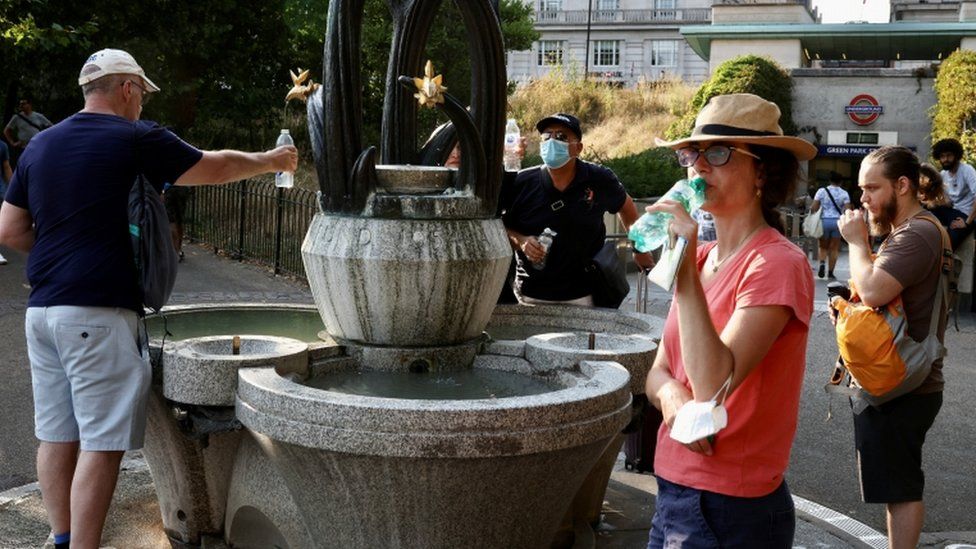 The UK is set to see its hottest day on record, with temperatures on Tuesday expected to reach up to 42C (107.6).
A high of 38.1C was reached in Suffolk on Monday, just short of the UK record of 38.7C set in 2019. Wales recorded its hottest day on record with 37.1C.
The Met Office has issued a red extreme heat warning covering much of central, northern, and south-east England.
At least four people are believed to have drowned after attempting to escape the heat in rivers and lakes.
Network Rail has issued a "do not travel" warning for Tuesday affecting services travelling through the "red zone" of the Met Office's weather warning.
No Thameslink or Great Northern services are scheduled to run north from London all day and there will be no services from London King's Cross or on the East Coast mainline.
There will also be only limited services from London Euston, London Marylebone and on the East Midlands Railway.
Network Rail said that the forecast temperatures for parts of the network are higher than the design limits for track and overhead line equipment.
There have also been warnings of pressure on hospitals and ambulance services as temperatures are set to peak on Tuesday afternoon.
Following the government's latest emergency Cobra meeting, Health Secretary Steve Barclay said more call handlers had been put in place and additional funding made available for ambulance and 111 services.
Monday saw a number of schools close despite government advice against doing so, although one teaching union said the majority of schools had remained open.
Water companies in southern and eastern England have warned increased demand is leading to low pressure – and even interrupted supply – for some households.

Flights into RAF Brize Norton in Oxfordshire stopped after part of the runway melted
Flights were suspended at Luton Airport after a section of the runway lifted
Chester Zoo said it would close to during the heatwave to keep its animals and visitors safe
Food delivery firm Just Eat suspended deliveries in some areas
Museums, including London's Victoria and Albert Museum and the British Museum, closed some galleries

The peak temperature reached on Monday made it the third-hottest day on record and the hottest of the year so far.
Scotland and Northern Ireland also saw their warmest days of the year, with temperatures of 31.3C and 31.1C recorded in Aboyne, Aberdeenshire and Derrylin, Co Fermanagh respectively.
Temperatures remained in the low and mid-20s overnight, raising the possibility the UK would also see its warmest night on record.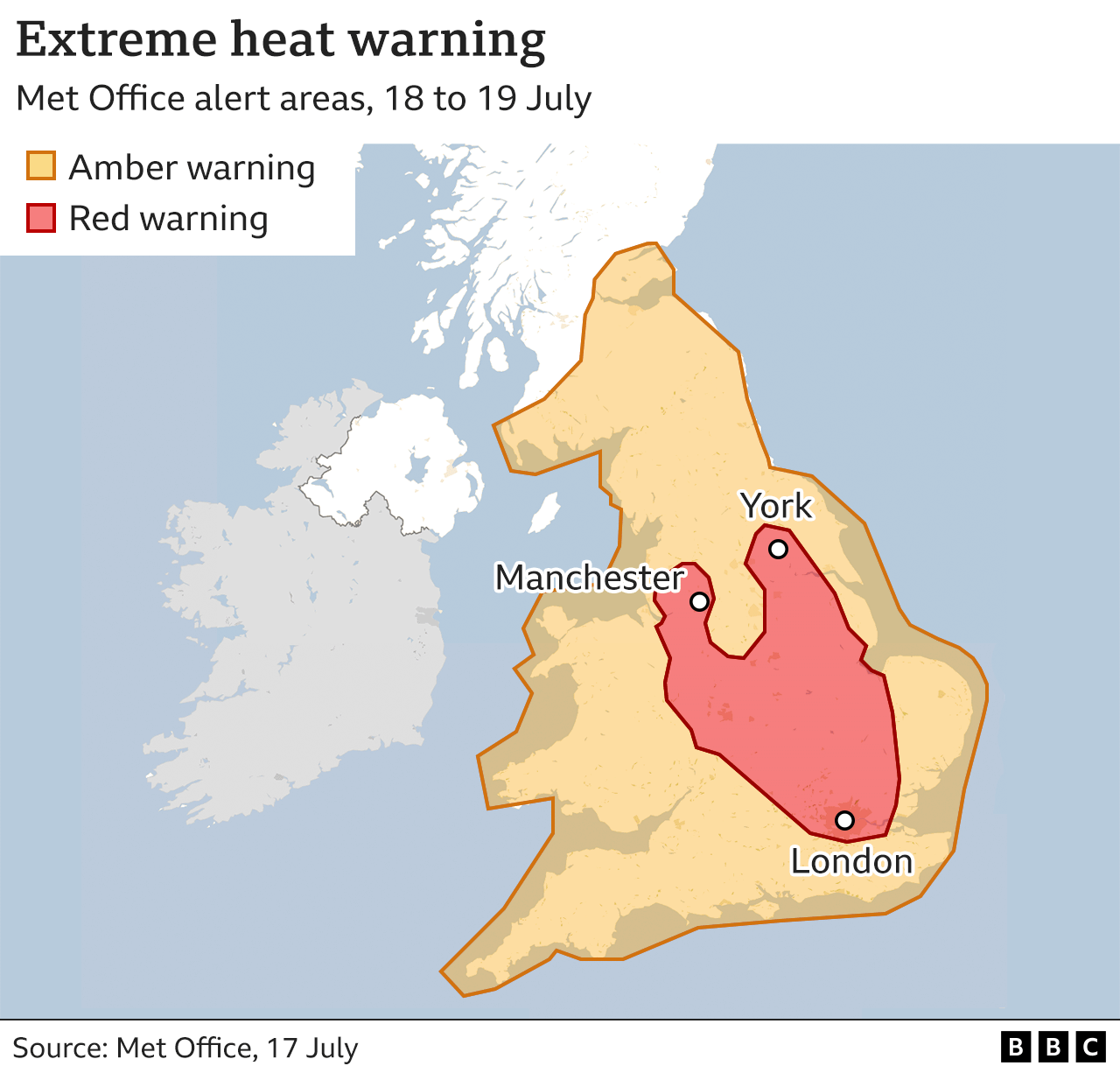 Responding to suggestions the UK has seen worse heat – such as during the prolonged heatwave in 1976 – BBC Weather's Simon King said the "dangerously high" expected temperatures were up to 10C above the extended heatwave and severe drought experienced then.
The public are being warned to take care if they cool off in water following a number of deaths.
On Monday, a 16-year-old boy died after getting into difficulty in Maidenhead, Berkshire, while the Metropolitan Police said a 14-year-old boy went missing and is believed to have drowned after entering the Thames at Tagg's Island in Hampton, south-west London.
Monday marked the first time the Met Office has issued a red warning since the system was introduced last year.
It indicates that widespread adverse health effects, not limited to those already vulnerable to extreme heat, are expected, and that "substantial changes in working practices and daily routines will be required".
Much of Europe and North Africa are also experiencing extreme heat with wildfires breaking out in France, Spain, Portugal, Greece and Morocco.
Authorities in France have said temperatures could reach record levels in 15 regions of the south-west, with thousands of people already forced to evacuate.
More than 1,000 deaths have been attributed to the heat in Spain and Portugal in recent days.