Both candidates will also get the chance to explain their views in a later interview with Nick Robinson.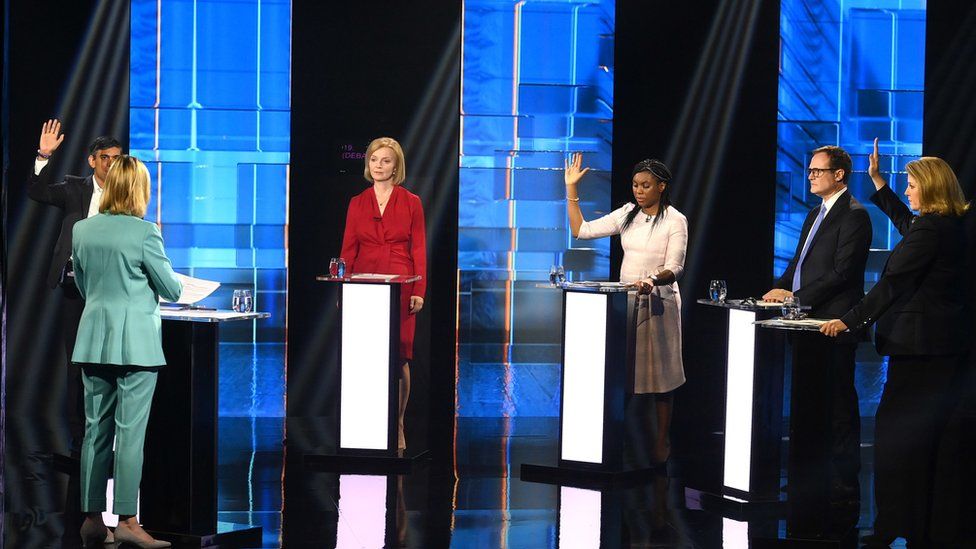 The BBC is to host a live TV debate with the final two candidates of the Conservative Party leadership race.
Our Next Prime Minister will be broadcast on BBC One at 21:00 BST on Monday, presented by Sophie Raworth.
Tory MPs are continuing to vote this week to decide which of Rishi Sunak, Penny Mordaunt, Liz Truss, and Kemi Badenoch will go forward to a nationwide vote by party members.
TV debates have already taken place on Channel 4 and ITV.
The BBC has confirmed that all four remaining candidates have agreed to participate in the debate if they make it to the final two, after Sky News was forced to cancel its own planned debate when Mr Sunak and Ms Truss declined to take part.
Jonathan Munro, the interim director of BBC News and Current Affairs, said: "We're delighted to be offering BBC audiences the chance to be part of this pivotal moment in politics and hear, first hand, from the final two candidates as they compete to succeed Boris Johnson as prime minister."
The BBC debate will be a key moment in a summer of campaigning by the two final contenders, with the result of the vote announced on 5 September.
Our Next Prime Minister will take place in front of an audience of between 80 and 100 people in Stoke-on-Trent.
Joining Raworth on the show will be BBC political editor Chris Mason and BBC economics editor Faisal Islam, who will be providing their analysis on the candidates' answers.
The show will also be simulcast on BBC Radio 5 Live with coverage continuing after the debate and across the BBC News website and the BBC News Channel.
Senior backbencher Tom Tugendhat was the latest MP to be knocked out of the race after Monday's vote.
He was eliminated after receiving 31 votes, down one from his performance in the second round last Thursday.
The BBC will also invite the final two candidates to each take part in a one-on-one interview with Nick Robinson in a special TV programme, Our Next Prime Minister: The Interviews.