The government unveils pay deals for public sector workers as inflation eats into salaries.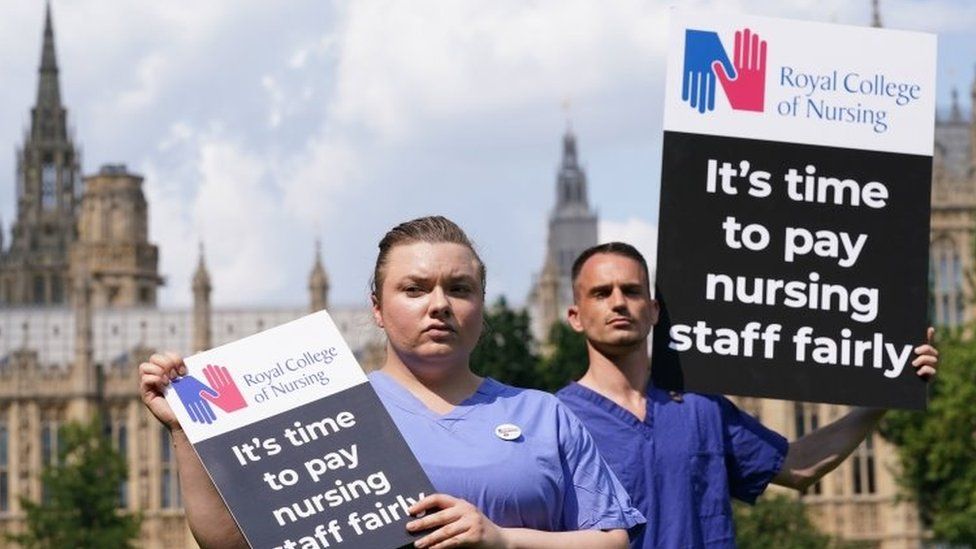 The government is announcing pay rises for millions of public sector workers as inflation eats into salaries.
More than a million NHS staff in England will get a pay rise of at least £1,400, with lowest earners getting up to 9.3%.
Police in England and Wales will get £1,900 salary uplift, equivalent to 5% overall pay award.
Unions are pressing for pay to reflect living costs, with inflation running at 9.1%.
Pay deals covering 2.5 million public sector workers, including teachers, nurses, doctors, police officers, and members of the armed forces, are being unveiled.
The governments says teachers in England will receive pay increases of between 5% and 8.9% from September.
Ahead of the announcements, ministers conceded that pay awards would not keep pace with rising prices, but argued that doing so would fuel inflation.
The current UK inflation rate is 9.1%, with the Bank of England predicting inflation could reach more than 11% later this year.
Setting public sector pay for this year is one of the big outstanding decisions facing Boris Johnson before he is due to leave Downing Street in September.
Responding to the government's public sector pay offer, Unite General Secretary Sharon Graham said the announcements were "a kick in the teeth".
"The so-called wage offer amounts to a massive national pay cut," Ms Graham said. "We expected the inevitable betrayal but the scale of it is an affront."
In the first of Tuesday's pay announcements, the government said it had accepted the recommendations of NHS, police and teacher pay review bodies in full.
Eligible dentists and doctors in England will receive 4.5%, and police officers in England and Wales 5%, the government said.
The government sets pay on a UK-wide level in some areas, such as for the armed forces, while in others – such as health and education – pay is set by ministers in the devolved administrations.
Last year, NHS staff received a 3% pay rise while the government temporarily paused pay rises for wider public sector workers with salaries over £24,000.
"We want a fair deal for staff," said Health and Social Care Secretary Steve Barclay.
"Very high inflation-driven settlements would have a worse impact on pay packets in the long run than proportionate and balanced increases now, and it is welcome that the pay review bodies agree with this approach."
The Home Office said the 5% pay rise for police will be targeted at those on the lowest pay points to provide them with an uplift of up to 8.8%, and between 0.6% and 1.8% for those on the highest pay points.
"It is right that we recognise the extraordinary work of our officers who day in, day out, work tirelessly to keep our streets, communities and country safe," Home Secretary Priti Patel said.