Penny Mordaunt holds on to second spot in the leadership contest, with Liz Truss still in third place.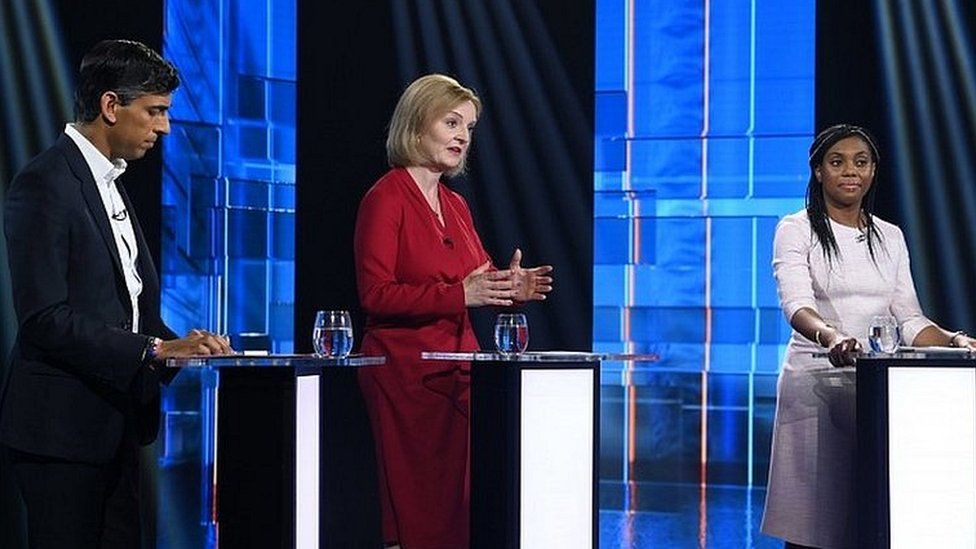 The five remaining candidates to become Tory leader and prime minister are awaiting the results of a third round of voting by Conservative MPs.
The lowest-placed contender will be eliminated, with the outcome expected to be announced at 20:00 BST.
Ex-Chancellor Rishi Sunak has come top in the two previous rounds, followed by Trade Minister Penny Mordaunt and Foreign Secretary Liz Truss.
A TV debate between the contenders on Sky News on Tuesday has been cancelled.
But the rivals spoke at a hustings organised by Tory MPs ahead of the vote.
Separately, a vote of confidence in the government will take place in the House of Commons on Monday night, with ministers expected to see off any challenge by opposition MPs.
The Tory leadership contest has become increasingly bitter and personal in tone, as those left in it fight for the final two places, which will allow them to go forward to a summer-long contest, in which Conservative Party members vote for their favoured candidate.
Backbench MP Tom Tugendhat, who came fifth in the last round of MPs' votes, has rejected calls to stand aside, as has former Equalities Minister Kemi Badenoch, who came fourth.
But most of the rancour has been between Mr Sunak, Ms Mordaunt and Ms Truss, who clashed in an ITV-hosted debate on Sunday over their economic policies.
Tuesday's Sky debate was cancelled after Mr Sunak and Ms Truss declined to take part, and amid concern among senior Tories that angry arguments in public could damage the party.
'Blue-on-blue'
Speaking at Monday's hustings, Mr Tugendhat warned against allowing Labour to benefit from Conservative "disunity and division".
"I have deplored the infighting, the sniping, the blue-on-blue, the attacks and the smears," he said. "We do not need this, now or ever, because we are fighting on every flank."
At the same event, Ms Truss stressed her "heavyweight" credentials, according to a source from her campaign.
A supporter of Mr Sunak said they did not expect to pick up many extra votes in Monday's ballot, with many of those who had backed the last eliminated candidate – Attorney-General Suella Braverman – instead opting for the ex-chancellor's rivals.
Ms Badenoch said she was "always" confident about her prospects as she left the hustings.
And Ms Mordaunt said the event had been "all very good, all very jolly".
The vote, involving up to 358 Tory MPs, closed at 1900.

Analysis from Susan Hulme, BBC parliamentary correspondent
Boris Johnson is working out his notice as prime minister, probably until September.
But Labour says he should go right away, since so many on his own side have lost faith in him. Opening the debate himself, Boris Johnson made a bullish, passionate defence of his record – especially on Brexit – and he reminded his party of his election-winning ways.
There was also a hint of anti-Brexit conspiracy – saying the rejoiners and the revengers were left plotting and planning and biding their time, and he promised he'd have more to say about the events of the last few weeks and months in due course.
But the Labour leader, Sir Keir Starmer, said Mr Johnson's delusion was never-ending. He said the prime minister had been forced out in disgrace – and it was a relief Conservatives had finally sacked him.
A confidence vote is often a moment of great political drama and peril. A government which loses one faces a general election.
But Conservative MPs won't be tempted to vote for that – meaning the government is likely to win tonight's vote. But the focus of political attention has shifted – to whoever is Boris Johnson's successor.

The Commons vote of confidence in the government – prompted by pressure from Labour – could lead to a general election if the government is defeated.
But this is highly unlikely, as it would require dozens of Conservative MPs to side with Labour and other opposition parties.
Opening the debate, Prime Minister Boris Johnson said he was still in charge of "one of the most dynamic governments of modern times".
He told MPs: "He [Labour leader Sir Keir Starmer] wants [a confidence vote] and since they want one, it's his constitutional prerogative, we will comply and we will win."
He also told the Commons: "Some people will say as I leave office that this is the end of Brexit, and the Leader of the Opposition and the deep state will prevail in its plot to haul us back into alignment with the EU as a prelude to our eventual return, and we on this side of the House will prove them wrong, won't we?" Tory MPs cheered in response.
Sir Keir responded to the PM's speech, saying: "Unlike his predecessors, this prime minister has not been forced out over policy disagreements.
"And despite the delusions he has fostered in his bunker, he has not been felled by the stampede of an eccentric herd. Instead, he has been forced out in disgrace."
The result of the confidence vote is expected at about 22:00.