The motoring group says falling wholesale costs could lead to £10 off a tank within a fortnight.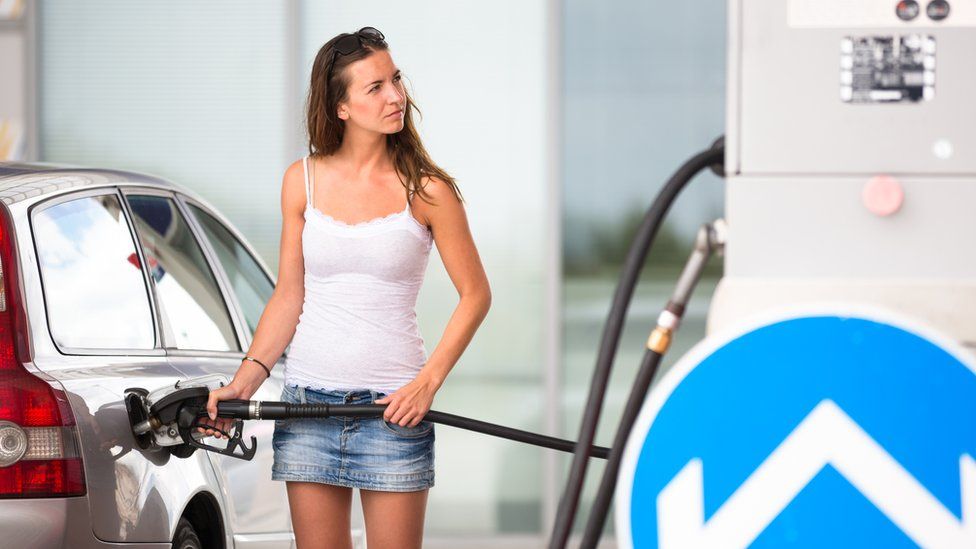 The price of petrol has fallen from record highs, leading to reductions worth £1.50 per tank, according to the AA motoring group.
Average pump prices are down to 188.76p per litre for petrol and 196.96p per litre for diesel.
At the start of the month, prices were 191.53p for petrol and 199.07p for diesel.
The AA said falling wholesale costs could lead to savings of £10 off a tank within a fortnight.
Fuel prices have soared in recent months, driven by the war in Ukraine and moves to reduce Europe's dependence on Russian oil.
With food and energy bills also surging, many households are under pressure.
'A tenner off a tank'
Wholesale petrol peaked above £1 per litre at the start of June, but dropped to below 80p per litre for much of last week.
Luke Bosdet, the AA's fuel price spokesman, said: "Wholesale petrol's trajectory, if sustained, would lead to savings of a tenner off a tank from the record highs, providing the fuel trade is prepared to pass them on."
"The problem is that, in many places, the price cuts are quite simply not happening despite more than six weeks of falling costs," he added.
The Competition and Markets Authority said it had discovered a sharp rise in prices once fuel had been processed by oil refineries.
It also found "significant differences in price" between forecourts in "many rural and urban areas".
However, it said retailers had passed on the 5p fuel duty cut to motorists.
'Not good news to come'
Part of the reason that petrol prices have surged is down to the high price of crude oil, which has been driven up by the war in Ukraine.
David Cox, an independent energy analyst, warned that while oil prices may have come off their recent highs, they are likely to remain elevated due to the ongoing conflict.
"It's difficult to see how crude does anything but go up, while the war rages, and that's not good news in the medium term for petrol prices," he said.
The loss of Russian supplies has stretched an industry which was already at full capacity, and it will be difficult to replace that supply, Mr Cox warned.
"The trouble is, you just can't replace the volume of oil that Russia produces," he said.
He said even with efforts from the US to persuade Saudi Arabia to export more oil, the price was unlikely to shift back.
"There might be minor changes up and down, but essentially crude is likely to keep marching upwards and that will keep the pressure on petrol prices upwards too."