Liz Truss clashes with Rishi Sunak over tax, with trans issues and Brexit among other flashpoints.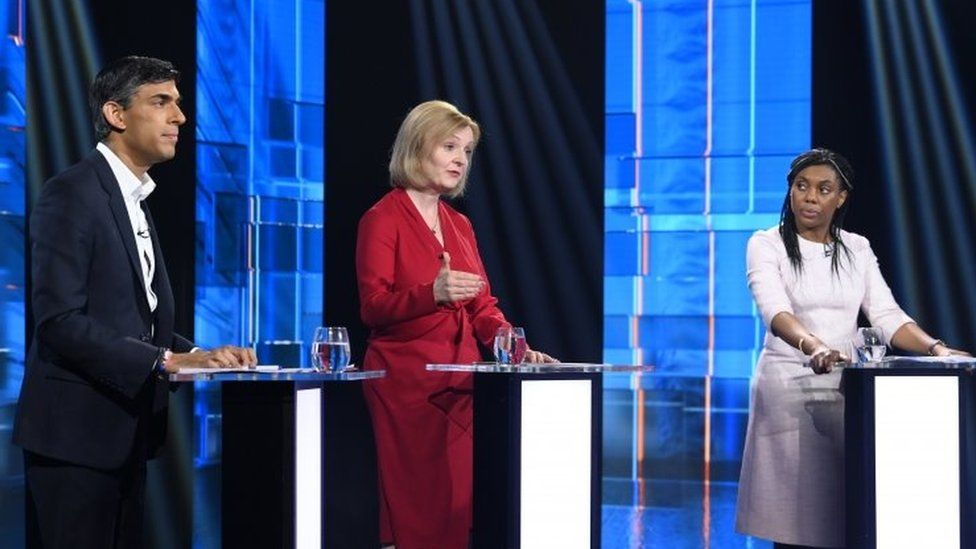 Tory leadership rivals stepped up their attacks on each other's records and policies in their latest TV debate.
Foreign Secretary Liz Truss told ex-chancellor Rishi Sunak tax rises he introduced would "choke off" growth.
Mr Sunak accused Ms Truss of peddling "something-for-nothing economics". Other flashpoints were trans rights, Brexit and trust in politics.
All five ruled out an early general election if they become prime minister in seven weeks' time.
At one point, the candidates were asked to raise their hands if they would give departing Prime Minister Boris Johnson a job in their cabinet. None of them did.
In the hour-long ITV debate, some of the fiercest clashes were between Mr Sunak and Ms Truss, whose divisions over how to bring rising living costs under control while growing the economy were laid bare.
The record of Mr Sunak – who won the first two rounds of MPs' voting – as chancellor has come under sustained attack during the leadership campaign.
Mr Sunak has been forced to defend tax rises introduced during his time as chancellor, including April's hike in National Insurance to pay for social care and the NHS.
In the debate, Ms Truss said Mr Sunak had "raised taxes to the highest level in 70 years", arguing that this was "not going to drive economic growth".
"The fact is that raising taxes at this moment will choke off economic growth, it will prevent us getting the revenue we need to pay off the debt," Mr Sunak.
Mr Sunak responded that the pandemic damaged the economy and the money has to be paid back.
"There's a cost to these things and the cost of higher inflation, higher mortgage rates, eroded savings," Mr Sunak said. "And you know what? This something for nothing economics isn't Conservative. It's socialism."
Trade minister Penny Mordaunt – the bookmakers' favourite to win the race – said the limited tax cuts she advocated were not inflationary and people need help now with the cost of living.
"I don't understand why Rishi doesn't understand that," she said.
There were also sharp exchanges between Ms Mordaunt and former equalities minister Kemi Badenoch over a row about the self-identification for transgender people.
Ahead of the debate, Ms Mordaunt told the BBC there were a "number of smears going on in the papers" and dismissed claims she had backed gender self-identification when she was an equalities minister in 2019.
"I think this whole thing is unedifying," Ms Mordaunt said. "I know why this is being done. What I would say to you is, all attempts to paint me as an out of touch individual will fail."

A bloody battle

The key feature of these debates so far has been how willing the candidates are to tear lumps out of each other.
Rishi Sunak and Liz Truss are regularly going into battle – strongly criticising each other's economic plans. If they get into the final two, the next few weeks look likely to be just as heated for the Tories.
Tonight we also saw Kemi Badenoch go for the former chancellor. Tom Tugendhat too was critical of the other candidates for lending credibility to Boris Johnson's government.
This is proving to be a brutal and bloody battle to be prime minister. It might not be easy to heal some of the wounds.

Later in the debate, Tom Tugendhat – chairman of the foreign affairs select committee – challenged Ms Mordaunt to give the "details of the plans you are laying out".
He warned that Labour leader Sir Keir Starmer "won't be waiting at the general election and we won't be able to give him that space now".
Ms Mordaunt said: "I think there's a couple of things we need in order to win the next general election: one of them is me as the prime minister because the polling shows that I'm the only one that can beat Keir Starmer and take the fight to Labour."
The five remaining candidates are vying to succeed Boris Johnson as Tory leader and prime minister after a cabinet mutiny forced him to resign.
The candidates passed the first two rounds of voting among Tory MPs, with the next ballot due on Monday, when the bottom-placed candidate will be knocked out.
The field will be whittled down to two final contenders by the end of next week, before around 160,000 Tory members decide the party's next leader in a postal vote.
The result will be announced on 5 September, when Mr Johnson will leave office.
Mr Johnson's replacement will inherit a flagging economy left reeling by rocketing inflation and the legacy of a government mired by controversies, such as Covid-19 rule-breaking in Downing Street.