Authorities have been heavily criticised for how they handled the attack that killed 19 children.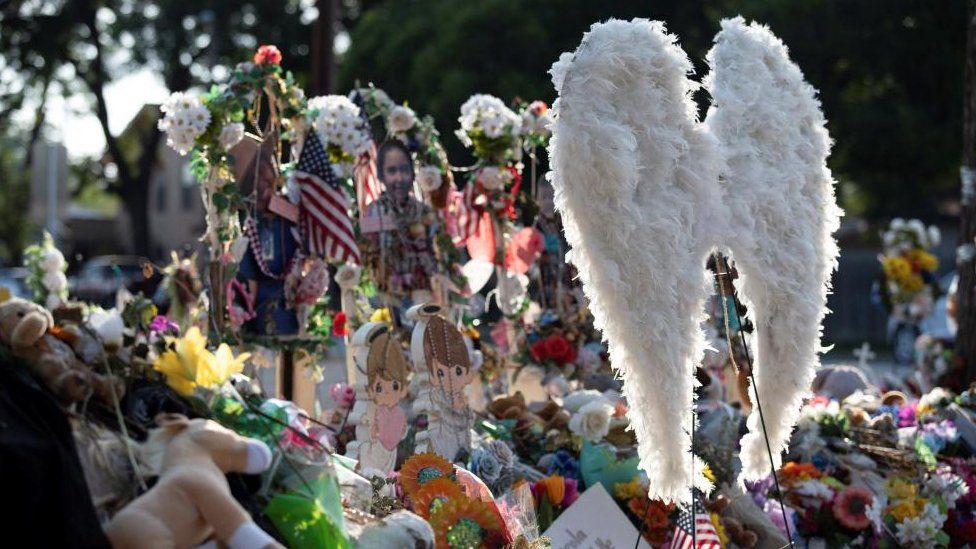 A report into the Uvalde school shooting in Texas that killed 21 people has found "systemic failures and egregiously poor decision making" by those involved in the response.
The preliminary report by a committee of the state's House of Representatives was published on Sunday after first being delivered to victims' families.
It details an "overall lackadaisical approach" by authorities at the scene.
Police waited for over an hour outside classrooms before a team entered.
The 18-year-old shooter targeted Robb Elementary School in the Texas town of Uvalde on 24 May.
Nineteen children and two teachers were killed.
The committee believes the nearly-80 page report to be the most complete telling so far of what happened during and after the attack.
It concludes that the school did not adequately prepare for the risk of an armed intruder, and had a culture of leaving doors unlocked or propped open – which goes against security policies in the school district.
Because of failures in maintenance and advanced preparation, the attacker probably killed most of his victims before any responders set foot in the building, the report says.
"Of the approximately 142 rounds the attacker fired inside the building, it is almost certain that he rapidly fired over 100 of those rounds before any officer entered."
There were 376 responders from various agencies at the school on the day of the massacre – most of them from federal and state law enforcement agencies.
The Uvalde schools police chief Pete Arredondo wrote the active shooter response plan, assigning himself as incident commander, but did not consider himself to have assumed that role on the day, he testified.
"The void of leadership could have contributed to the loss of life as injured victims waited over an hour for help, and the attacker continued to sporadically fire his weapon," the report says.
No responder seized the initiative, it adds.
While the report heavily criticises law enforcement, it also says there is no one "to whom we can attribute malice or ill motives," other than the attacker.
Earlier this week leaked CCTV footage from Uvalde was published by a local newspaper, showing the gunman's arrival and police waiting 77 minutes to confront him.