The exchanges between five remaining Tory leadership hopefuls were a chance for renewal and combat.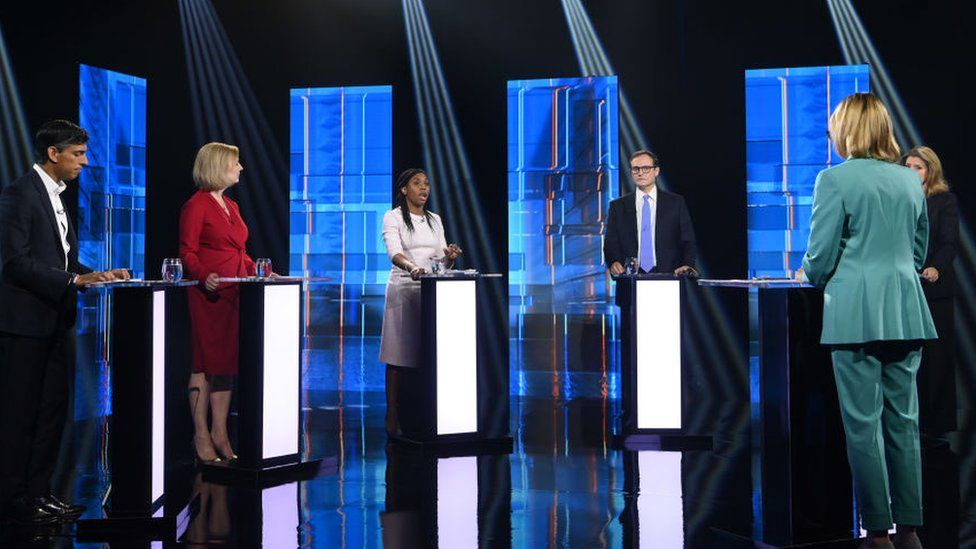 You had to keep reminding yourself these were five people who are actually in the same party.
And the two of them taking the greatest lumps out of each other sat around the same cabinet table a fortnight ago.
Changing leaders between elections can offer a party a chance to renew in office.
It also offers plentiful opportunity for it to rip itself to shreds in public.
There are nerves in Conservative circles that Sunday evening's debate was rather more the latter than the former.
So after a weekend of two and a half hours of primetime television debate and acres of newsprint, where do we find ourselves as we enter the second week of the Conservative leadership contest?
TV debates serve up real jeopardy, particularly for those with the most to lose.
On Friday's debate on Channel 4, the two outsiders, in terms of their support among Conservative MPs so far at least, seemed to relish it, perhaps pleasantly surprised they had made it so far.
Kemi Badenoch and Tom Tugendhat were probably the least known to most viewers, and with little to lose.
Whereas the big three, in terms of votes so far, Rishi Sunak, Penny Mordaunt and Liz Truss, feared going backwards; denting their solid starts.
Things felt different in the ITV debate.
Candidates turn on each other
Without the punctuation marks of a live audience in the studio, with its questions and applause, and with the addition of some nifty ideas such as each candidate being able to put a question to just one other, the exchanges felt sharper, more spiky.
The candidates addressed each other rather than the audience in the studio, and often archly.
Team Truss are candid: "Liz was better tonight that on Friday" one aide told me.
"She is the clear heavyweight on the economy to rival Rishi. That was a battle of the grown ups between Liz and Rishi, with Liz the 'change' candidate on the economy," a source added.
They want to portray a Sunak premiership – economically at least – as more of the same as what's gone before, without the scruffy blonde hair.
Yet again Mr Sunak was the focus of most, if not all of the barbs coming from his opponents.
Or, we should remind ourselves, colleagues.
I'm told his question to Liz Truss, "what do you regret most, being a Lib Dem or being a Remainer?" was meant to be light hearted.
It didn't sound anything of the sort. More like a laser guided zap at her true Conservative credentials.
Trapdoor of elimination nears
Penny Mordaunt arrived on ITV's stage having weathered an onslaught in the newspapers, much of it focused on the rights of trans people.
Her campaign is hopeful it is counterproductive, and convinced most Conservative Party members hate it, because it involves Conservatives attacking Conservatives.
The thing is, that only matters if she reaches the final two, what matters now is the extent to which it matters among Conservative MPs.
Those Tory MPs who are most keen to avoid Rishi Sunak as the next Prime Minister will then have to decide which alternative is both most palatable to them, and most likely to beat Mr Sunak among the party grassroots.
Tom Tugendhat's team, closest to the trapdoor of elimination in the last round, say they have picked up how uncomfortable plenty of Conservatives are at what is described as 'blue on blue' scrapping between Tories in public.
They hope Mr Tugendhat having never been a cabinet minister gave him some distance from the arguments, particularly between Liz Truss and Rishi Sunak.
"It puts quite a lot of pressure on MPs," as one of her aides puts it.
There is another hustings, in front of Conservative MPs on Monday, followed by another vote, Round three, at teatime.
We'll know the result at 20:00 BST, and five candidates will become four.