The highest alert for parts of England means there is a danger to life as temperatures could hit 40C.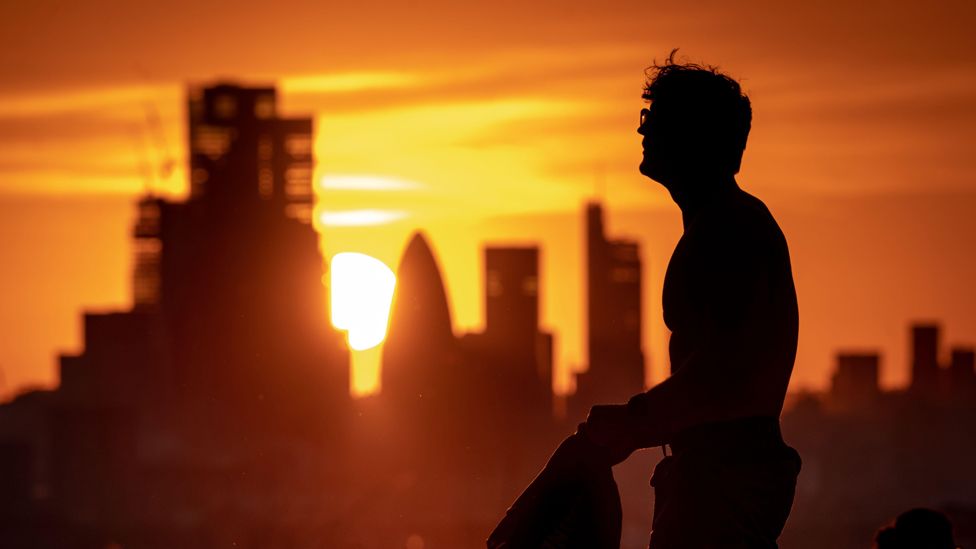 A red extreme heat warning has been issued by the Met Office for parts of England next week, meaning a risk to life is likely.
Temperatures could get as high as 40C (104F) for the first time and people are being urged to take precautions against the soaring heat.
This highest warning, covering London and parts of central England, warns of widespread impacts to people's lives.
The heatwave could cause disruption to travel and infrastructure.
The red warning covers London and the Midlands and goes as far north as Manchester and York.
It means substantial changes in working practices and daily routines will be required, the Met Office said
As well as the red warning an amber warning remains in place across most of England.
BBC Weather presenter Matt Taylor said there was an "increasing likelihood" the UK record high would be broken.
The highest recorded temperature in the UK was 38.7C in Cambridge in 2019.
While temperatures are expected to be in the mid-30s across England on Monday and Tuesday the southeast of England is forecast to see the hottest weather.
Mr Taylor said while it was not guaranteed, it was the first time there had been a realistic possibility of hitting 40C in the UK.
"That is exceptionally hot, it is the sort of temperatures that if you are on holiday you may be able to deal with but in day-to-day life it can have severe impacts on health and we are likely to see impacts on transport and power next week as well," he said.
Night-time temperatures in some areas will not drop below 25C, he said, adding that things were likely to start cooling off from Wednesday.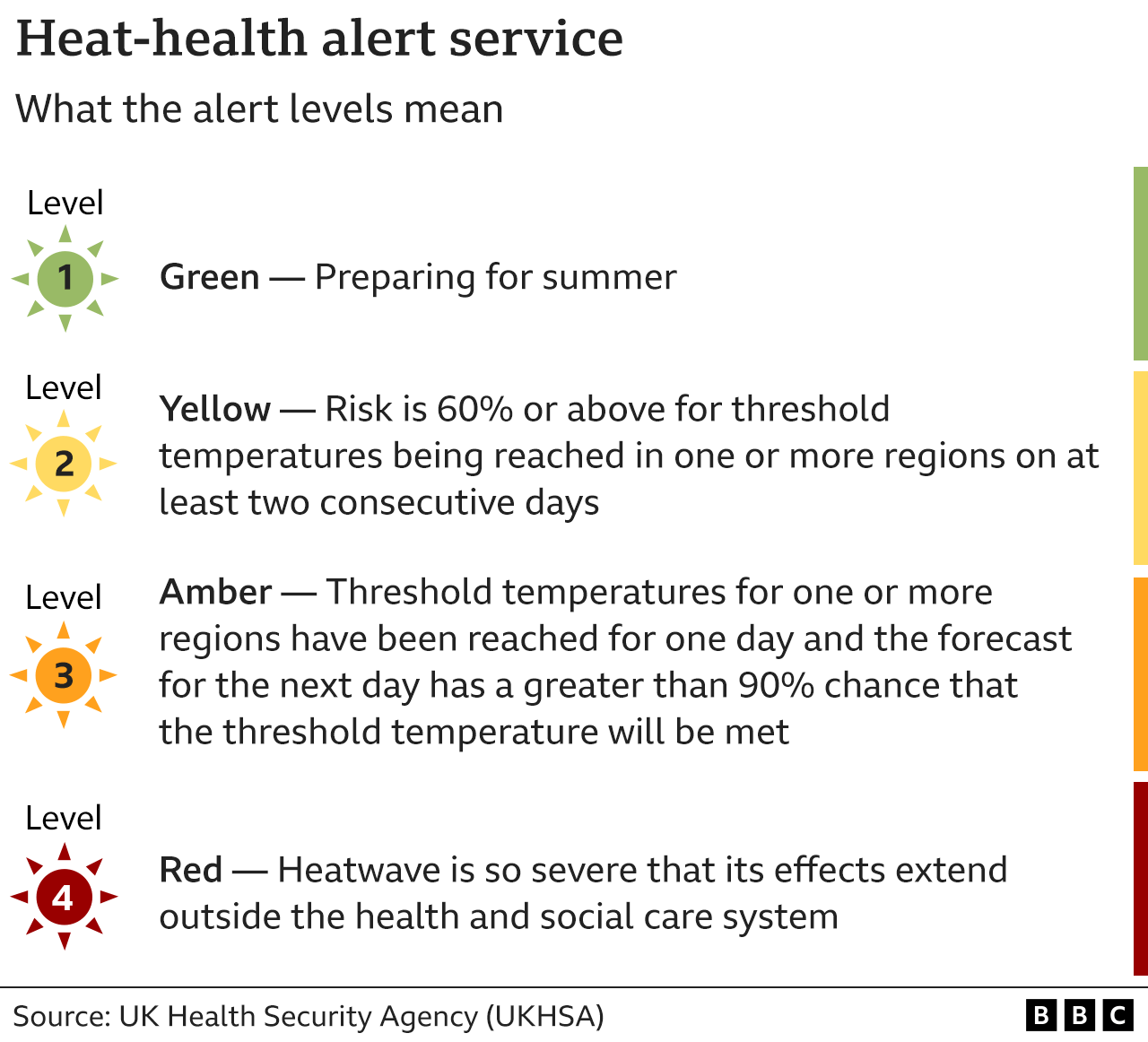 People are being urged to stay hydrated, look out for vulnerable people, keep curtains closed and stay out of the sun in the middle of the day.
The heat is expected to increase pressure on the NHS and a Level 3 UK Health Security Agency (UKHSA) alert has been issued, advising the health and care sector to look out for vulnerable people and those with underlying health conditions.
The government's Cobra emergency committee held a meeting on Thursday about the exceptional heat and Cabinet Office minister Kit Malthouse said the key thing was to "prepare" government services.
The Met Office said the hot weather was caused by high pressure over the UK and hot air flowing from southern Europe.
The world has already warmed by about 1.1C since the latter half of the 18th century, and experts predict that temperatures will keep rising unless governments make steep cuts to emissions.
Seven of the top 10 hottest days recorded in the UK have been since 2003, Mr Taylor said.
"We only broke the temperature record three years ago, temperature records are not there to be broken so regularly and so there are concerns that a warming planet will see this sort of thing happen more often."
The latest heatwave has brought warnings of disruption to travel with rail firm Avanti West Coast tweeting that services might be cancelled at short notice at the weekend, with amended timetables and extended journey times expected on Monday and Tuesday.
Network Rail said it was preparing the railway to keep passengers safe "ahead of next week's very high temperatures".