An ex-MP was urged to appoint a millionaire party donor to a group she led, court papers suggest.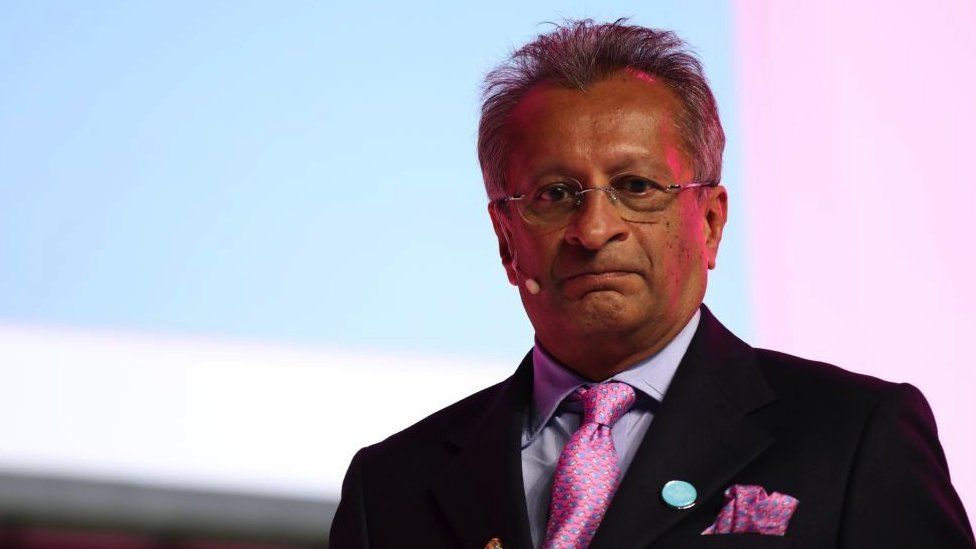 A former Tory MP claims a government minister pressed her to help advance a party donor seeking a knighthood or peerage, court documents have revealed.
Charlotte Leslie told a colleague that Lord Agnew – then a Cabinet Office minister – insisted she appoint millionaire Mohamed Amersi as chairman of an influential group she led.
Ms Leslie also claims Mr Amersi told her such a role would help him secure an honour, the court documents allege.
Mr Amersi is suing her for defamation.
The documents have been disclosed by the courts for the first time as part of the legal action, which is pitting the two Conservative Party figures against each other.
One is Mr Amersi, a businessman who has donated more than £500,000 to the Conservatives over the past four years. His Russian-born partner donated a further £260,000 to the party between 2017 and 2018.
The other is Ms Leslie, who was MP for Bristol North West from 2010-17. She is managing director of Conservative Middle East Council (CMEC), which promotes friendship between Tory politicians and the Middle East region.
'Impose himself'
The court documents show Ms Leslie refused to appoint Mr Amersi to chairman of CMEC in 2020. She wrote to party colleagues and "national security individuals" about her concerns that Mr Amersi was trying to set up a rival organisation, the papers show.
"I have been told the party's board rejected two previous attempts because it concluded that Mr Amersi's primary objective is to secure a knighthood or peerage," she wrote to the CMEC's honorary president, Sir Nicholas Soames, in December 2020.
"Indeed, Mr Amersi has repeatedly been clear about this motive to me during his long and persistent campaign to impose himself as chairman of CMEC."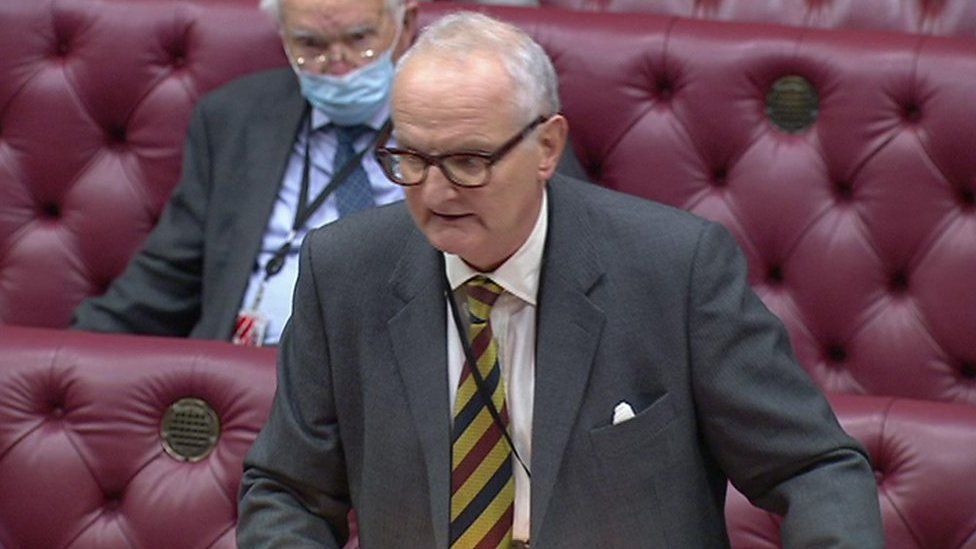 Sir Nicholas – Sir Winston Churchill's grandson, who stood down as one of the Conservative Party's longest-standing MPs at the last election after falling out with the leadership over Brexit – forwarded Ms Leslie's concerns to Ben Elliot, co-chairman of the party.
A few weeks later, Ms Leslie sent another note to Sir Nicholas, alleging a Conservative Party HQ staff member had contacted her, in July 2020. She said it was to discuss the party's work with special-interest affiliates such as CMEC – often known as Conservative "friends of" groups – and "Mr Amersi's ambitions".
"I explained that it would not be appropriate for him to become chairman of CMEC in return for money," she wrote.
'Due recognition'
Redacted court papers also reveal how Ms Leslie claims to have been telephoned in September 2020 by an individual who the BBC has identified as Lord Agnew. She says he had been "irate" that she had considered "his friend" Mr Amersi unsuitable for the role as chairman.
"He insisted that CMEC should appoint him as chairman because he will give more money than anyone else and that he is a 'doer'," she wrote.
Lord Agnew described how Mr Amersi had helped him source personal protective equipment (PPE) from the United Arab Emirates during the pandemic and "demanded" she arrange a meeting, Ms Leslie says.
Writing to Sir Nicholas, she said at that meeting, Mr Amersi had told her "he had given a lot of time and money to the party and now wanted his due recognition".
"He said he wanted to be chairman of a 'friend of' group and was candid that such chairmen usually got a knighthood or a peerage and that he wanted one," she wrote.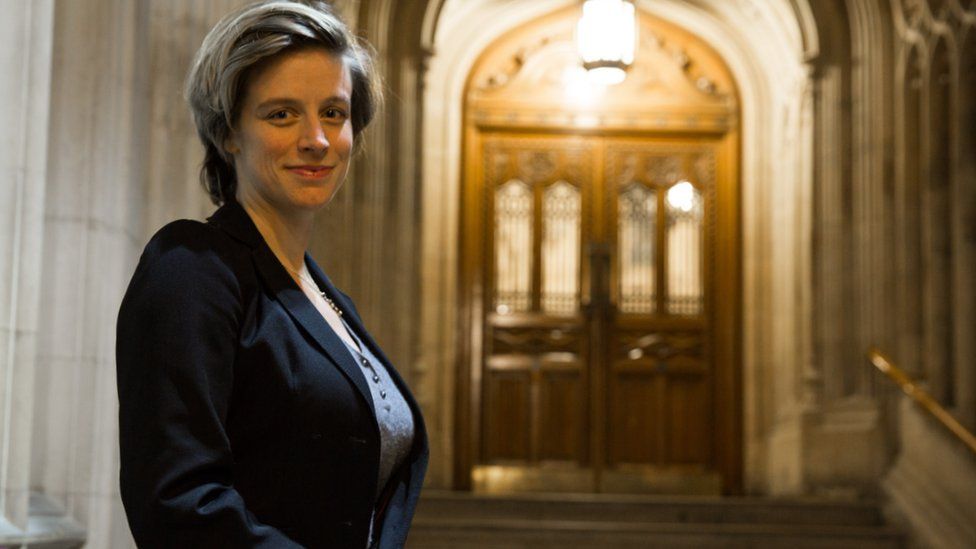 Mr Amersi accuses Ms Leslie of "inaccurately recording" their discussions and publishing a series of documents containing "highly defamatory" allegations to influential individuals.
Through his lawyers, he told the BBC it was "categorically false" that he had acted with the objective of securing an honour or that his proposed organisation had been rejected by the party.
Lord Agnew told BBC News he had never met Mr Amersi in person but the businessman had helped provide key materials needed to manufacture facemasks during the pandemic. "So Ms Leslie was right when I described Mr Amersi as a 'doer'," he said. "In my limited dealings with him he definitely had been.
"However, beyond that she is wrong in her assertion that he was a good friend. She is also wrong in suggesting I was irate about anything so far from my area of responsibility.
"I merely suggested that he was in my judgement, given my experience of him, a credible potential candidate as chairman of her organisation. The idea that I demanded she meet him is rubbish. I suggested she meet. I thought she would find it helpful."
Ms Leslie told BBC News: "The court case relates to confidential memoranda that were sent in good faith to a small number of people who had a legitimate interest in the subject matter, which have become public as a result of this legal action.
"I have no comment other than I am vigorously defending the claim."


In June 2021, Mr Amersi began a claim against Ms Leslie, alleging these "highly defamatory" memos breached data-protection law. But just before that trial began, in March, he dropped the case, telling the Financial Times he would "seek vindication" through these libel proceedings.
These cases can cost many hundreds of thousands of pounds and MPs have argued they are used by the rich and powerful to silence critics. Mr Amersi has retained leading London lawyers Carter Ruck, who specialise in reputation management.
In January, Tory MP David Davis told Parliament Ms Leslie "would probably have to sell her home and lose all her savings" if she had to pay costs. The judge in the current case made an order last month that both sides should disclose their costs.
Mr Amersi's lawyers objected to the order. But Mr Justice Nicklin said the court would want to look carefully at the history of this litigation, "to see whether it is being conducted efficiently, for a legitimate purpose and at proportionate cost".