Patients are waiting longer for ambulances and many staff are off sick with Covid.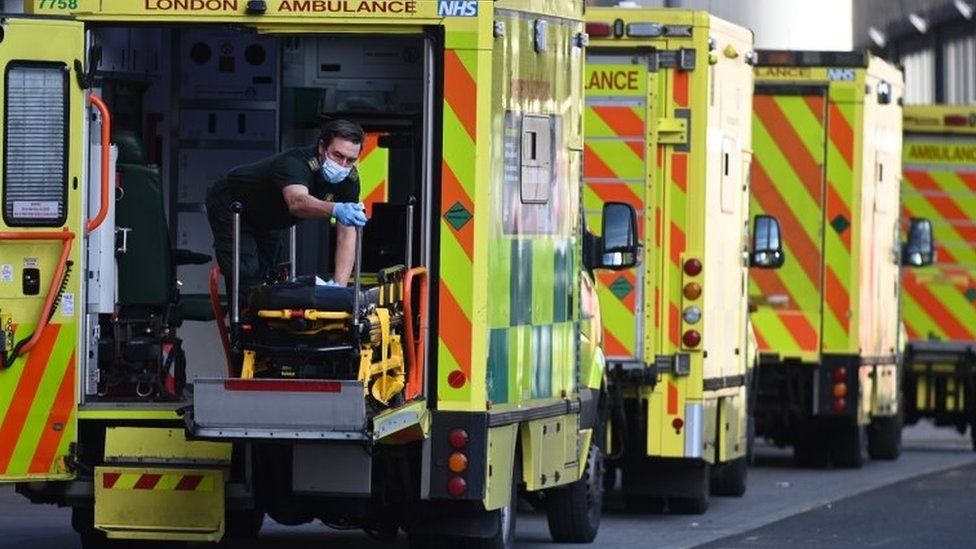 Pressure on NHS emergency services is getting worse, with patients in England waiting longer for ambulances, many staff off sick and record numbers of people going to A&E.
Figures for June show it took an average of 51 minutes for ambulances to respond to category two emergencies, such as heart attacks and strokes.
That is a big rise on May's average of 40 minutes – the target is 18.
Some 2.8 million people visited A&E and 22,034 had to wait more than 12 hours.
It was also the busiest June on record for 999 calls, with almost 900,000 answered.
The Royal College of Nursing called the situation bleak.
Dr Tim Cooksley, president of the Society for Acute Medicine, said the number of patients waiting for prolonged periods for urgent care remains unacceptable and must not be seen as the new normal.
"Patients are being stuck for extortionately long periods in emergency departments," he said.
"Due to this, paramedics are then stuck, unable to transfer their patients into hospitals and get back on the road, resulting in 999 patients being left at home for longer periods without clinical assessment and treatment, driving public concern that they may not get an ambulance at their time of most need.
"Of more immediate concern is that this data lags behind the situation seen on the shop floor in hospitals over the past week."
Prof Sir Stephen Powis, national medical director for NHS England, warned that the NHS was facing significant pressures – from rising Covid admissions, thousands of staff absences because of the virus, the heatwave, and record demand for ambulances and emergency care.
On 6 July, 26,874 NHS staff were off work for Covid-related reasons, NHS England confirmed.
Some ambulance services have urged people to take precautions during the current UK heatwave to avoid overwhelming the NHS.
The public is being asked to reserve 999 calls for emergencies only.
Sir Stephen said: "While the current heatwave is not shown in today's figures, it also affects NHS capacity – but it remains important that anyone needing emergency care dials 999, and the public use 111 online and local pharmacies for other health issues and advice."
The NHS is also working through a backlog of elective care.
A total of 6.6 million people were waiting to start treatment at the end of May, up from 6.5 million in April. This is the highest number since records began in August 2007.
Meanwhile, 1.7 million people were referred for treatment in May, and almost 1.4 million people started treatment.
And the latest figures show the NHS performed a record number of diagnostic tests for the month of May – 2.1 million.