Some grades are yet to be returned to schools, but other papers have gone missing.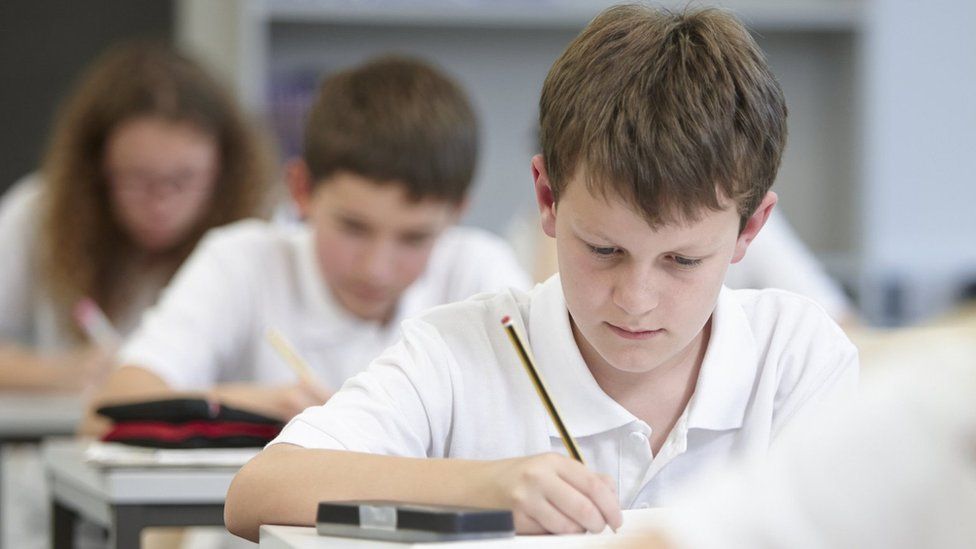 Thousands of children in England could be without complete Year 6 Sats results after some papers went missing and others were marked incorrectly, a teaching union has told the BBC.
The government says missing papers are being investigated, and that results have been processed for 99% of pupils.
The National Association of Head Teachers (NAHT) is calling for clarity on how many have been affected.
It said: "It looks like it could be in the thousands based on what we're seeing, but that's precisely what we need government to be clear about."
As well as papers going missing, the NAHT said some have been marked but allocated to the wrong child.
The BBC understands that others are with Capita, the government's partner in charge of processing papers, but are yet to be sent back to schools.
'Unfair'
Des Ricketts, head teacher at Bishop Wilson Church of England Primary School in Birmingham, told the BBC that 14 out of 59 of his Year 6 pupils were missing results.
Mistakes had also been made in the marking of those tests that had been processed, he said.
"It is deeply unfair to all of these children who have worked so hard and deserve to know how well they did. This will also impact on their progress in secondary schools," he said.
Mr Ricketts added that children with dyslexia and others who needed special arrangements, such as writing on coloured paper, were disproportionately affected.
The NAHT said it had heard other reports of these papers not being scanned correctly.
'Frustrating'
A spokeswoman for the Department for Education said 3.8 million test scripts had been processed "alongside results for over 99% of pupils".
"We are aware that a number of scripts were not included when results were made available last week. We wrote to all schools affected in advance," she said.
"We recognise this will be frustrating for those schools. Our delivery partner, Capita, is investigating all cases of missing results and working to reduce the number as far as possible, while keeping schools up-to-date."
Paul Whiteman, the NAHT's general secretary, said the situation was "deeply worrying".
"If the government is unable to identify the scale of the problem, how can leaders have confidence that they will be able to fix it?" he asked.
"School staff all play their part, take it seriously and do exactly what is expected – and the penalties for mistakes are severe. We should be able to expect the same standards from government."