Some are vulnerable people who could get extremely sick if they were to catch Covid, warn experts.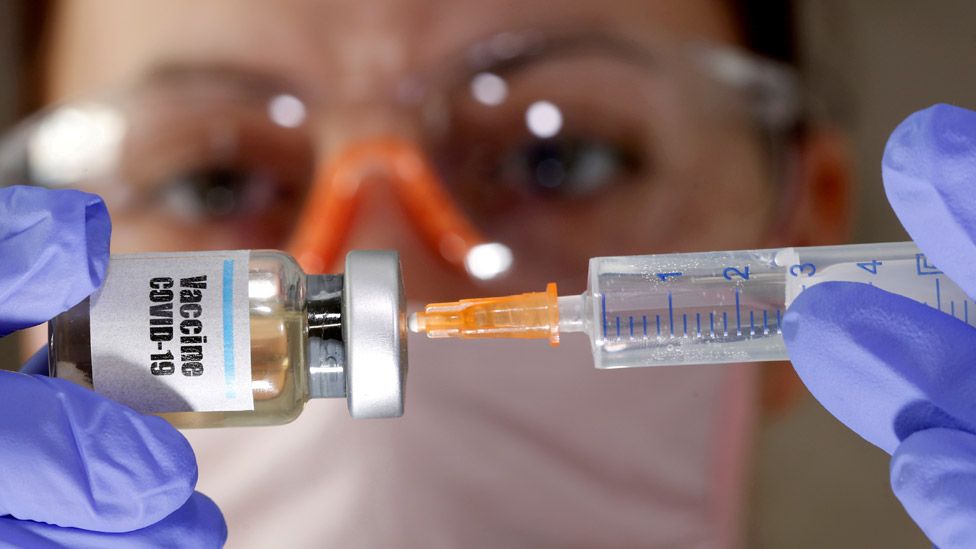 Nearly three million adults in England have still not come forward for a Covid vaccine, data reveals.
Experts say the figure includes some people who could get extremely sick if they were to catch the virus.
Most elderly and vulnerable people have already had several protective shots.
Getting fully immunised saves lives by cutting the risk of severe Covid illness, although it cannot fully stop infections. Cases have been rising rapidly in the UK in recent weeks.
An estimated 2.7m people – or one in every 25 – is thought to be infected.
Fresh waves of Covid are also being seen in other countries because of waning immunity and new Covid variants. The virus keeps mutating or changing.
The chief of the World Health Organization has warned that the pandemic is "nowhere near over".
Rising infections across Europe have prompted EU health agencies to recommend a second Covid booster shot for people over 60, as well as people who are medically vulnerable.
Spring boosters are being offered to over-75s and other high-risk people in the UK.
The number of people in hospital in England who have tested positive for Covid has been climbing for weeks, but there are signs the rate of increase may now be slowing.
A total of 13,336 patients were in hospital on 11 July.
The last time the figure was this high in England was in late April, and it is close to the peak of 16,600 reached during the previous wave of infections in the spring.
Ministers say Covid restrictions could be reintroduced if pressures on the NHS became too much, but there is no suggestion that will happen.
Instead, the focus is on getting people vaccinated.
Dame Meg Hillier MP, who is Chair of the Public Accounts Committee, said "fresh approaches" were needed to tackle the persistent low uptake observed in some groups.
In a report, the committee said NHS England should aim to reduce the number of unvaccinated adults by 500,000.
Dame Meg said officials "must build on the initial successes of the vaccine programme and redouble efforts to reach people who are unvaccinated".
A government spokesperson said it was "working hard" to reach unvaccinated people, highlighting the use of walk-in and mobile vaccination clinics and "bespoke messages from trusted voices – such as faith and community leaders".
How to get your vaccine
Anyone who is eligible for a Covid vaccine in the UK – which includes children aged five and above – can still get a free one. It might be a first, second or third dose, or a booster shot.
You can book them online or go to walk-in centres.
What about this winter?
Experts have already said that many people will be offered another booster in the autumn, ahead of what could be another difficult winter when other viruses, like flu, are also circulating.
So far, the UK expects to offer the shots to:
residents in a care home for older adults and staff
frontline health and social care workers
all those 65 years of age and over
adults aged 16 to 64 years who are in a clinical risk group
The advice could change if another bad variant of Covid were to emerge and mean more people needed to be on the list for a top-up of protection.
Meanwhile, manufacturers are tweaking vaccines to make them a better match for the virus as it changes.
Moderna says it is advancing two Omicron vaccine candidates that could be ready for the autumn. One if them is designed around the latest BA.4 and BA.5 sub-variants of Omicron.