The current drop in sales has not been seen "since the depths of the pandemic", a UK retail body says.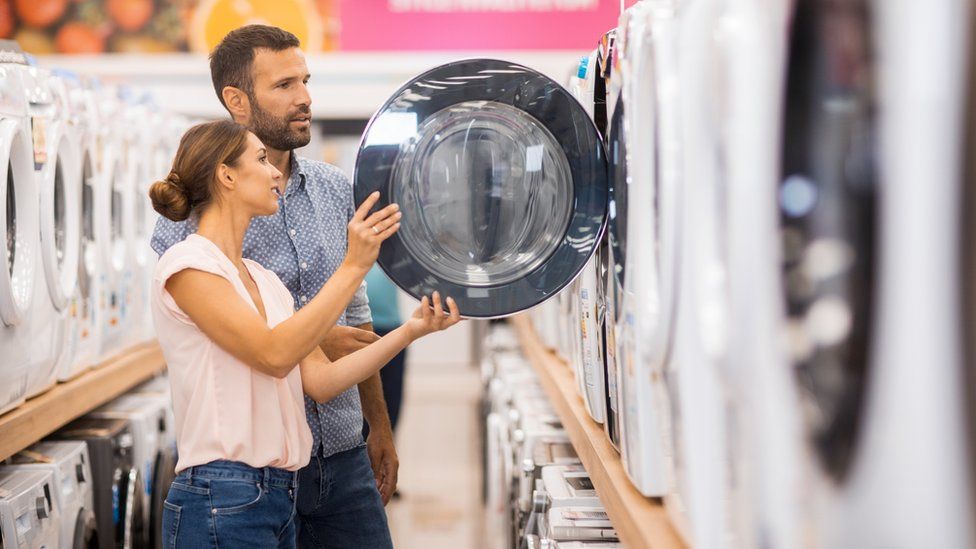 Retail sales are falling at a rate "not seen since the depths of the pandemic", as price rises hit household budgets, a UK retail body has said.
Shoppers are cutting back on white goods such as fridges and dishwashers as well as opting for cheaper brands, the British Retail Consortium added.
Sales in shops and online have dropped for three months in a row, figures from the BRC and accountants KPMG indicate.
Prices in the UK are currently rising at their fastest rate for 40 years.
Inflation – the rate at which prices rise – hit 9.1% in May, with the increasing cost of food, energy bills and fuel putting pressure on households' finances.
Paul Martin, UK head of retail at KPMG, said people were cutting back on spending "against a backdrop of unprecedented price rises on the High Street".
He said online shopping had continued to drop, with total sales down 9%. The biggest falls have been for purchases of furniture, home appliances and computing.
Helen Dickinson, chief executive of the BRC said: "While the Jubilee [bank holiday] weekend gave food sales a temporary boost, and fashion sales benefited from the summer holiday and wedding season, this was not enough to counter the substantial slowdown in consumer spending."
Total sales decreased by 1% in the five weeks between 29 May and 2 July 2022, against an increase of 10.4% in June 2021, figures from the BRC and KPMG show. It followed declines in April and May.
Food inflation meanwhile, could reach 15% this summer according to forecasts by the Institute of Grocery Distribution (IGD), meaning shoppers will be paying more for their essential groceries.
IGD chief executive, Susan Barratt said: "Shopping habits are changing; some 60% of shoppers are now spending time to save money – up from 55% in March."
"With record petrol prices, being able to walk to a grocery store is also increasingly important," she added, "with 27% of shoppers agreeing this is a driver of store choice, compared to 24% in May."
The cutback in spending on white goods reported by the BRC's survey comes just days after online electricals retailer AO World said it was seeking to raise about £40m.
The company's share price had been falling after reported that credit insurer Atradius had cut cover for the firm's suppliers.
Without credit insurance, suppliers often demand upfront payments in case the company they are selling to collapses and cannot pay its bill.