SAS operatives in Afghanistan repeatedly killed detainees and unarmed men, a BBC investigation finds.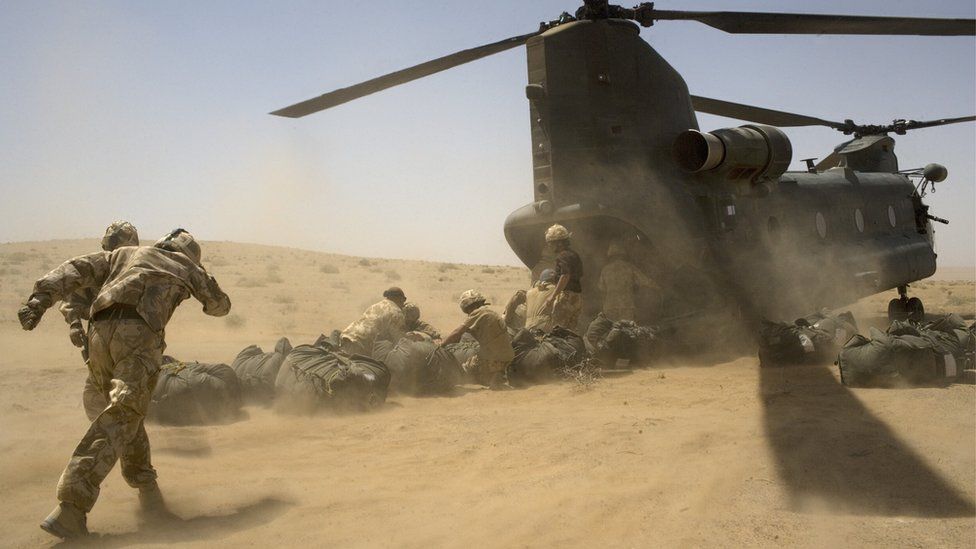 Any fresh allegations about the behaviour of the SAS in Afghanistan will be investigated, armed forces minister James Heappey has said.
"Nobody in our organisation, no matter how special, gets a bye on the law," he told MPs.
Labour have called for a probe into claims an SAS unit repeatedly killed unarmed men and detainees.
The BBC found evidence suggesting the former head of special forces failed to pass on evidence to a murder inquiry.
The Ministry of Defence said it could not comment on specific allegations, but that declining to comment should not be taken as acceptance of the allegations' factual accuracy.
An MoD spokesperson said that British forces "served with courage and professionalism" in Afghanistan and were held to the "highest standards".
Giving evidence to the Commons Defence Committee, Mr Heappey said: "We were aware of some of the allegations that I understand to be in this evening's Panorama. They've been investigated, I believe, twice and on each occasion hasn't met the evidential threshold.
"But, let's be clear, if there are new allegations, new evidence that comes to light as a consequence of the Panorama investigation and that is then passed to the service police for further investigation, we will absolutely investigate it.
"Nobody in our organisation, no matter how special, gets a bye on the law – and that's that."
Defence Secretary Ben Wallace has yet to comment on the allegations.
The BBC understands that General Sir Mark Carleton-Smith, the former head of UK Special Forces, was briefed about the alleged unlawful killings when he was appointed in 2012 but did not pass on the evidence to the Royal Military Police, even after the RMP began a murder investigation into the SAS squadron.
General Carleton-Smith, who went on to become head of the Army before stepping down last month, declined to comment for this story.
BBC Panorama analysed hundreds of pages of SAS operational accounts, including reports covering more than a dozen "kill or capture" raids carried out by one SAS squadron in Helmand in 2010/11.
Individuals who served with the SAS squadron on that deployment told the BBC they witnessed the SAS operatives kill unarmed people during night raids.
They also said they saw the operatives using so-called "drop weapons" – AK-47s planted at a scene to justify the killing of an unarmed person.
Several people who served with special forces said that SAS squadrons were competing with each other to get the most kills, and that the squadron scrutinised by the BBC was trying to achieve a higher body count than the one it had replaced.


Labour's shadow defence secretary John Healey said: "These new allegations are deeply disturbing, and such reports cast a dark shadow over the excellent reputation of our British Special Forces.
"We know similar reports during the same period about Australian Special Forces were confirmed through an independent inquiry.
"So the defence secretary must urgently explain to Parliament what action he'll take to verify any truth to these claims and any possible cover-up.
"Justice for those affected and the integrity of British forces fighting overseas must be secured."
Labour MP Dan Jarvis, a former army major who served with special forces in Afghanistan, said: "UK Special Forces personnel are rightly revered across the world, but no-one is above the law.
"Our response to terrorism must be unequivocal, but it must always be legal. Adhering to the rule of law is what ultimately sets us apart from our adversaries.
"These are extremely serious allegations and undoubtedly warrant an independent inquiry. Without the truth, we risk irreparable damage to the reputation and legitimacy of British forces."
Chairman of the Commons Foreign Affairs Committee Tom Tugendhat, who is bidding to be leader of the Conservative Party and prime minister, said he had no doubt that if there were any truth to these accusations then the MoD would "sort it out".
Speaking at his leadership launch event in Westminster, the former army officer said: "Between 2005 and 2009 when I was serving in Afghanistan, I met many extraordinary, courageous, determined and brave people serving our country.
"And I know that during my time in Afghanistan I neither saw nor heard any of these accusations and I know that any accusations will be investigated fully by the Ministry of Defence."
He added that an investigation was "the right thing to do" to uphold the "values and standards" of the British military.